Overview
Firstly let's make one thing clear - Craig Llong is a great place to climb; it's beautiful, it's serene and it's atmospheric and as such, it's home to some wonderfully engaging and unusual routes. Unfortunately, for the low to mid grade climber all of these wonders hang frustratingly out of reach, mocking them from the Extremely Severe echelon of the grading spectrum. So what for those mere mortals, of which I am most certainly one, who can't quite manage to climb to E5 and higher? Well in short, not a whole lot.
I describe this route largely as a warning for those wishing to climb here, because Craig Llong's low to mid grade routes are, if nothing else, highly variable in nature. Corkscrew (Hard Severe 4a) is a typical example of what's on offer. A straight forward and deceptively secure start is followed by a rapid decline into friable and loose rock, unwanted vegetation and poor protection; not the sort of thing one looks for in a climb.
FA: N. Allen and D. Carnell, May 28th 1990.
Getting There
When approaching from Carmarthen (SN 405 196) take the A40 Truck Road signposted for Saint Clears (SN 274 160). At the Saint Clears roundabout, take the A40 Trunk Road towards Haverfordwest (SM 961 159). At Haverfordwest, continue on the A40 north. Just after Scleddau (SM 942 346) turn left and take the A4219, and then left again once you reach the T-junction for with the A487 (SM 933 358). Continue towards St. David's and turn off right at Square and Compass (SM 844 310) for Trefin (SM 839 325). Park at Trefin and take a footpath north to join the coastal path (SM 834 329). Walk east along the coastal path to Trwyn Llong and Craig Llong.
Descend the grassy ramp to a position below the Second Wall. Above you should be the break that gives Classic Walks (Severe), and if front of you a gradual ramp that is horizontal to its base. The ramp is the start of this route; start at its seaward most edge.
Route Description
Pitch 1 (24m): Ascend the gentle rake with ease and move left to belay from a grassy recess. Place long runners to avoid serious rope drag.
Pitch 2 (4a, 30m): Move back right and climb awkwardly up the corner to the top of the rake. Move up right to reach the large flake that crosses the cliff face. Traverse up and left, taking care not to shower your second with lethal 'microwave' size blocks and follow the weakness to the top of the cliff. Stop, take stock, and breathe a sigh of relief.
Essential Gear
A suit of armour... and a variety of gear from small to large wires to a variety of cams. Large gear is very useful on the first pitch, and some extra slings will be handy for extending them. While not essential, double ropes would be helpful for avoiding rope drag.
A first aid kit might be a very good idea.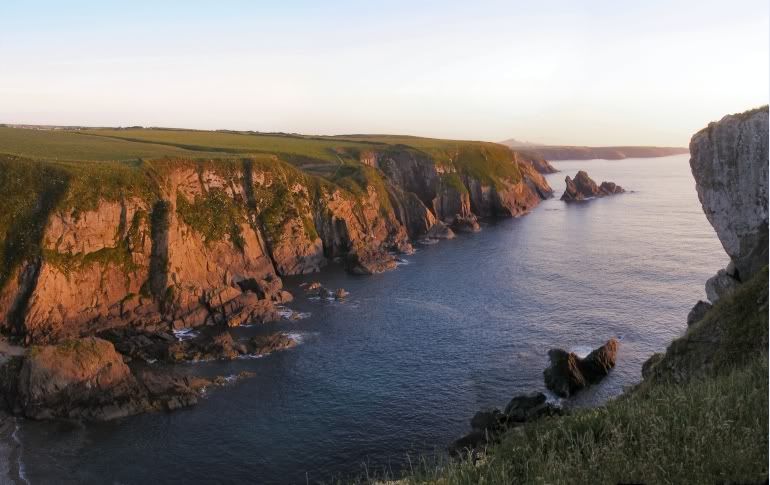 Maps
Guidebooks
External Links
Images