Apache via Navajo Snowfield
Apache Pk (13441')
South Ridge
Navajo Pk (13409')
West Chimney
Niwot Ridge (13023')-unranked
10.4 miles RT, 3800' gain
Via Navajo Snowfield
Indian Peaks Wilderness
Aug 23, 2008

Slideshow

I've only made a couple trips up to the Indian Peaks Wilderness and have had this incredible hike on my list for awhile. It was time to hit these before the snow flies and the views did not disappoint. The forecast looked decent, so I opted for a bit later start than normal for summer.

It was nice to start a hike after daybreak for once. I set out at 6:15am under clear skies. The Long Lake trail is very easy all the way up to Lake Isabelle, which is why you'll see lots of tourists on the way down seeking out the incredible views in this basin. I reached Long Lake just as the sun was about to rise and rushed over to the edge so I could soak up this view.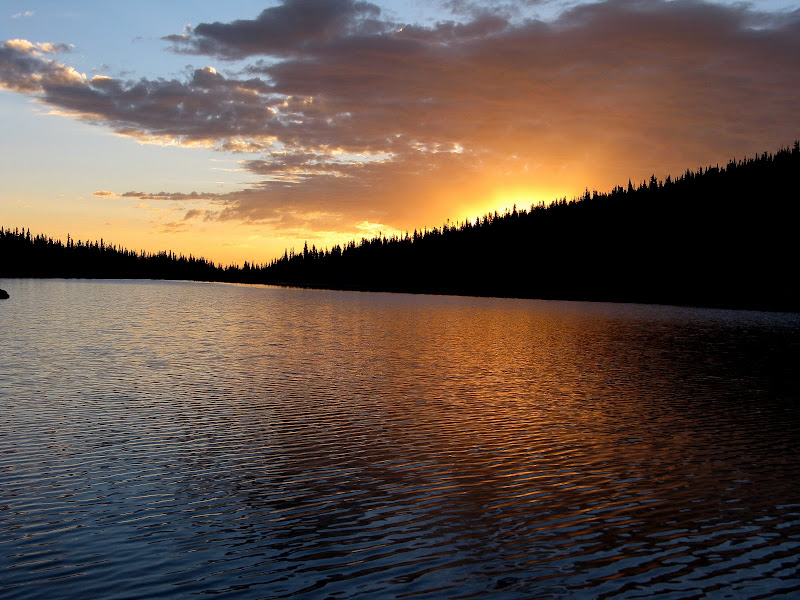 This was only a preview of the amazing scenery I was about to see at treeline. I knew this hike has some serious eye candy, but it still amazed me when I broke out of the trees. So this is why I saw so many tourists on the way down!




Lake Isabelle is a worthy destination for even the casual hiker as the trail is very mellow. I arrived just in time to marvel at the reflection of the cliffs in this serene lake. The rest of the approach to the fast approaching Navajo snowfield was obvious.




Further up the basin is another classic view of conical shaped Navajo towering over South St Vrain Creek.




Apache and Navajo see a fair amount of visitors for 13ers, but if they were 14ers they would probably be one of the most popular. I felt privileged to experience this majestic place by myself and didn't see any other hikers until I was on my way down Niwot Ridge.

I didn't do much homework for this hike, so I was pretty much flying by the seat of my pants. I wasn't sure where the trail would end as there isn't one marked on the USGS map above Lake Isabelle, but I was pleasantly surprised that it continued to a small pond at 11420'. I was amazed had how much water was still in the basin this late in the summer. A section of lush willows swallowed up the trail and I promptly plunged into a sloshy, hidden hole. So much for dry boots! A few seconds later I fell knee deep into the creek. It seems like I've had bad luck with creeks this year but I seem to keep the water from the heavens at bay!

I took a break to wring out my socks. Luckily it was a warm day because I didn't bring a spare pair of socks. The mellow walk up the basin was over now, and the trail zigged its way up benches to the small pond. I left the trail above the pond as it headed up to Isabelle Glacier. Boulder hopping commenced, but it was mixed with sections of grass and went fairly quick. A steep scree slog brought me to the bottom of Navajo snowfield at 12500'.


Traverse to Navajo & Niwot Ridge
This would be my first climb with axe and crampons in August on this permanent snowfield. It was only a 500 foot climb to the saddle and took about 30 minutes. I wasn't feeling particulary strong for some reason and I cut switchbacks when I could. The snow was in decent shape for Aug, not too icy and was probably ~ 40 degrees at the steepest part, although I didn't measure it.

I topped out at the base of a gully to the right of Dicker's Peck, a towering spire probably named by Roach at the saddle. I switched to scrambling mode and picked my way up to the ridge. A false summit was skirted to the left and I was soon on Apache, topping out at 10:28.

Apache from Navajo:



I took a much needed snack break for the exciting traverse over to Navajo. I retrached my steps down the ridge and decided to look for a better line down to the saddle as the gully I climbed from the snowfield was loose. I picked my way down ledges on the south side and came to a steep, exposed section that I didn't feel comfortable downclimbing.

Ridge difficulties on Apache side of saddle:



I went back up and traversed low angle slabs on the other side of the ridge, contouring back to the bottom of the gully I had climbed. I then traversed over to DP and skirted it on the snowfield side. The ledge to the west chimney was obvious and plenty wide, even though it looks exposed from a distance.

Access to the west chimney is via the obvious ramp traversing right:



Around a corner I went and the crux presented itself. The chimney is mostly class 3 with a move or two of class 4. There was one move in the middle where I had to squeeze past a chockstone in the middle of the chimney. There was loose rock to avoid, but not bad compared to junk in the Elks or San Juans. I slowly made my way up and enjoyed the solid holds.




From there, the route traverse right across the face and joins the south ridge. From there, it's a quick scamper over/around huge blocks to the dramatic summit. Very cool peak indeed! It was a one hour traverse from Apache. Clouds were building all around, so I only hung around for 5 minutes as unranked Niwot Ridge was next on the agenda.

The standard route down to the saddle was obvious. I didn't even know there was a chimney to descend on this side, so I threw my poles down. This chimney is easier than the west chimney, but still was a bit awkward facing out with a fat pack on.




The traverse over to Niwot Ridge was a bit more tedious than expected with a bunch of ups and downs. I skirted one false summit and was able to beat the weather, arriving at 12:45. Most of the weather was to the south, but I didn't want to be on the ridge much longer so I kept my stay brief here too.

Nearing summit of Niwot Ridge: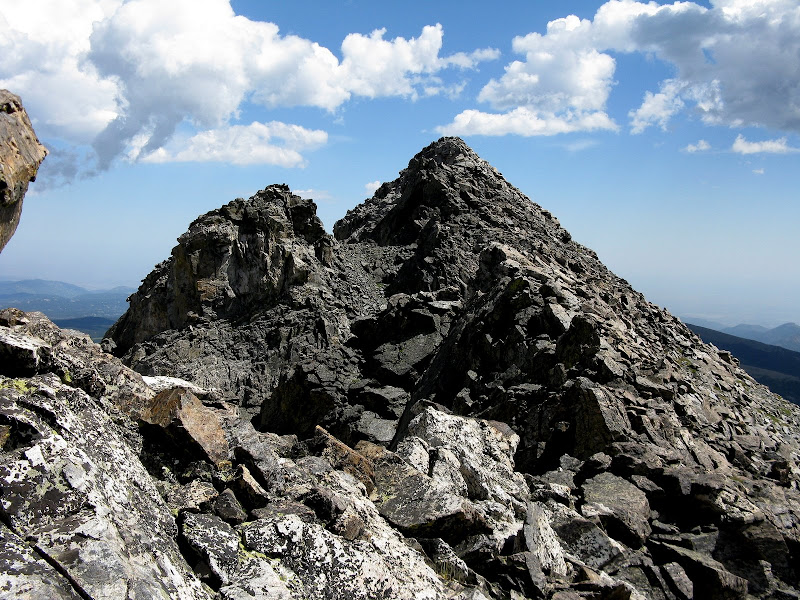 Descent
I wanted to see the wreckage in Airplane Gully, so I headed back to the saddle, this time skirting all the bumps. There are two gullies that are cairned at the top, and I went down the one nearest Navajo. This wasn't the official Airplane Gully and I missed seeing the wreckage near the top. It looked like this gully was going to get too steep for my liking, so I traversed left on ledges to easier but loose terrain. I was happy to finally get off the slip-n-slide and found some wreckage at the bottom.

I decided to take a direct line down to the small pond high in the basin. It probably would have been easier on my knees to stay on my ascent route up the gentler north side of the basin. I descended steep grass and scree, traversing a couple snowfields back to the trail near the pond. On the way out, I passed many tourists soaking in the views. Thunder did not rumble until 3pm and the weather held as I arrived back at the car at 3:50. I can't wait for another visit to the magnificent IPW!

Lake Isabelle on the way out:

Route Map
Images