It's amazing how many little-explored limestone routes exits within 45-minute drive of a city of 1.5 million.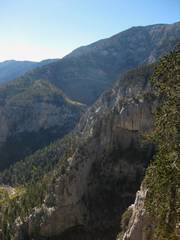 (click above)
I'm not a climber, nor do I play one on TV. This was a scrambling route, though I had to use a few hand-jams and extreme mantles to get up this arête. The peak: Charleston NV, accessible by a class 1 trail. But who wants to go up a trail, when you can do this stuff?
The limestone -- that makes up most of NV peaks-- is quite frictional. But so many areas are rarely climbed, that the routes are filled with un-pruned loose rock. I found 2 small cairns on this route, and a bivy site 1/2 way up -- no cairns after that. The bivy was right below a 40' wall; I was able to find a bypass that probably wasn't obvious at nightfall.