Overview

Urubamba (Cordillera Urubamba in Spanish) is a 50 km mountain range located within the region of Cusco, in the Peruvian Andes. The Urubambas are located right next to the Urubamba Valley, also called Sacred Valley (Valle Sagrado in Spanish), so many of the snow capped mountains can be seen from several points of the valley.

Although the area is mostly known for the many Inca constructions and the Machu Picchu archaeological site, the Urubamba range offers a good scenario for mountaineering and trekking.

Mountains in the area are not climbed as often as other mountain ranges in Peru. However, trekking is a more popular activity in the area as the Lares Trek, a known hiking route south of the range, is offered as a tour alternative by tourism agencies in Cusco.

Main Peaks

Sahuasiray (Colque Cruz) 5,818 m
Chicón 5,530 m
Apuy Padreyoc 5,492 m
Sirihuani 5,399 m
Halancoma 5,367 m
Huajayhuillca 5,361 m
Marconi 5,340 m
Terijuay 5,330 m
Pumahuanca, 5,318 m

Bonanta 5,310 m
Capacsaya 5,044 m
Huacratanca 5,024 m
Pitusiray 4,991 m
Quilloc 4,900 m
Getting There
To reach Mount Veronica and Mount Halancoma, specially from the northern side, go all the way to the mountain pass called Abra Málaga (4,230 m), it's an unpopulated grassland area from which the ascent to both mountains can be done.
To reach the eastern section of the range, the town of Urubamba is a good place to start.
The northern part of the range (Terijuay, Quilloc, Apuy Padreyoc) is far from the Urubamba Valley and the tourists approach it mostly up to the town of Lares by route of the Lares Trek. Transportation to Lares can also be found in Cusco and it takes almost 4 hours to get there. Since those are not frequently climbed mountains, it is advisable to gather more information in Cusco.

When to Climb
The best season is between June and September (dry season). The following data are for the town of Urubamba, located at the foot of the mountains at 2870 m (9420 ft).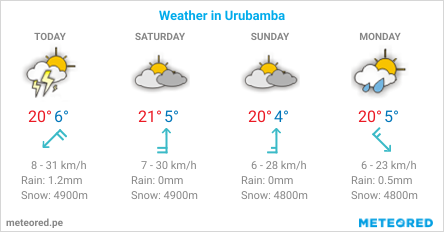 Red Tape


Some of these paths may be next to or inside communal or private property. Although the locals are friendly, please gather information in Cusco or the main towns in the valley about the area you're about to enter.

External Links
3D view of the northwestern part of the Urubambas: Bonanta, Huajayhuillca, Marconi and Veronica.
3D view of the central part of the Urubambas: Halancoma, Huacratanca.
3D view of the eastern part of the Urubambas: Capacsaya, Chicón, Sahuasiray, Pitusiray
3D view of the northern part of the Urubambas: Terijuay, Quilloc, Apuy Padreyoc
Notes
The names of the mountains are those that appear in the maps of the Peruvian National Institute of Geography (IGN maps, 1:100 000).
Images