OnTheRiverFLA
Male, 31 years old
Jupiter, Florida, United States
Power = 5 (Vote Weight = 1%)
Occupation: Free Spirit
The state highpoints i've summited!:

create your own personalized map of the USA
Flag Counter: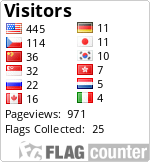 State Counter: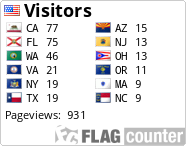 A Few Words: I'm on a mission to see all fifty state high points, and maybe beyond one day! So far i have gone to and successfully hiked 29 state high points. Check the map above for our progress.... **Oct 17-21, taking a road trip through four more state HP's. Flying to Memphis, then passing by MS, LA, AR, & MO. This will bring our total to 33 states! **Updates from this summer's two high pointing trips; ~Southwest - Successfully completed hiking Mt Whitney, CA, Boundary Peak, NV, and Humphrey's Peak, AZ. Climbing on Whitney was the most special, and reaching the summit after a beautiful overnight camp was so rewarding! ~Southern Rockies - Successfully completed the state HP's of Panorama Pt, NE, Mt Sunflower, KS, Black Mesa, OK, Guadalupe Peak, TX, Wheeler Peak, NM, & Big Boy Mt Elbert, CO! Mt Elbert was the toughest and highest, and being on top of the Rockies was surreal!
Send OnTheRiverFLA a Private Message (PM)
Suggested mountains/routes for OnTheRiverFLA
People who climb the same things as OnTheRiverFLA

Member Since Jan 4, 2013, Last Active: Nov 8, 2013
Total Hits: 5829
Climber's Logs I've Signed (51)
Messages Posted to My Contributions

Show Messages



Replies to My Messages

Show Replies



Messages I Posted/ Editable Objects
Messages I've Posted

Show Messages



Objects I Can Edit

Show Objects



Reviews I Posted/Reviews Posted to my Gear
Reviews I've Posted

Show Reviews



Reviews Posted to my Gear

Show Reviews



Objects Others Have Attached to My Objects
Show Attached Objects
Photos Others Have Attached to My Objects
Show Attached Photos