In the beginning, there was...handkerchiefs!
"Wilderness appealed to those bored or disgusted with man and his works. It not only offered an escape from society but also, was an ideal stage for the romantic individual to exercise the cult that he frequently made of his own soul.
The solitude and total freedom of the wilderness created a perfect setting for either melancholy or exaltation."
--Robert Nash
"Wilderness and the American Mind"



At 14,005ft, Mt. of the Holy Cross is the third lowest of the Colorado Fourteeners. This religious and antiquated icon was officially named a Fourteener in 1964 and is the northernmost Fourteener in the massive Sawatch Mountain Range. It is Eagle County's highest peak, located just outside the small railroad town of Minturn. The peak carries an impressive 2,100ft of prominence yet cannot be seen from I-70, Hwy 24 or even from Tigiwon Road (which means, 'friend' in the Ute language). Mt. of the Holy Cross lays well hidden deep within the confines of the Holy Cross Wilderness and is further protected from sight by neighboring Notch Mountain. Although Shrine Pass, so named for its views of the cross, does offer good vistas of the mountain.
The first reported and official sighting of the cross occurred on August 29th, 1869 when the second in command of the Whitney (A Harvard Man) expedition, a Mr. William Brewer (then a Yale professor) reported seeing a far-off cross. As the expedition was returning to Denver, the group decided to ride their horses to the local mountain of Grays Peak. While atop, Brewer wrote that, "The Mount of the Holy Cross was forty miles away, with its' cross of pure white, a mile high, suspended aginst its side." Undoubtedly, there have been sightings previous to this and one popular legend (since discredited) goes that two Spanish monks, close to death and hopelessly lost in a massive blizzard were ready to just give up and die, freezing to death. Suddenly, the clouds momentarily opened up revealing a cross of snow thus saving the priests from death. Due to the renewed sense of direction, the two priests were able to continue on their way to the New Mexico territory (early 1700's).

The fabled cross of snow has always been part of Colorado's early lore. Snippets and drunken ramblings by early prospectors and Native Americans told of a cross of snow but always failed to give the exact whereabouts and what was relayed tended to be confused and hard to follow. For a short while, there was even a jinx associated with the cross as to whoever was unfortunate enough to sight the cross, death and tragedy would soon follow the unlucky prospector.
Mining was never fully actualized in the Northern Sawatch and surrounding Holy Cross Wilderness like it was in other parts of the state (think Telluride, Aspen or Leadville). For its time, Gold Park boasted a population of 400 residents by 1881. Holy Cross City featured an assay office, boarding house and justice of the peace. Holy Cross City also hosted a community school, the Timberline Hotel and almost 300 residents. However, due to too many negative factors, one of which was the brutal winters, the town was a full 2,000ft higher in elevation, Holy Cross City saw its' end by 1883. Nearby towns and mining encampments such as Redcliff, Missouri Camp, Bell's Camp, Clinton and Battle Mountain all eventually came to the same conclusion with the exception of Gilman which was closed by the EPA and Redcliff which was saved by the railroad.
The first recorded climb of the peak occurred in 1873 on the famous Hayden Surveys. Ferdinand V. Hayden and popular photographer, William H. Jackson scaled the mountain in the pursuit of geography and cartography. The Hayden Party was assisted by the Ute Indian Chief, Ouray and his scouting party into the Holy Cross Wilderness.
The first winter ascent of Holy Cross was accomplished in 1943 by Russell Keene and Howard Freeman, both 10th Mountain Division Solders stationed at Camp Hale and the Cross Couloir, the namesake of the mountain and the surrounding wilderness was first skied in 1977 by two Vail locals, Tom and Mike Carr and has seen ski descents yearly ever since.


Mt. of the Holy Cross -As viewed from Notch Mountain



During the early 1920's, there were a handful of religious pilgrimages made to the mountain but nothing that bordered on the fantastic not until that is, when father John Carrigan of Glenwood Springs initiated a series of 'faith healings' and 'miracle medical cure' pilgrimages. This attracted hundreds of people later seguing into the thousands. One year later in 1928, hot on the success by Father Carrigan, Dr. O.W. Randall of Eagle County led about a dozen boy and girl scouts to the summit. Later that same year, the Denver Post joined Dr. Randall and sponsored a trip to the mountain that included an unthinkable 300 hopeful people. It is because of Dr. Randall and the efforts of the Denver Post that the Tigiwon Road exists, hence the community house and Camp Tigiwon which followed shortly after.
The late 1920's were an exciting and active time for Mt. of the Holy Cross. A trend that started, probably from riding the coattails of Dr. Randall and Father Carrigan was the odd practice of something called, "Handkerchief Healing". Started by a Denver area religious healer, he urged the faithful too ill to make the trek to mail him their personal cloths. He would in turn, bless them upon the summit and mail them back, for a nominal fee of course.
The inception for this came from a passage found in Acts 19:12,



"So that from his body were brought onto the sick handkerchiefs and aprons,
and the diseases departed from them, and the evil spirits went out of them."



Only about 100 people responded and participated the first year but what was hard to ignore were the astounding and unbelievable results. By 1932, the pastor was receiving almost 2,000 handkerchiefs by almost half the states in the Union and from places as far away as Alaska and Mexico. During this four to seven year stretch, reported cures from these summit-top blessings remained unexplainably high. Was this phenomenon the power of Christ or the power of suggestion? Of all my trips to this fantastic mountain, all I've ever taken away were wonderful memories and mosquito bites. Perhaps I should invest in a handkerchief.
On May 11th 1929, Herbert Hoover along with the assistance of William Jackson's famous 1873 photograph of a 'touched' cross, which initially brought the peak to national attention, declared the mountain a national monument. Four years later, the peak and its' surrounding wilderness were transferred into the hands of the National Park Service but ultimately in 1949-1950, this iconic mountain had lost the public's interest, diminished in popularity and on August 3rd 1950, HR #73339 deprived Holy Cross of its national monument status. This more or less, regulated it back into the hands of the Forest Service where it has since remained.
Because of the frequent visitations by all manner of people, a large cabin was eventually constructed. The Tigiwon Community House was built in the 1930's by the CCC (Civilian Conservation Corps) as a refuge to the multitude of hikers making their pilgrimage to Mt. of the Holy Cross. Even to this day, it still sees heavy use in all seasons.



Another historical icon surrounding Mt. of the Holy Cross is the shelter that still sits atop Notch Mountain less then a mile to the east. The shelter was erected in 1924 as a special project commandeered by the Forest Service to accommodate the swelling numbers of visitors to Notch Mountain to witness the cross of snow.
The cabin, though certainly not forgotten still exists pretty much as it was. The Forest Service maintains the upkeep of this historic cabin of stone and provides weary hikers a great place to take shelter from the elements. It is currently listed on the National Register of Historical Places.

From its religious popularity and early rise to fame, Mt. of the Holy Cross has always figured prominently into the Colorado Mountaineering Community. In many ways, the mountain's adoration is backwards if not a trifle anachronistic. It is the only mountain in Colorado that I can think of or find that wasn't initially 'claimed' for the sake of climbing and mountaineering. Considering the double reputation of exceeding the 14,000ft mark and word of mouth infamy of its ceaseless and 'Tolkeinesque' beauty, it becomes that much more amazing that the climbing community wasn't able to wrestle it from the pious or out of the public's conscience. All the religious overtones and epiphanies sadly, have since been replaced by indifference and empiricism. This 'changing of the guard', as it were, is something that I view as a kind of coup te grâce, focused on the pious but with no intention of premeditated harm. The dénouement of religion in the wake of secularism and progression simply becomes collateral damage. The spiritual beacon that initially pulled people to the summit of Notch Mountain to witness a literal icon of God as marked upon nature, has in subsequent years, fractured, withered and has aged like a coffee stain…a decaying corollary of an impermanent symbol that for however brief, united a small percentage of the nation in hope, joy and God's power of raw, natural beauty.

Observations...

I suppose there's no getting around it. Some peaks just capture our attention and 'good-graces' for no other reason except that they lie on a list. This is where the mind calls the shots because there isn't anything heartfelt about list ticking. But then every once in a while, the heart sees something that the mind initially misses because it's too busy pouring over statistics and numbers. But the mind can in turn, be tricked by the heart to re-visit a mountain. Surely there must be something analytically beneficial about Mountain-A or Mountain-B. And this is when, upon a second or third sojourn that both heart & mind stand up straight, metaphorical heads tilted back slightly and a mutual arcane smile explodes like something that only the Grinch can manage.
Something I've noticed as of late that wasn't prevalent 10 years ago is a sort of mysterious reputation the mountain has seemed to develop. Firstly, I have suspicions and notions that the Internet is partially to blame for this due to greater exposure and increasing popularity of the Fourteener's.
Secondly, Mt. of the Holy Cross is considered one of the easier Fourteeners to hike. Because of this, less experienced and novice people attempt the mountain with a lack of preparation, perhaps indifference and ignorance of their surroundings.
Another reason lies in what hikers themselves do. Some of us have a tendency to erect cairns along paths and sometimes off route in accordance to what 'they' feel is an easier alternative through the talus. As one can imagine, this creates a confusing network of satellite paths that does not necessarily lead to the same place along the ridge. Once the North Ridge has been attained, things get a little confusing anyway as that the terrain doesn't look very 'ridge-like'. I believe Holy Cross' North Ridge is more of a slope with ridge-like properties. So that alone can lead hikers into false and early descents.

In testament to this, in August of 2009, two middle-aged men from Michigan became lost and Search & Rescue had to be called in (whom consequently, rescued two unrelated but injured hikers). Another hiker became lost and disorientated and thus, spent two nights lost in Cross Creek back in August of 1997. More recently, a solo hiker had to be rescued from the cliffs just north (climbers right) of the Angelica Couloir due to bad judgment on the terrain. Unlike most places in Colorado where one can rely on certain features to be present at certain and expected elevations, the terrain surrounding Mt. of the Holy Cross has basically been thrown into a Yahtzee cup, shaken vigorously and thrown back out.
Even day-hikes in the summer to the Bowl of Tears or Lake Patricia involves a moderate understanding of route finding and in my opinion, a matured skill in reading the terrain. For example, possessing the ability to read the trees in order to narrow down the choices in finding and following the primitive trail, being able to distinguish a game trail from a human trail or seeing the sign in meadow-grass of someone's passing. These skills would serve someone quite well when venturing into the Holy Cross Wilderness. Not having the proficiency in route finding in terrain that demands it can harvest negative consequences, injury or worse, especially in the case of Michelle Vanak, who became lost on a descent back in 2005 and is still permanently missing.
These issues and instances creates a situation that I refer to as a "Leonard Nimoy" effect (think of the old 1970's TV show, "…In search of"). Because in my mind, there is no clear or concise point of how or why these disappearances happen. There is no definitive time frame of when these occurrences started and due to the increased popularity and frequent report's, a loose fabric of mystery has been woven from seemingly, out of nothing.
My long-standing relationship with Mt. of the Holy Cross has been bittersweet. It's been a forced and rocky friendship from the start. Imagine trying to tango with a beautiful woman like Monica Bellucci while wearing a pair of double boots on cobblestone…yea, it's been like that. I first hiked it solo on no sleep driving from Fort Collins gaining a speeding ticket en route. On the way home, my partner (whom turned around) crashed my car while I slept. Then a long spell of attempts that proved fruitless ensued over the next few years. It was as if the mountain gods had been put into a petulant mood by my flippancy for one of their outposts. I've attempted Mt. of the Holy Cross eight times over the years (doubtless, there will be others) and have only set foot on its flat plateau on three occasions.

Mt. of the Holy Cross and its' surrounding wilderness I've learned, is a rugged place. The sheer randomness of the terrain reads like a topographic map suffering from A.D.D. It is both impressive and chaotically beautiful. The usual suspects: streams, forest, cliffs, talus fields and meadow follow no prearranged pattern typically set forth by natural topographic contours. The areas crenellations are wholly unique. From all this agitated and jumbled confusion, Mt. of the Holy Cross rises like a scrappy gladiator. The mountain towers over Lake Patricia, hoarding and hiding this small basin from easy view. The pageant of mountains seen from its summit is solidly one of the best in the Sawatch, a mountain range known for its' huge and gentle mountains.

The Holy Cross Wilderness Area contains about 165 miles of trail and under 123,000 acres of protected land. Many of the peaks are difficult to access due to long approaches and primitive trails. This area has also been under constant struggle between Eagle County and the cities of Colorado Springs and Aurora over water rights. Chapter 27 (pgs. 197-204) in Mark Pierson's book, "Colorado's Wilderness Areas" highlights this ongoing fight for water; a natural resource that the Holy Cross Wilderness seems to have been blessed in excess with…just be mindful of the mosquitoes!




Wildflower Explosion along Fall Creek Trail
Observations II...
My views of the Holy Cross Wilderness have changed. I initially dismissed the area as being no different than say, the Sangre de Cristo's, La Sal or Elk Mountains. It has turned me into a believer as to its beauty, chaotic ruggedness and the fact that each wilderness area is completely different from one another. In the ten-year hiatus between summits, I've made treks to locales like: Homestake Peak, Holy Cross City, West Tennessee Creek, Savage Peak, Grouse Mountain, Cross Creek and Homestake Reservoir. The Fall Creek Trail which grants access to the Notch Mountain Shelter is without doubt one of the highlights of this wonderful area, resplendent with wildflowers, waterfalls and dense vegetation.

I have thought about Holy Cross for a long time and how this particular mountain has shaped me. Due to an episode regarding a failed attempt in March of 2008, the opinions, emotions and connections I felt made me step back, analyze and critique my whole decision-making process. Gradually, the axioms that attend snap judgments were replaced by analysis, curiosity and judiciousness.
I concluded that to be a proficient mountaineer, one must concurrently follow two separate but parallel paths: listening to advice and reading printed literature and more importantly, direct experience in the field. I've learned that guidebooks and topographical maps don't always translate well into the field. The contour intervals are not always neat, clean and indicative.
On an earlier trip one winter, Glen Maxson and I were traversing the West Face of Notch Mountain looking for a relatively safe way down into East Cross Creek. From the Topo map we had, the contour intervals along the west face looked reasonably spaced (standard 40' deviations) and from what we could gleam from Dawson's and Roach's guidebooks, nothing came across as 'doom & gloom'. However, once we were out on the face, the slope was anything but safe. From the many summer excursions, this particular slope looked innocuous and innocent. We reached a point where I cleared off a rock to sit down and refused to traverse any further. Glen continued for another 10 minutes or so before he turned around and reported that the face cleared out into gully after gully, basically avalanche terrain. While we were discussing our options over some hot tea, we spied what looked like a rockfall on the west shoulder of Notch Mountain. It distinctly stood out from the surrounding cliffs. Our summit attempt had morphed into a reconnaissance trip without us knowing it. Getting there would take some doing but it was definitely worth having a look. We set off following our tracks back and left them on a westerly course linking groves of pine, rock out-croppings and descending some steep gullies on what had to be 40° descending traverse. We finally reached the bottom of East Cross Creek after a sinuous descent and rested in a small grove of slumbering aspen.

Between our initial route-finding mistakes, a longer than expected descent and our failure to render the topographic maps into actual terrain, we had passed our agreed upon turn around time. It was roughly 4:00pm with about an hour and a half of daylight left. The avalanche potential on Notch Mountain's West Face was higher then what either of us was willing to accept and neither one of us wanted to ascend what we just descended in the dark. And let's face it, when anyone ventures into the backcountry in winter, there is an automatic higher level of risk one involuntarily accepts along with a salvo of related threats. Risk mitigation is part of being proficient.
We didn't summit that March 18th and I spent what is still the most miserable and uncomfortable night ever camping in winter. My clothes wouldn't dry out due to the cold temperatures, the inside of the tent was damp and my sleeping bag which, wasn't suited for single digits, didn't keep me warm. I excoriated myself severely that night for what turned out to be a cascade of mistakes that not only cost Glen and I the summit but also risked hypothermia. In winter, due to the shortened hours of daylight and a magnified physical commitment, complacency is akin to failure. It was a hard elixir to drink but I took my medicine.
A mantra commonly heard in the climbing community is that "We all learn something new on every trip" The events of that night and the repercussions graciously thrown my way afterward, opened my eyes. Criticism, if it's not beneficial, only serves to alienate.
I find it interesting that my affairs with Crestone Needle, Capitol Peak and Syncline Dome (Utah) couldn't divulge this epiphany but that the slow and steady persistence of a singular mountain over the course of years has yielded this syrupy answer. Anyone in their right mind can't expect to be proficient in what they do without both advice/literature and experience. They're both stand-alone tangents but in truth, each owes its' existence to the other. Sometimes, you have to extend yourself beyond what's comfortable and enter questionable terrain. I believe it's prudent to head out into the storm, push your rock skills a tenth or two higher and intentionally leave the trail. Become lost and hone those route-finding abilities. I guarantee, the first time one becomes lost or takes a fall and actually has to use their axe for self-arrest will never be forgotten. Until one actually experiences for themselves, all the words in the world are still, only words. Even if you've read volumes of books and listened to advice from others more experienced, any thought of taking a fall on a 50° snow slope or falling from a 5.8 hand crack will be mortifying and unthinkable.









Mt. Jackson as viewed from Notch Mountain's Southern Slopes


Most of what I know and have learned through the years has been on my own terms and by doing the things that probably shouldn't have been done. I've made plenty of mistakes but I haven't let my fear or knowledge of consequences overwhelm my curiosity and passion for all things vertical.

I've turned a deaf ear to all the 'armchair climbers' who point their fingers and say, 'you should be with someone' or 'that was a stupid idea' just so that they can build the wilderness/mountains into something more 'Disney' friendly.
The secret to confidence is NOT in numbers. Approval for the things we do, decisions we make and the actions we employ may help in the short run, but it will eventually fall short. Confidence and self-assurance can truly only come from one place, from within. Passion doesn't require approval. It requires only an outlet. The key is to take charge and become dynamic about one's backcountry scholarship, to engage it and embrace it; but just passively enough so it doesn't feed the all-insatiable id.

Attempts & Successes
"A man could be a lover and a defender of the wilderness without
ever in his lifetime leaving the boundaries of asphalt, powerlines or
right-angled surfaces. We need wilderness whether or not we ever
set foot in it. We need a refuge whether or not we ever go there. I may
never in my life get to Alaska, for example, but I am grateful that it's
there. We need the possibility of escape as surely as we need hope;
without it the life of the cities would drive all men into crime
or drugs or psychoanalysis."
--Edward Abbey



My first successful summit of Holy Cross was in August of 1999. Back then, I was sporting some mad Andre Agassi locks. I hadn't slept the previous day and once I got off from work, my climbing partner and I drove my car down that morning. So when I showed back up at the car after summiting, I needed the girl I was with to drive us back to Fort Collins. As she and I sat across from each other at the King's Derby in Idaho Springs waiting for the tow truck and my parents to arrive, I sat there greedily eating pasta thinking to myself, 'you'll never get another date from her again, pal'. That was a long day!
On another attempt in April with good friends, Brian Miller, Shawn Strauss and Pete Castricone, though it wasn't technically winter, the conditions we faced were still solidly winter. On this particular trip, I don't think anyone was really focused or driven in reaching the summit. The camaraderie between all of us was unusually high and simply venturing into the Holy Cross Wilderness this early in the year was a treat. We had a great but physically exhaustive time spending two nights at the Tigiwon Community House and though we never made the summit, we still found reason to laugh at our attempt at the end of the day. If you run with a pack of clowns, don't be surprised if a circus breaks out!
Without doubt, one of the most exciting attempts I've made involved my friends Stephanie Lynn and Chase Lindell. We wanted to climb the Cross Couloir. However, instead of taking the normal entry point for this sliver of snow which, is almost half-way up the couloir, we opted for the direct start at the bottom. Since neither Stephanie nor I could lead it, Chase gladly took the helm. This meant one short pitch of face-climbing on 4th class rock, a second pitch of loose mid-5th and a third pitch that contained a single crux move of an off-width fist crack that flirted with 5.9-ish. We didn't summit due to the difficulties of the move and Chase didn't have large enough cams to protect it. We were fairly confident that we were off route. Even if Chase could have powered through the crux, I'm not sure I could have cleared it. The lower mid-5th wall was tough enough in mountaineering boots (I forgot my rock shoes back in Stephanie's Jeep). So Chase set a repel anchor off three hex nuts, equalized the webbing and we repelled back down 50'-60' to the snow in the couloir.

This defeat, as exciting as it was, wasn't the reason why this particular trip stands out so well among the others. Neither one of us wanted to downclimb the 4th class face.
So at the top of the first constriction, not finding a way down that didn't require a jump or a possible fall into a 'moat', I scrambled back up the talus and set an anchor around a large boulder and walked myself back down to where Stephanie and Chase were waiting.
The problem was I didn't trust any of the boulders located directly above us enough to set all my weight on. The rope was almost at a 40° angle to our position, definitely NOT what I would call ideal. I traversed climber's right to lessen the angle and slowly started to lower myself over the garbage truck sized rock we were sitting on top of. The rock face was wet in spots due to splash back from a small nearby waterfall. I was looking up at a waterfall much higher on the cliff where we stopped at the off-width crack basically not paying attention…then I lost my footing! The next 10 seconds were as scary and exciting as you can possibly get. I swung like a pendulum to the right across the rock face towards the small but flowing waterfall. After a couple seconds of realizing that I wasn't going to be able to stop my momentum, I allowed myself to swing across the rock face and through the water. I let the rope go slack to allow myself some freedom to land on a small snow lip located just inside a small alcove right behind the waterfall! When I was sure my footing was secure, I started to laugh and yell excitedly! I've rarely felt that alive. I could hear Stephanie and Chase but I couldn't decipher what they were saying over the din of the water and the dampening effects of the alcove I was in. I was looking out through the waterfall and I could follow the path of the water down as it disappeared underneath the snow into a dark cavernous tunnel.

I jumped across the dark gap, back through the water and onto the snow. I walked myself down coming back into view and untied at a small pile of talus that had partially filled in a side moat. I yelled up to Chase & Stephanie, "Off rope!" and waited for them to repel down to my location. They might have done it with more grace and finesse but I guarantee I had more fun! It was without doubt, one of the most unique moments I've had in the mountains.
The Winter Emergency

On this particular trip, the team consisted of Stephanie Lynn, Ben Conners, John Williams, Ryan Scollard and Zion (Stephanie's dog). Since this was my 6th walk up Tigiwon Road, I advised everyone to put in their ipods, tilt their head down and tune out. In the wintertime, the road closure for Holy Cross is at the bottom next to Hwy 24 just outside of Minturn. That leaves eight miles of road that has to be walked, snowmobiled or skied. In this case, like previous attempts, we walked it.

Roughly 5 miles or so up the road, we took the obligatory stop at the Community House for cider and hot chocolate. We warmed up and I filled my thermos with boiling water to enjoy that night and for the next morning. A couple of the guides who run snowmobile tours for NOVA (based out of Camp Hale) to out-of-state tourists had gotten used to seeing me, so it was nice to talk with them again. I chatted with Tom, one of the guides who works for NOVA, I recognized from Paddy's in Eagle-Vail. We chatted briefly with some tourists from a group who had stopped by, their kids played with Zion and we packed up and continued on our way thoroughly refreshed. We still had another three miles to go just to reach the standard summer trailhead!

After another two hours, the outhouse at the trailhead came within sight which signals the end of the road. Our attitudes picked up because at this point we were only another 1.6 miles from Halfmoon Pass. Thankfully, most of the distance already had a good trench laid down from my effort the previous week with Kevin Hayne (rest in peace buddy). Even with the fresh snowfall, the packed snow held wonderfully. At this point, we donned snowshoes, drank, refreshed and set out. When Glen and I had been in this area two years previous during a heavy snow year, we camped at the summer trailhead. We dug out a pit until the top of our tent was completely below the snowline and we still hadn't hit dirt. The snow line had covered the three Forest Signs (placards) to within a few inches of their tops. You needed an avalanche beacon and probe just to access the outhouse! However, on this day, the posts could be seen.
We all took turns taking the lead and made steady progress up the trail. Two months previous on a trip that Stephanie and I took up Notch Mountain, I had marked the summer trail with blue ribbons to expedite route finding in the deep powder that I was expecting a few months hence. On previous trips, I killed a lot of time meandering my way up towards Halfmoon Pass with no clear distinction of direction other than WSW. This time, there was no meandering. Instead of camping at the pass, which was the original plan, we decided to use Kevin's and mine camping spot from the previous weekend. It was well protected from avalanches off Notch Mountain and heavily forested as to provide a respite from the winds. Plus, by the time we reached our old camping spot, everyone was tired. We set camp about 6:30pm Sunday night.

I hadn't slept since early Friday afternoon so I stayed behind to set up camp and Stephanie continued up the trail a little further with Zion to re-break the trench. I stayed up longer then I wanted. Ryan had created a great fire and in the bitter cold of a winter's night, the warmth was hard to say no to. John had retired for the night being completely spent by the 9.5mile walk in. Some dinner, hot drinks and 45 minutes later, it was lights out for Stephanie and I. As soon as my head hit the sleeping bag, I was gone. I slept like the dead, not moving so much as a muscle for at least 6 hours. It was a good, deep sleep, the kind of sleep where even your toenails feel rested.
Stephanie and I woke naturally to the sound of Ryan and Ben's voices in the tent next to ours. We woke to a North Face ballroom of heavy frost and ice. This was one of the few times where I woke up in single digits actually excited to be awake and ready to go. When it is still pitch black and 7° outside, motivation is a hard sell. John decided to stay in camp and pack out later that morning. Sunday had really taken a toll on him. Ryan and Ben were still making preparations so Stephanie and I left camp at 5:50am, an hour behind schedule and trenched up to Halfmoon Pass, taking turns and admiring the dark and steeled views to the east.
The lowland valleys: Fall Creek, Peterson, Homestake and beyond were held prisoner by cold and dark clouds. Standing in the dark at Halfmoon Pass, my hood creating an illusion of even deeper isolation, I envisioned ancient and broken canals of smoke and stone, cracked and weakened by century old tendrils of dark pine like evil seeps of lichen and moss, a misplaced piece of German Bavaria reworked by The Brothers Grimm. The weak and ghastly light of approaching dawn and a waning gibbous moon lent illusion to an already solid image of a sick and sinister land.
Having been buffeted by a weak and emphysemic breeze for long enough, Stephanie, Zion and I sought shelter in a rock-well. We waited several minutes for Ryan and Ben to arrive. It was unfortunate that John couldn't be with us this morning. But forcing someone onward in winter is selfish and dangerous when so far in the backcountry. So I didn't push the issue or try to coerce him. After a few minutes of rest for all of us, we set off towards the dubious traverse around Notch Mountain.
I led the way winding through the trees on a gentle but descending traverse hoping to pick up the summer trail. Eventually, we reached the trail as evidenced by the trees. In the short time that we left Halfmoon Pass to a broken clearing before Notch Mountain, the morning had seized the night and ripped it to shreds like wind tattered prayer flags.

The views that were now afforded to us, gazing across the lower slopes towards Mt. Jackson out west were beautifully sublime and transcendent. All the gothic underpinnings of the pre-dawn had evaporated. Fear and doubt were replaced by wonder and confidence. For the moment, standing on the edge of the slope unaware and oblivious of the dangers that lurked underneath, the four of us shared a marvelous and silent communion of color. It's not often that the new day is parleyed by pink and lavender.
This cold wilderness however, was not without its' dangers. Notch Mountain's NW Slopes are notorious for sliding. It sits there like a bear-trap, acres and acres full of potential energy awaiting release. We switched our avalanche beacons on and I started out first across the slope of quicksand on a slow, methodical and deliberate pace. Ryan, Stephanie and Ben watched me like owls. Zion rolled around and played in the snow. I trenched about 40' to a pair of small evergreens when I think I heard Stephanie shout. I looked up slope but didn't see anything. However, in front of me and slightly uphill at a 3:00pm position, a crack had materialized that I didn't remember seeing.

The others had started to ascend and take a high traverse. The snow quality was poor with undulating pockets of dry sugar, powder and poorly frozen, weak upper layers. It unnerved me enough to stomp the evergreens out and rest. I was nervous and didn't care much for my position. I started to climb straight uphill linking small and exposed rocks, making sure to clean and expose them more and stomp the snow down around them before I continued on. Near the top of the slope, I crossed over the crack. It was almost an inch wide and looked to be 2"-3" deep. I don't know how I missed the whoompf or the report as it opened. I'm shocked that the slope didn't slide. Sometimes, I think snow and avalanche forecasting is nothing more than skilled dartboard science.
At Ryan's lead, we followed like a slow, kinetic inchworm across the almond bark slope linking talus until we had safely traversed the slope and dropped down to Notch Mountains more stable NW Shoulder near treeline. We admired our destination. As the crow flies, the summit was only a mile or so. I left the others and proceeded through the thigh-deep powder back down to treeline. I stopped at a clearing and stomped out a small area in which to rest. Ryan shortly came walking up followed by Ben, Stephanie and Zion. We discussed our options in terms of the descent and our path across the ravine. Traversing across the west face of Notch Mountain would be suicide. Heading straight down and trying to follow the summer trail would be an exercise in futility.

Ryan took the lead and continued our slow path further down the shoulder. Stephanie eventually took over at the actual descent and brought us down into a short but steep gully and out the other side to the same rockfall that Glen and I had used two years prior. I took back over and switch-backed the remainder of the way down until we were in East Cross Creek proper.
Again, I stomped out a small area in which to sit. Our first crux was now over and done with. We had successfully navigated Notch Mountain and reached the bottom of the basin without incident. But now we had the second crux to deal with. This one demanded fortitude, perseverance and Herculean stamina. Things were about to get slower and uglier now. It was reassuring to have strong partners along for this segment. East Cross Creek in winter can be both a wonderfully beautiful but an amazingly lonely place. Ben took over and led across the glade and back into the forest. Honestly, the descent into East Cross Creek wasn't that bad. The key is to switchback frequently to provide extra holds on the way down.

The snow depth wasn't relenting and actually as we rounded Halfmoon Pass, the amount of snow seemed to have increased. It was a stark difference to the east side of the pass. It felt like we were making progress but at the same time, it was maddening because we were moving so slowly. In the words of Jim Morrison, "It was soft driven, slow and mad. Like some new language." Moving any faster simply wasn't an option. We would end up burning ourselves out in half the time plus profuse sweating is borderline dangerous in winter. We expected snow of course, we expected hard & laborious trailbreaking and we expected cold temperatures due to the Alaskan-sized high-pressure system that had parked itself over Colorado. Compared to the snow levels in the rest of the Sawatch for this particular time of the year, Holy Cross was a huge, white anomalous marshmallow. The mountain was holding more snow then any of us thought.
The further into the forest we moved, the higher up the North Slope we coursed, the snow depth increased. There was still no consolidation or layering and a few times as Ryan and Stephanie took their turn breaking trail, the snowline came up to stomach-level. It was wrongfully funny watching them! Ben and I being taller had an easier time with it. We had regressed to taking 100-200 steps per turn before we recycled to the back of the line to rest.
Mt. of the Holy Cross was boasting one hell of a moat around its parapets and keep. The actual ascent up through the forest on the lower North Slope turned out to be the hardest section of the whole ascent. The snow was just too deep, powdery and dry to hold any weight. The teeth on the bottom of our snowshoes weren't biting or gripping. We crawled through this area like ants in a puddle of water, cursing with every step (at least I was). No matter what direction we took, easy passage was strictly verboten.

Eventually, as Ben was leading the line on a SW ascending traverse, breaks in the trees had started to show a barren slope up ahead. That was enough to give everyone a fresh start of energy and soon we cleared the trees and arrived on the talus slopes of the North Ridge. Getting to this point was positively the hardest snowshoeing I've ever done to date. Granted, once we reached the tundra, the summit still required a fair amount of work but at least there would be no more trenching or wallowing and our movement would be more continuous and fluid.

Ben led most of the way up the North Ridge. I eventually caught up with him and chatted for a short while as we walked. I took over lead and kept up a steady but slow pace. I weaved and switch-backed up the final slope, passing the exit for the Angelica Couloir without a look. The sky out west was surreal. It was as if the whole state of Utah was on fire! The sky was clear but the winds were whipping up some mean spindrift off the western peaks creating a similar picture to Ed Viestur's iconic image of climbing Lhotse with a wind-blasted Everest in the background. These are the moments you wait for as a mountaineer; moments that speak directly to your soul, moments that provide the silent answers as to why some men are so willing to endure hardship, temperatures and worse. To give voice to such moments only cheapens them.
The summit of Holy Cross was a barren and stark place. It was a solid snowcap that resembled a Himalayan peak. With the red and orange-colored spindrift on the western horizon, the sunset looked like the Aurora Borealis had been mercilessly tied to the bumper of ZZ Top's 1933 Ford Coupe and dragged all over the horizon by some renegade seraphim. I walked back to the edge and saw Ben stroll up. Ryan came up a few minutes later followed by Stephanie and Zion. We summited at 6:10pm. It took us just over 12 hours to hike/snowshoe 4.5miles! I hope that gives some impression at how hard the trenching was.
I had found my 'second wind' on the summit and despite the dropping temperature and wind; I was absolutely elated and excited to be standing there. Ben too it seemed had found an inner source of new energy. Ben was just as elated as I was. Zion was no longer black. He was wearing a nice patina of white from the spindrift. Zion was on the verge of changing into a yeti!

We turned around and made haste since the temperature was dropping. 'Winterneering' (my term) in general is hard enough but when the sun goes down, which, has to be expected, the darkness can drain your confidence like a black sickness; so having a trench, a path, or even old snowshoe tracks to follow on the way out means the absolute world. We ran out of water on the descent. Everything had frozen or turned to slush despite our best efforts to keep bottles insulated. Even my spare Nalgene, which was back at camp wrapped up in an extra shirt and stuffed inside my -5° sleeping bag, had slushed and iced up completely.
Ryan and Stephanie had hit their physical limit on the descent. Ben and I started to worry because we still had a long and cold trench to hike before we reached camp, which unfortunately included almost 1000ft. vertical gain to reach Halfmoon Pass from the bottom of East Cross Creek. Having no liquids with increasingly colder temperatures, the seriousness of the situation was well known to everyone. We had to make haste as best we could. All I had left was thick, frozen, apple-cider slush. I was breaking icicles off rocks and letting them melt in my mouth for liquid water.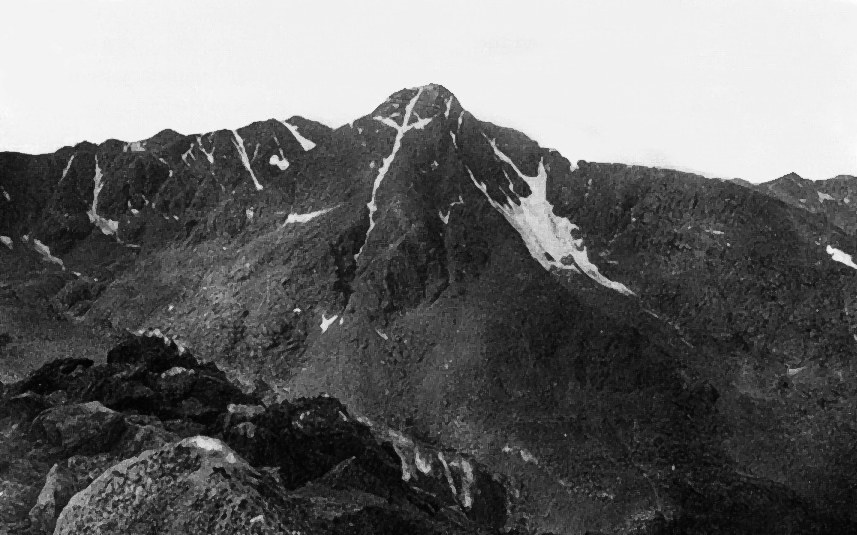 The climb out of East Cross Creek was likewise, not as bad as I was expecting. However, I'm sure Stephanie and Ryan would have disagreed. Ben and I took the front to further pack down the trench to provide easier traveling for Ryan and Stephanie.
Ryan kept lagging further and further behind. Ben and I figured it was just exhaustion and slowed our pace so we wouldn't be too far ahead. While Ben and I were stopped on the NW Shoulder of Notch Mountain, Stephanie came walking up to us and reported that Ryan was in bad shape. He was lagging behind to the point that it warranted concern.

Ben decided to wait for Ryan while I walked up trail a little further to stomp out a resting platform on the leeward side of some trees hoping it would provide a natural windbreak.
I waited for everyone else to arrive and then we all took a good, long, well-deserved break. Ryan was indeed languid, tepid and out of breath. He was experiencing the same symptoms he came down with in South America on Aconcagua. The pink froth Ryan was spitting up belied the Pulmonary Edema that forced his retreat back down the Argentinian mountain. Ryan was already physically exhausted, tired, cold and more than likely, dehydrated. So getting back to camp as quickly as we could was now dire and tantamount to Ryan's safety. Strongly, Ryan kept a very upbeat attitude. It was something that could be heard in his voice. We retraced our steps across Notch Mountain; I dug out a small tree-well and waited for the others to catch up. We discussed our options.

I would go ahead and trek back to camp and break out Ben's stove and boil some water so everyone would have fluids once they returned. Stephanie and Ben stayed with Ryan for the remaining short traverse up to Halfmoon Pass and for the descent back to camp. They arrived shortly after midnight. Ryan dropped all gear and crawled into his sleeping bag to warm up. Stephanie crawled into our tent to recharge her batteries and equally warm up with Zion. We were thinking of staying & sleeping for 3-4 hours so everyone could get some hard-earned rest and warm up before we broke camp. While I was in Ben's tent boiling water, the stove ran out of gas. I had only filled one liter!

I didn't bring my stove because in winter, I can typically get by on two liters of water for a couple days and be fine. Plus, I refilled what I had including my thermos at the Community House on the way up the previous day. But since Ben and Stephanie's remaining fluids had frozen solid, having no fuel forced our hand. In hindsight, this was a drastic mistake on my part by not bringing a stove, regardless of personal limits. I critically and admonishingly reminded myself of that climber's mantra.
As much as we didn't want to, we forced Ryan to get back up and accompany Stephanie for the second half of our retreat. They would pack out ahead of Ben and I. I took Ryan's pack and I gave him mine since it was the lightest. Ben and I finished packing up camp then made our way out following them. For the urgency of the situation, we were strangely feeling good and calm. Ben and I connected fairly strongly on this trip, which consequently, was out first meeting after multiple e-mails via the Internet (14ers.com). We caught up with them at the trailhead. Ryan and Stephanie had made impressive progress and speed down the trail.
Ryan was looking better but not feeling any better. However, he still had that positive vibe in his voice. Ryan knew what was happening and instead of languishing in doubt and worry, he did the smartest thing he could, keep a positive outlook. On the walk out, I took my pack from him and shouldered it on my front side locking it in place by widening my arms. At least this way, Ryan could move quicker and be bereft of additional weight. Because of the additional weight I was now carrying, I had to keep moving at my own pace and soon out-distanced everyone else. I walked the gentle uphill of Tigiwon Road to a wide turn-around clearing about a mile or so away from the trailhead and dropped both packs. It felt good to sit unencumbered. Ben came strolling up soon afterward followed by Stephanie and Ryan. Since Ben had skis with him, he would take my pack and do the same thing and ski down the road back to the Community House, which is where we were planning on stopping for the night.
We figured this way, by the time the rest of us showed up, Ben would have the fire going and water boiling in the pots that NOVA leaves at the house. It was a good plan but the best we could do under the circumstances.
Ryan had collapsed on the snow in a half-sleep. He mentioned every 10 steps felt like a marathon.

We three started walking the last ~2 miles back to the Community House. However, I was starting to grow much colder then what I could handle. The pace was slower than what my body could generate in terms of heat to counteract the temperatures, which I think had dropped back down into the single digits. So with about a mile to go, I took off at a quicker pace and Stephanie and Zion stayed behind with Ryan. Stephanie was still focused and clear of mind, just physically spent. I arrived at the Community House and dropped my pack, shed some layers and sat in front of the fire that Ben had started with a cup of hot cider. About 15-20 minutes later, Stephanie, Zion and Ryan came in. We handed them cups of cider and stoked the fire even higher. Ben plied Ryan with cups and cups of cider and hot water. The plan was to sleep for a few hours in the house in warmth then get Ryan a snowmobile ride down in the morning.

I couldn't get John on his cell phone that night and hoped he was still at the bottom of the road near the gate as opposed to driving back home. I left a few messages, both texts and voicemail on his phone. We had no idea he was still parked at the bottom and John had no idea what was happening with Ryan. Stephanie and Ryan, after drinking multiple cups of cider, laid their sleeping bags in front of the fire while Ben and I slept on a wooden platform in the corner of the cabin. We finally called it quits at 4:00am. It was a marathon, 22-hr day. As soon as I closed my eyes, I dropped into sleep like an anchor cut from its' ship, irretrievably lost to the murky tides. At these depths, even dreams don't follow.
I woke to Ben calling my name sometime around 7:45am. I rolled out of my bag in a deep, groggy state to a very cold cabin. My voice had dropped at least an octave and I sounded gravely. I could have sung a duet with Bob Dylan and Tom Waits. Stephanie and Ryan were in a half-sleep. Stephanie was doing considerably better. Ryan, sadly, exhibited no change.
To our surprise, John had left two texts and left a voice message! He was still parked at the bottom of the road waiting for us! It was amazing! We can't thank John enough for weathering out the night. John was the reason we were able to get Ryan off the mountain promptly. Through conveying messages and information, one of the NOVA guides had let John suit up and take one of the snowmobiles to the cabin to take Ryan down. John arrived around 8:30am and took Ryan back down with Ben following on skis. Stephanie and I cleaned things up at the cabin, shouldered our packs and left.









Ben Conners reaching the snowy apogee



Stephanie and I were about three miles from the gate when Tom, one of the guides came up and stopped. He knew what was happening and reported that Ben and Ryan were back in Vail. They were waiting for one of Ryan's friends to arrive from Denver to drive him back to a Denver area hospital. John was still at the bottom waiting for us. Tom was on his way to deliver supplies to the cabin and would stop on the way back down and pick us up.
Fortunately, the trip ended successfully and safely.

There is just no knowing when tragedy or emergency will strike. The trip to Holy Cross served to unite us in a way that's hard to come by in the wilderness. We all reached some kind of personal conquest, were pushed to our physical limitations or connected with each other by deep channels of forced collaboration, togetherness and knowledge.
The more I dwell on this, it almost seems that Holy Cross was imparting yet another lesson in personal fortitude and perseverance, a harder and more advanced chapter in the parthenon of experience that only the wilderness can bestow.

There is truth in hardship.

Images