Introduction
Mountaineers and climbers have a tendency to strive for the highest point possible and the summits over 8000 meters are therefore naturally the most sought after peaks on the planet.
In the early days a huge prestige factor, individual as well as national, was an issue. The race for the highest summits on earth even got governments involved and national pride came at play. Some of the mountains were off limits due to political reasons and others were very hard to reach because of logisitical issues, bad mapping and the fact they were located in unhospitable mountain areas. In the beginning the peaks almost had a mythical status and some even regarded the summits impossible to reach.
Looking at the equipment used and the inadequate knowledge about the altitude's impact on the human body some extraordinary achievements were done.
A real breakthrough came in 1950 when the French expedition summited Annapurna. Maurice Herzog and Louis Lachenal were the first humans ever to set a foot on a summit over 8000 meters. This triumph spurred others even harder to reach more of the elusive summits. In 1953 Terzing Norgay and Edmund Hillary made it to the highest of all peaks, Everest and in the following years one by one of the 14 were climbed. The last unclimbed summit, Xixabangma were summited in 1964.
In the early days most expeditions were carried out in "siege style", i.e. large ventures with hundreds, sometimes even thousands of porters and many climbers which put the mountain on siege. Many times they were carried out in an almost military fashion with strict hierarchial structure, with pre-choosen climbers for the summit bid and help climbers which only purpose was to set up the route.
The very low oxygen levels on the peaks created two alternative standpoints about how to climb them sucessfully.
In 1920 Mallory argued:
"that the climber does best to rely on his natural abilities, which warn him whether he is overstepping the bounds of his strength. With artificial aids, he exposes himself to the possibility of sudden collapse if the apparatus fails."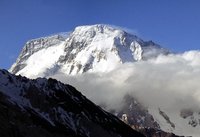 Most other thought the use of artificial aid in terms of bottled oxygen was of necessaty. All the first successful climbs were done in this way and it became the norm. In 1975 Reinhold Messner and Peter Habeler shook the traditional mountaineering world by climbing Gasherbrum I without using bottled oxygen and three years later they continued with a successful ascent of Everest in the same fashion. This astonished the world, especially the Sherpa community, which thought no one could outperform them on altitude.
Today the debate about using or not using bottled oxygen still rages on. Some think it's cheating, some argues it's a must considering the safety.
In 1953, Herman Buhl did what most climbers thought impossible; he made it to the summit of Nanga Parbat solo. It's still uncommon with solo ascents of the 8000 meter peaks, but there have been some successful climbs. Nowadays it's a bit debatable how many of these "soloes" are true ones, as there are lots of fixed ropes and other climbers on the peaks. A true solo climb of Everest was made by Messner in 1980, when he completely alone on the whole mountain made it to the summit.
Nowadays it's becoming more and more common to have the highest peaks on earth on the climbing list. Commercial expedition organizers offers package prices and basically anyone who's got the cash can try it out. This has lead to crowded peaks and a lot of casualties.
Is this page too brief?
Many books have been written about the 8000 meter peaks and this page could be made kilometers long. I think all the Summitpost pages about the 14 peaks are of good quality and therefore I've choosen to make a portal; an introduction to each peak.
Note: I will add more info now and then. Tons can be added, but I'm not sure how much I should add, as checking out respective peak's main page will give you a lot of additional info.
The Highest Peaks on Earth
Numbers
The 14 peaks over 8000 meters are all located in Asia.

China has 9 within its borders, Nepal 8, Pakistan 5 and India 1.

9 of the summits are located on borders between countries.

The highest is Everest at 8848m and the lowest is Xixabangma at 8027m.

The first 8000m peak was climbed in 1950 (Annapurna).

The last was climbed in 1964 (Xixabangma).
All the 14 summits!
There is a very small group of elite mountaineers which have reached all the 14 peaks summits.




* No bottled oxygen used.

** Ralf Dujmovits has climbed all the 14 peaks, but according to himself, he doesn't count Everest as it was climbed with O2.

*** Cho Oyu disputed.

**** Kangchenjunga disputed.

***** By 1999, Oirzabal climbed all 8000ers, but at that time Everest was climbed with bottled O2. He then repeated Everest, this time without O2, in 2001. Anyway, even by counting 2001 as finishing date instead of 1999, he remains the third man after Messner and Loretan to have climbed all 14 without artificial O2.

****** Annapurna disputed

List

A list of about the

women which have climbed more than 4 8000m peaks.

First winter ascents

Everest - 17 February 1980, Leszek Cichy and Krzysztof Wielicki (Poland)

Manaslu - 14 January 1984, Maciej Berbeka and Ryszard Gajewski (Poland)

Dhaulagiri - 21 January 1985, Jerzy Kukuczka and Andrzej Czok (Poland)

Cho Oyu - 12 February 1985, Maciej Berbeka and Maciej Pawlikowski (repeated three days later by Andrzej Heinrich and Jerzy Kukuczka) (Poland)

Kangchenjunga - 11 January 1986, Jerry Kukuczka and Krzysztof Wielicki (Poland)

Annapurna I - 3 February 1987, Jerzy Kukuczka and Artur Hajzer (Poland)

Lhotse - 31 December 1988, Krzysztof Wielicki (Poland)

Shisha Pangma - 14 January 2005, Simone Moro (Italy) and Piotr Morawsky (Poland)

Makalu - 9 February 2009, Denis Urubko (Kazakhstan) and Simone Moro (Italy).

Gasherbrum II - 02 February 2011 Simone Moro (Italy), Denis Urubko (Kazakhstan), Cory Richards (Canada).

Gasherbrum I - 08 March 2012 Adam Bielecki and Janusz Golab (Poland).

Broad Peak - 05 March 2013 Maciej Berbeka*, Adam Bieleck, Tomasz Kowalski*and Artur Malek (Poland)

Nanga Parbat - 26 February 2016 Simone Moro (Italy), Muhammad Ali Sadpara (Pakistan) and Alex Txikon (Spain)

K2 - No winter ascent

* Died on descent

Everest

K2

Kangchenjunga

Lhotse

Makalu

Cho Oyu

Dhaulagiri

Manaslu

Nanga Parbat

Annapurna

Gasherbrum I

Broad Peak

Gasherbrum II

Xixabangma Feng

Recommended reading - links

8000ers.com A site dedicated to the 14 peaks.

Planet Fear's article about climbing the 8000 meter peaks: Part 1. Planet Fear's article about climbing the 8000 meter peaks: Part 2.

Recommended reading - books

Personal Accounts My Vertical World

Jerzy Kukuczka's book about climbing the peaks. One of my absolute favorite mountaineering books.

All fourteen 8000ers

Reinhold Messner's book about climbing all the peaks.

Himalayan Quest: Ed Viesturs on the 8,000-Meter Giants

Very nice photos in this one.

No shortcuts to the top

Another book by Viesters about the climbs.

Informative books on the subject Richard Sale's classic about the 8000 meter peaks.