Overview
The Almagellerhorn is a beautiful shaped mountain in the Saas Valley. Although there is a nice view of Almagellerhorn right from the car park at Saas Fee it is overseen by most visitors. Because of all those big neighbours exceeding the 4000m line it is rarely climbed. Recently a new hiking trail has been opened into the Furgtal and now a little Ferrata opens an easy access to the summit. That might attrack more people in the future.
It is well worth to visit this mountain because of it's location right in the middle of all those action. The view from the summit is outstanding - Weissmies, Portjengrat in the east, Sonnighorn and Stellihorn in the south and finally Monte Rosa Group and the huge Mischabel in the west!
There is allready a lot of information about the whole area on this site:
Weissmies Group
Getting There / Accomodation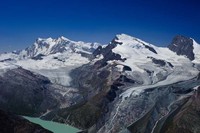 The Saas Valley is easy accessible by car or Postauto from Visp. Saas Fee is one of the most famous destinations in Switzerland and there is plenty of accomodation in all categories including nice campgrounds in Saas Grund.
Saas Valley
Routes
From Saas Almagell follow the well marked trail to Furgstalden. Therafter you can hike up the grassy ski area to Heidbodme 2346m or take the hiking trail towards Furgtal / Antronapass - that will certainly be longer! Alternative take a ride on the cablecar from Saas Almagell to Heidbodme. From Heidbodme there is a very new trail (summer 2011) leading into the Furgtal and a viewpoint (2700m) marked by a swiss flag. Right at the viewpoint starts the Ferrata. Above the Ferrata is a well marked (white-blue-white) alpine route leading to the summit, rated T4. Above the Ferrata the route is more or less the same like Route 857 of the SAC guidebook wich is rated F . The route follows the western flank and the small SW ridge.
If you start at Saas Almagell you need to gain around 1650m - making it a nice exercise!
Another route is from the Kanziljoch rated PD. But gaining the Kanziljoch from Furgtal doesn't look like beeing much fun - more a mental test.
Map: Swiss Map 1 : 25000
Summit coordinates. E 642971 / N 104078
Sonniggrat
Almagellerhorn is the beginning of the Sonniggrat - a 3km long ridge via Kanzilti, Plattenhorn to Sonnighorn rated AD / 3a.
Red Tape
At Heidbodme are signs asking you to not leave the trails as to protect wildlife. It might be better now to stick to the new established alpine route and Ferrata and not follow the original route through the Galen area.
Otherwise no Red Tapes!