Overview
This was an accidental trip which was the result of an over-crowded Pettit Lake campground.
I had been reading on Margaret Fuller's book 'Trails of the Sawtooth and Whitecloud Mountains' all winter long, so I had a small collection of trails I had wanted to conquer in mind. My girlfriend and I decided to try to hike up to Alice Lake from the Pettit Lake trailhead, but unfortunately we arrived too late. It was bursting at the seams, letting us receive dirty looks and suspicious stares as we cruised through looking for an empty spot.
'No luck!'
In desperation we sped off down the road to Alturas Lake and luckily found one open camp-spot.
Getting There
FROM BOISE
- Eastbound I-84, take the Micron exit and head towards Lucky Peak. Drive through Idaho City and keep traveling along HWY 21 through Lowman to Stanley. In Stanley, turn right at the stop sign onto HWY 75. This route will take you along the most scenic and often photographed stretch of highway along the Sawtooth Mountains.
Travel south approximately 25 miles on HWY 75 until you see the Alturas Lake turnoff (plenty of signs). From Highway 75 turn onto Forest Road 205 (Alturas Lake Rd). This road is paved for most of the way along Alturas Lake, with three separate campgrounds located for privacy, (keep an eye out for pedestrians and deer while traveling along here).
Route Description
Ha ha, lucky for us there were thunderstorms off and on throughout the day in the Boise area. After driving for 2.5 hours, we were sure glad to see the clouds had gathered worse and it was now starting to rain in Stanley. (Sense the sarcasm) Being the lightning quick, nimble, and agile creature I am, I was able to set up our 4-man Kelty in record time. Thank goodness because it really started pouring shortly thereafter.
After a short downpour of cats and dogs, the weather subsided and revealed some big, puffy clouds while the sun set for us. We started our fire and gorged ourselves on hotdogs and potato chips before retiring to bed with our dog, Kipp.
Throughout the night, I could tell it rained off and on as it would wake me at times. It wasn't anything that would keep me awake, just something that would actually lull me back to sleep once I was comforted with the thought of being dry. The next morning we found the vestibule had worked itself loose somewhat to allow a small amount of seepage in the tent. Possibly caused by my lightning quick, nimble, agile self... who knows. It wasn't anything to suspend a trip over so we decided to move forward with the hike.
I had concluded the previous night that Alice Lake would be far too busy, and quite frankly, that defeats my whole purpose of even being out there. I wanted the solitude with the least amount of human interaction as possible. Thus, resulting in me recalling some trails off of Alturas Lake from Margaret Fuller's book. I knew of the Alpine Creek Trails, but had no idea what this trail had in store for me.
After traveling past Alturas Lake, the paved road will end and turn into a narrow dirt road. This leads to the Alpine Creek Trailhead which consists of your typical dirt parking area and Forest Service provided (he and she) outhouse. After walking down the trail for about 3/4 mile, the trail forks. Hang a right to travel along the Alpine Creek drainage, which will join up with the creek.
From here the trail travels through forests of pine trees which we took shelter under during a phantom rain storm. 30 minutes later, after much contemplating on turning back, we trekked forward. Winding through thickets of trees, we would occasionally break out into an open meadow covered with Indian Paintbrush or other wildflowers. Truly a spectacle!
Roughly four miles in, you will cross Alpine Creek from the waterfall coming off of 'Casper Lake'. At this point, the trail takes a rather drastic change in grade. It is here where the book's EXPERT rating reared it's ugly claws. From here we were essentially pulling, pushing (kipp), scratching, and scrambling up an extremely steep granite-dirt monolith. It was truly a wonder there was even a trail here, but careful calculation can show you the correct way. Just take your time, it will be worth it in the end! Remember to relish your surroundings and take a look back at the valley you just traversed...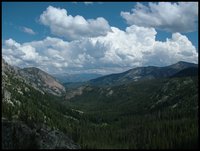 From the valley picture perspective, you would then keep heading up until you rounded a granite knoll, which plateaus at the top. On your right will be Alpine Creek Falls, which cascades down a series of granite boulders. It isn't very easy to get down next to the falls, so be alert if you decide to see how close you can get. The trail will then level out and pass through a small canyon which opens up into 'Casper Lake'. I call it 'Casper Lake' now since it was referenced as such by a well-experienced co-worker (Geo on here). None of the lakes in this area are named, but looking at the topo map will reveal a somewhat 'Casper-ish' shape to the lake. Overlooking the lake is a beautiful, solid granite peak which is also unnamed, so I will refer to it as 'Casper Peak'. From here we traversed a couple hundred yards along the lake and called it good. Threw off the packs and hung out with the view of this...
Essential Gear
You will definately need comfortable shoes and adequate hydration for an approximate 10 mile round trip trek. Windbreaker or something similiar would be preferred due to winds that sometimes rush through the canyons. Lunch would be great, but ensure you aren't carrying too much due to the unstable terrain and steepness on the last mile before the lake.
Keep in mind to take your time when returning to the Trailhead. Areas of the trail are far easier to climb up than to traverse back down, so plan accordingly.
Topo Map of Alpine Creek Lakes
The lake here is 'Lake 8522', Casper Lake.
External Links
Add External Links text here.