1)- Ski touring trip to Pointe de la Pierre starting from Ozein Village (1349m), Dailleuy resort (1480m) and through the slope of the North-northwest Face
:
on the Regional road by Aymavilles towards Cogne Valley, before reach Ozein Hamlet,
(1349m)
with Parking in place near Belley
1369m)
. From Ozein you can go on, along the road to Turlin Dessus and Low, till a fork on the right side, wherefrom starts the farm road, (concomitant with the path
n° 1
, leading to the mountain Pastures of Romperein
(1867m)
and to the next of Champchenille
(2212m)
. This, of course if the road is free, normally in winter you have to start from Ozein and get this point along some short cuts, avoiding the 7 km of the road. From Champchenille, ascending on fine slopes, straight to the Summit, by ski (
BSA; 3h'00/4h'00
from Dailleu also Dailleuy alternative).
2)- Circular Tour by people with snowshoes starting from the fork of Dailleuy (1490m) passing Alpages Rompérein, Champchenille, Borbolet Low and La Ruì
:
this tour can be carried out indifferently on one side or the other.
a)-
In fact, reached the Pastures of Rompérein, you can continue to Southeast as in the previous itinerary and path 1 until Campchenille; from here, leaving to the left (East) the way for the
"Pera"
, go down briefly with
unnumbered path
to Borbolet Alpe di Sotto (Low;
2108m
) and from there via a detour onto a farm dirt road to the nearby La Rui Alpage
(1923m)
. From the latter, with the farm road that reaches the High Pastures Bardoney and la Pierre, it descends again to those of Rompérein and Titeun
(1760m)
closing the circle.
b)-
Or from
1706 metres
junction, after the Alp isolated from the Premou
(1685m)
and before the nearby Titeun Pasture, you continue with the trail
n° 8
that comes from Ozein-Belley-Léonard-Chantal reaching La Ruì (
F; 3h'00/4h'00
for both directions of travel).
3)- Beautiful and long Excursion towards the Alpages of Barbolet Dèsott or Lower and Barbolet de Viou and that upper of la Pierre reaching the Pointe Vadaille
:
through the preceding routes up to La Ruì or Lower Borbolet Alpages; from the both in South with trail
n° 8
reach the most ancient Borbolet Viou or Damon Pasture and subsequent always very ancient of la Pierre highest Alpage
(2072m, 2077m)
. From La Pierre Alp continue to fork
2303 metres
and from this, with path
n° 8
in South, with small path always
n° 8
and debris and traces at the end bypassing some easy and small rock in final part, to Pointe Vadaille or Vedailles (
2338m
;
E/F;0h'45/1h'00
by La Pierre Alp).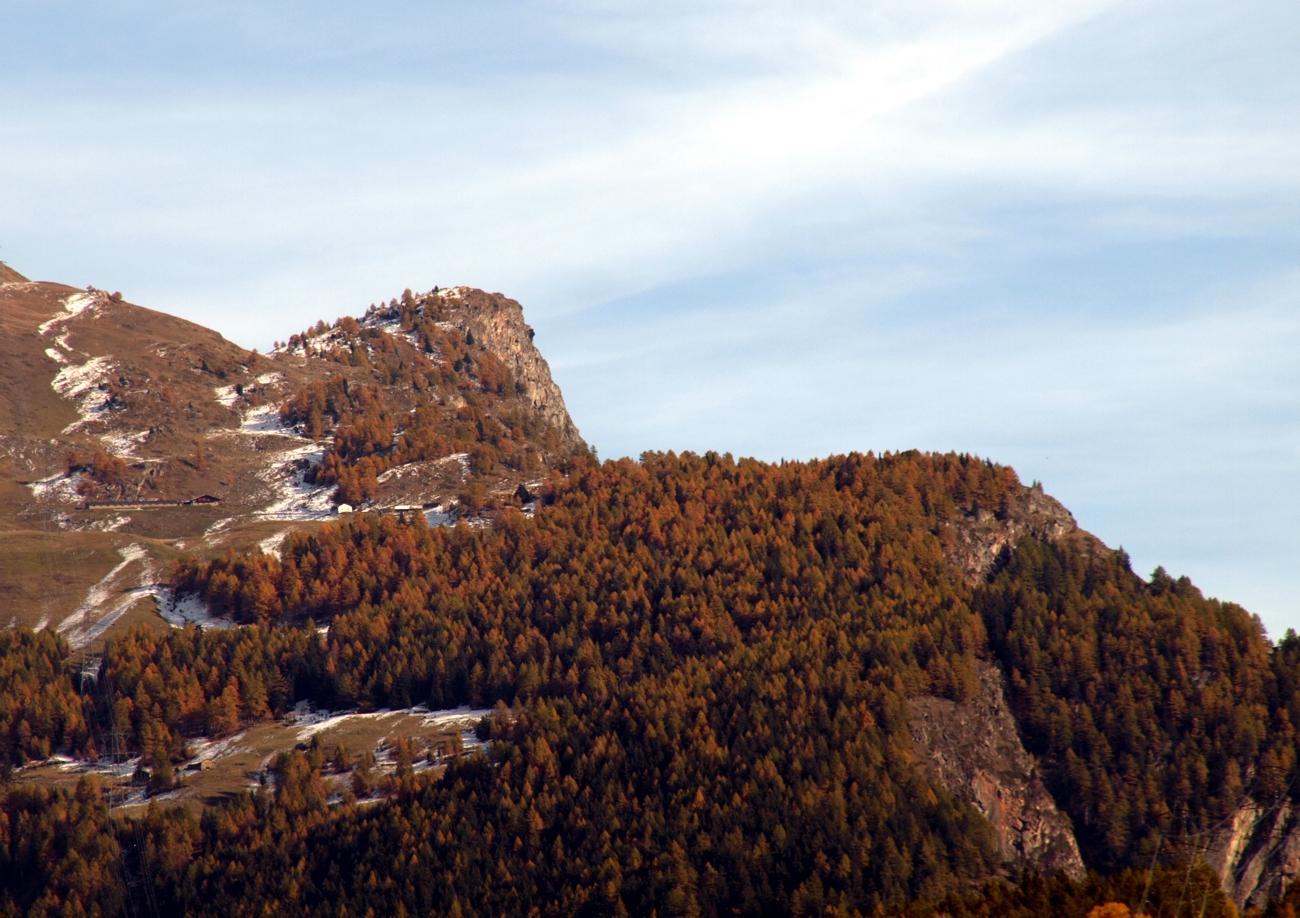 North-northwern Slope over la Pierre or "la Pira" & Bardoney Alpages
1)- Sci-Alpinistica alla Pointe Vadaille con partenza dal Villaggio d'Ozein (1349 m) località Dailleuy (1480 m) tramite il pendio del Versante Nord-nordovest :
Dal Villaggio di Ozein raggiungibile con la Strada Regionale che da Aymavilles raggiunge Cogne
(1349
; parcheggio nella piazzetta presso la località Belley
1369 m)
, continuare per la strada di Turlin Dessus e Dessous insino al bivio sulla destra dove inizia la strada poderale (concomitante con il sentiero
n° 1
; , che conduce all'Alpeggio di Rompérein
(1867 m)
, proseguire sino all'Alpe di Champchenille
(2212 m)
. Da questo punto si può salire anche per scorciatoie evitando i 7 km della strada poderale. Dall'Alpeggio di Champchenille puntare, su splendidi pendii prativi, seguendo la poderale alla Vetta, che si raggiunge sempre con gli sci (
BSA; 3h'00/4h'00
dalla località di Dailleuy o anche Dailleu).
2)- Giro circolare con le racchette da neve partendo dal bivio di Dailleuy (1490 m) e passando le Alpi Rompérein, Champchenille, Borbolet Dèsott fino a La Ruì
:
questo tour può essere effettuato indifferentemente da un lato o dall'altro.
a)-
Infatti, raggiunto l'Alpeggio di Rompérein, si può continuare verso Sudest come per il precedente itinerario e sentiero
n° 1
fino a Campchenille; da qui, lasciando a sinistra (Est) la via della
"Pera"
, si scende brevemente con sentiero
non numerato
all'Alpe di Borbolet di Sotto
(2108 m)
e da questa tramite deviazione sulla poderale alla vicina di La Ruì
(1923 m)
. Da quest'ultima, con la strada poderale che raggiunge gli Alpeggi di Bardoney e la Pierre, si scende nuovamente a quelle di Rompérein e Titeun
(1760 m)
chiudendo il cerchio.
b)-
Oppure dal bivio
1706 metri
, dopo l'Alpeggio isolato di la Premou
(1685m)
nonché prima di quello vicino di Titeun, si continua con il sentiero
n° 8
che proviene da Ozein-Belley-Léonard-Chantal raggiungendo La Ruì (
F; 3h'00/4h'00
per entrambi i sensi di marcia).
3)- Bella e lunga Escursione in direzione delle varie Alpi di Barbolet Dèsott o di Sotto e Barbolet de Viou e quella di la Pierre raggiungendo la Pointe Vadaille
:
tramite i precedenti itinerari insino all'Alpe La Ruì oppure ai viciniori Alpeggi del più recente Borbolet di Sotto; da entrambi e verso Mezzogiorno con il sentiero
n° 8
raggiungere il più antico Borbolet Viou o di Sopra ed il successivo sempre antico di la Pierre
(2072 m, 2077 m)
. Dall'Alpe La Pierre raggiungere la meta continuando verso Sud, con piccolo sentiero sempre
n° 8
e tracce detritiche nel finale zigzagando fra qualche facile roccetta, alla Punta Vadaille o Vedailles (
2338 m
;
E/F;0h'45/1h'00
dall'Alpeggio di La Pierre).
South-southeastern Face above the Grand'Eyvia Torrent in Cogne Valley
Essential Gear
Difficulty
This route can be considered
E
or
EE/BSA
(Experts Hikers or Good Skiers-Montaineers) in winter by Ski-Mountaineering or Snowshoeing.
L'itinerario è classificato
E
oppure
EE/BSA
(Buoni Sciatori Alpinisti) in inverno tramite Sci-Alpinismo od in Racchette da neve.
By Ozein to the North
Equipment
Hiking gear or in winter with ski and snowshoes (better with
ARVA
; in case of dangerous snow stop at Champchenille).
Da Escursionismo oppure in inverno tramite Sci oppure in Racchette da neve (meglio con
ARVA
; in caso di neve pericolosa fermarsi a Champchenille).