Overview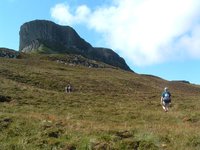 As seen from the Morar coastline, the Cuillin of Rum and Syke compete to hold the attention of the eye, but fail; it is the striking form of Eigg that becomes the focus of attention. An Sgurr, at 393m, is not a hill but a mountain, yet thankfully it does not feature in any of those lists where height is the sole gauge of status. The massive cockscomb of primitive pitchstone, crowning one of the most beautiful islands in the Hebridean seas, is quite without equal, its summit a 100m high tower of Dolomitic steepness.
Being the highest point, An Sgurr dominates this little island and from the summit the views are out of this world. One way there is a cracking view over towards the Rum Cuillin, the Isle of Skye Cuillin can be seen away in the distance and over towards the mainland Ben Nevis can be seen on the skyline. I would go as far as saying this little summit is just about as good as any within the UK. Not only is this mountain an amazing viewpoint, but wherever you are on the island you can not get away from its dominance.
Getting There
There are two different sailings that can be made from the mainland to Eigg. Cal Mac offer a year round service from Mallaig. For time table details and prices please see the web site www.calmac.co.uk or alternativly give them a ring on 01687 462403. The latest pricing I am aware of is £9.35 for a 5 day return. Calmac also offer a restricted service between Eigg and the other small isles of Canna, Rum and Muck. Most people these days drive to and from the Scottish cities, however if you wish to let the train take the strain Scotrail offer daily services north from Glasgow to Fort William and onwards to Mallaig.
For those prepared to a pay little more and with a little more time to spare you may wish to try the alternative option of a sailing on the M.V. Shearwater from the small port of Arisaig. They advertise their trip as not just a means of travel, but also an opportunity to spot a little wildlife. On our trip there, a few years ago we were lucky enough to see all manner of bird life, dolphins, porpoise and to cap it all, a couple of Minke Whales. When the whales were spotted the captain took off in pursuit of them and followed them for at least half an hour as they dived and resurfaced many a time. The result was that our ten mile trip took at least an hour and a half. Clearly this trip was a sightseeing sailing as well as a means of getting to and from the Isle of Eigg. For details of this summer only sailing please either ring 01687 450224 or check out the web site www.arisaig.co.uk
Red Tape
In 1997 the Isle of Eigg was purchased from its German absentee landlord and is now owned by the Isle of Eigg Trust. The purpose of the trust is to secure the future of the islanders and allow the opportunity for the islands small population to grow and provide for them selves. Clearly tourism will play a great part in this development. There are however a few restrictions on camping as laid down elsewhere in these notes. With regard to the right to roam, there are very few restrictions and as long as you do not blatantly trespass in someone's back garden there are no restrictions known to me.
Route of Ascent
There is only really one route ascent to the summit of An Sgurr. By taking one of the two previously mentioned ferries from Mallaig or Arisaig, arrival on Eigg is at Galmisdale pier. The little settlement of Galmisdale can provide all essentials for those looking to spend a few days or hours on Eigg. Do not, however arrive to expect anything more than basic goods or services.
Once stocked up and ready for the off, simply look up to see An Sgurr dominating the skyline. A road, track and then path lead up through woodland, over an open field, past a white house and finally across heather covered moorland. This combination of terrain will lead you directly to the foot of the great cliffs of An Sgurr. On three sides the summit is guarded by 300 foot virtical rock, however by following the northern side of the hill you will eventually come to an obvious diagonal path that intially leads over grass and then an easy rock scramble until the spine of An Sgurr is reached. All you have to now do is walk back along the summit ridge towards Galmisdale, ensuring that you take great care not to stray too close to those virtical cliffs.
Camping
Campers are welcome on Eigg. However, because much of the land is farmed, the risk of heath fires and to minimise damage to wild life, camping on Eigg is restricted. The Isle of Eigg Heritage Trust has designated an area ten minutes walk from the pier at Galmisdale Bay at a cost of £3 per tent per night. Amenities at the pier include public showers and toilets, a well stocked shop, the post office, craft shop and Eigg tea-room. If you chose to camp here simply report to the craft shop on your arrival.
Alternatively, campers are welcome at Sue Hollands and Neil Robertson's organic croft in Cleadale at the north end of Eigg. Campers choose their own site in a field looking west over the Atlantic Ocean towards the island of Rum and the Outer Hebrides with spectacular views and the opportunity of beautiful sunsets. Sue and Neil charge £4 per tent per night and provide a compost toilet for campers' convenience. Showers are available on request. It is advisable to phone in advance to ensure someone is at home on your arrival. For more information on both camp sites, contact Sue on 01687-482480 or email suehollands@talk21.com
For other accommodation option on Eigg I suggest that you follow the following link www.isleofeigg.org/welcome/welcome_frame
Fauna & Flora
With the benefit of the North Atlantic drift the waters around Eigg abound with plankton which in turn attracts much sealife. On our trip porpoise, dolphins, seals and Minke Whales were seen. The wildlife doesn't stop there. On our return leg from the summit we spent quite some time watching a pair of Golden Eagles soar overhead and from time to time disappear into a cliff face where presumable they were nesting. Elsewhere on the island both Red and Black Throated Divers could be seen.