Overview
Great fun multipitch climb for fist timers.
H3 TEXT HERE
UNDER CONSTRUCTION
Getting There
Add Getting There text here.
Route Description
Pitch: 1
Short 5.9, 3 bolts to a comfortable belay station. Fun pitch. Most difficult section is getting to the first bolt. Mostly pocket holds and small knobs.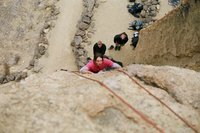 Pitch: 2
Long 5.7, 10 bolts to another comfortable belay station. Becomes almost a walk up around the 9th bolt. Lots of knobs all the way. Need a 60m rope to rapel second pitch to the top of pitch 1.
Essential Gear
10 quick draws, multi pitch gear, and 60m rope.
External Links
Add External Links text here.