Overview
Aries is the classic climb at the Great Northern Slab area. This route features 5 short pitches of great varied climbing on perfect rock with great protection. Climbing ranges from tips cracks to handcracks, fistcracks, slabs, hand traversing, and a flared squeeze chimney.
I bumped the rating on this route from its original "5.8" up a grade to reflect reality. Everyone I've ever talked to laughs at what a sandbag it is.
Getting There
From the parking lot, hike the trail accross the tracks until you hit the first section of rock. This climb starts at the base of the obvious fist crack.
Route Description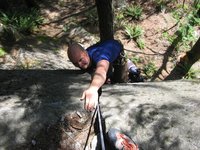 Pitch #1
- 5.9 - Jamb up the thin handcrack to below the flake, then commit to the #3 camalot jambs above with no feet initially. Top out on the ledge and belay here. 25 feet
Move your belay over to climber's right to the base of the dihedral.
Pitch #2
- 5.9 - Jamb the clean left facing corner with the thin finger to tips crack in it. The crux section is just below the flake. Grab the flake and climb up and to the right towards the chimney and belay at the fixed bong. 70 feet
Pitch #3
- 5.9+ - Wrestle up the steep and slick flared squeeze chimney using the crack in the back for pro. This pitch can be fully chimneyed out near the edge, but is hard to place gear from here. Belay on the ledge above. 40 feet
Pitch #4
- 5.8 - This beautiful pitch starts by first climbing up to the roof then hand traversing to the left using the perfect hand sized flake. Turn the corner then jamb the nice hand and fingercrack up to the bolted anchors. 70 feet
Pitch #5
- 5.7 - Scramble up to the tree then angle up and to the left on the slab following 2 bolts. Fun edges and small features. Belay from the anchor next to the tree. 90 feet
Down
- Rappel down the Great Northern Slab route with 2 or 3 single rope rappels.
Essential Gear
1 set of cams to a #3 camalot
Extras in the .75 to #2 size are nice for pitch #4
Small nuts
60 meter rope
External Links
Add External Links text here.