Overview
Even though it measures less than three thousand feet in elevation, and is located out side of Mt. Blue State park, Bald Mountain in Washington TWP is one of the most popular hikes in Central-Western Maine. With nothing to mark the trailhead other than a large sandy shoulder on Rt. 156 and piece of flagging tape, this hidden trail still sees plenty of local traffic year round. One might wonder why a sub 3000' peak surrounded by popular hiking destinations such as Mt. Blue, Tumbledown Mountain, and Saddleback is worth a trip, well the answer my friends is many. The trail boasts a quick moderate hike right from the start, and gains about 1400 feet in only a mile and a quarter, which offers a work-out, and time to get back to school to finish studying for that Geology final (the University of Maine at Farmington is only a 25 minute drive away).
The views on the summit are another reason: after a quick climb through the timber you arrive at an open rocky path to the summit with vistas in every direction. To the west, the ridge line of AT stretches from the Presidential range, seen to the south west, all the way to Saddleback. From the summit you also look down onto Webb Lake, which is shadowed by Tumbledown Mountain, Little Jackson, and Big Jackson. The abrupt triangular form of Mt. Blue is visible every time you turn around. Any season is a good time to hike the trail. In the winter someone has usually snowshoed to the top, in the fall the colors of the turning leaves surround you. Spring can be a bit tricky when Wilson Stream is running heavy. However in late July the best season arrives, the entire open summit is carpeted with Maine blueberries. I suggest this hike to anyone who wants to get into the sport of hiking, wants to take mom blueberry picking or just needs a stress break from Dr. Pane's lectures on the Goldberg Variations.
Trail
First things first, Wilson Stream must be crossed about 10 seconds into the hike. During spring this can be a bit risky, because the water level is sometimes high. I have witnessed a few friends plunge into the water after a misstep, including my brother at age 6. After a successful forge of Wilson Stream, the trail begins to go up the Mountain's ridge through a young forest of mixed hard woods. The forest area surrounding the trail was cut about 8 to ten years ago so many trees are small enough to look over and see Mt. Blue rising over a parallel ridge directly behind. The trail begins to get rocky and the forest steadily changes to pine.
Following shortly after, the trail breaks open and into a stroll over metamorphic rocks. The bedrock is littered with quartzite and schist striations that represent glacial evidence in the area 13,000 years ago. Certain samples of rock collected have been determined to be 400 million years old for more info on Bald' s unique geology check out D.W. Caldwell's book "Roadside Geology of Maine" or take a geology class at UMF). At the summit there are views in every direction. Bald' s close neighbor Saddleback Wind, very similar to Bald in form, can be accessed via bushwhack across the ridge between the two hills; I have been told that marking ribbon will lead you to Saddleback Wind's summit. In late winter and early spring Bald' s rocky trail gets icy, but can be easily traversed with snowshoes; an ice ax is a commodity, but not entirely necessary.
Getting There
From Portland follow I-95 to exit 75 Auburn. Take a left onto Route 4 and follow all the way to Route 156 in Wilton (about 40 minutes. The trailhead is on the left 8.3 miles down 156. Look for a big shoulder on the side of the road and traces of orange flagging ribbon. Usually there are other cars on the side of the road by the trail as well. However the trail can be easily missed, one indication that you missed it is Hills Pond on the left, 3/4 of a mile past the trailhead. From Hills Pond you can look back toward Bald, which overlooks the water.
Camping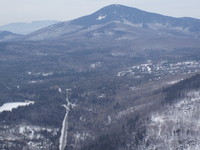 The land Bald is on is privately owned, and the trail was closed off to the public in 2002 for a few years. The trail has since re-opened, however the best place to camp in the area is Mt. Blue State park. The park is 14 miles from Wilton down Route 156, and encompasses 5,021 acres with many trails, a beach, canoe rentals, and even an ice rink in the winter.
Mt. Blue State Park
299 Center Hill Rd
Weld, ME 04285
In Season (207) 585-2347
Off Season (207) 585-2261
style="display:block"
data-ad-format="autorelaxed"
data-ad-client="ca-pub-6523272176520096"
data-ad-slot="7132222476">