Overview
Baníkov
Banówka
(PL)
Bánya-hegy
(HU)
One of the two most attractive summits in the Western Tatras, in their western part which Slovak people call the
Roháče
, Baníkov is the highest summit in the main ridge of the Western Tatras. (Its name probably derives from Hungarian/Slovak for "a mine/miner" - a couple of centuries ago the slopes of Baníkov, like all of the mountains in the area, were prospected for iron ore.) Its main attraction is several hundred metres of the narrow crest, part of the main ridge of the
Western Tatras
, running east of the main summit. No, we're not talking of the Alps. But it is fairly airy and in wet or wintry weather conditions the climbing can be pretty dangerous (surely the average SP'er does not have to be told this). Such a piece of jagged granite ridge is a rarity in this quarter of the Tatras (even as far as the High Tatras are concerned, such a thing is a rarity in terms of what is legally available, that is to say on the net of the marked trails within the National Park). Here is how
Józef Nyka
, renowned writer of the Tatra hiker's guidebooks, sees it:
"...an interesting crest climb over good rock, with numerous craggy steps, notches and smooth slabs, generally high exposure." (translation by yatsek)
The uppermost section of the mighty side ridge of
Ráztoka/Rozsocha
(green stripes leading to Žiarska chata, i.e. hut) between Baníkov and Jalovecký Príslop 2,142m which runs from Banikov to the south (photo above)is also quite narrow and its east face is precipitous.
The western face of Baníkov, down which the ridge trail continues towards the westernmost reaches of the Tatras, is the gentle side of the mountain. A descent to Baníkovské sedlo (Baníkov Saddle) at 2,040m takes just over 20 minutes. But mountains, like people, can have more than one face. Many unprepared climbers have been injured or killed on Baníkov, mostly in wintertime, of whom many if not the most were Czech. The Slovaks have a joke: Two non-Czech climbers are walking below a cornice of snow at Baníkov, and one of them says: "Hey, don't utter a word in Czech. It could trigger an avalanche."
Red Tape
Fortunately, border crossing is no problem at all any more but the national park rules are quite strict.
In Slovakia
, you don't pay an entry fee but you're not allowed to roam the park in winter/spring. Here are
the detailed regulations for various fun activities
.
The hiker must know that offtrails in Slovakia is tolerated only for mountain-climbing when accompanied by a registered mountain guide, or holding a licence of UIAA club. But not all zones. Natura 2000 zones are strictly forbidden. The north side of Baníkov, with the area of the lakes of Rohačká Dolina is such zone. However, Baníkov is served by many very convenient official trails.
Getting There
-
Rohačká Dolina starting point
:
From Poland, cross to Slovakia at the road toll at Sucha Hora, to reach Oravice and Zuberec. From Slovakia, reach Zuberec via Zilina and Dolný Kubín.
-
Jamnická or Žiarska Dolina starting points
:
From Poland, very long way... from Krakow, prefer the border point at Chyżne. From Silesia, choose Korbielow or Rajcza/Novot. Reach Dolný Kubín and circumvent Tatras. From Slovakia, via Dolný Kubín and Liptovsky Mikulas.
-
By public transports
, all points mentioned above are reachable by bus from Liptovsky Mikulas or Zuberec
Routes
Baníkov can be visited in several ways. Here are 3 loops from different valleys:
*
Loop via Žiarska Dolina
:
Reach
Žiarska Chata
, in which you can spend the night the evening before. Take the green trail climbing west to Jalovecké Sedlo, and follow the ridge to the top of Baníkov. Leave it following east the ridge to Hrubá Koba and Tri Kopy. You can descend to the hut via Smutné Sedlo, or, if you feel like, extend the hike till
Plačlivý
, returning via Žiarské Sedlo. In this case, the loop might be more appropriate in the opposite direction, as you might spend more time on Plačlivý.
*
Loop via Jalovecká Dolina
:
From the entrace of this valley near Jalovec, follow the yellow trail till
Rázcestie do Parichvostou, and the blue to the pass Baníkovské Sedlo. Climb the peak Baníkov and return to the pass, continuing later to Pachoľa, Spálená, until the peak of Salatin. Descend from Salatin back to the valley Jalovecká Dolina, to return to the junction at Rázcestie do Parichvostou.
*
Loop via Rohačká Dolina
:
It is also possible to visit Baníkov from the north. Many possibilities of loop are possible from there. At the junction with the yellow trail at Rázcestie na Adamculi, climb until Baníkovské Sedlo. Follow the ridge to Baníkov and leave it via Hrubá Koba and Tri Kopy. At Smutné Sedlo, descend back to the valley Rohačká Dolina.
However, if you are quick, it would be a shame not to visit the beautiful lakes Rohačké Pleso. In this case, start the hike with the green trail at Tatliakova Chata, and catch back the yellow descrived above.
Accommodation
* Campsites :
Camping is strictly forbidden in both national parks: TPN (Poland) and TANAP (Slovakia).
However there is one campsite near the entrance of the valley Račková Dolina, in
Pribylina
.
* Mountain huts :
-
Chata Zverovka
, Rohačká Dolina (near Zuberec), Slovakia. This "mountain hut" is rather a hostel because accessible by road. For this reason, it is adviseable to book it as early as possible.
Note that the hut marked "Bývalá Ťatliakova Chata" on some old maps, upper in the Rohacka valley is not a hut anymore but a place where they sell refreshments in summer.
-
Žiarska chata
, Žiarska dolina (near Žiar), Slovakia. This is a very beautiful newly-rebuilt hut, in a very nice location, with very little frequentation. It's possible to cycle until this place (but no bicycle rental..). This starting point is ideal for the one who wants to climb Volovec together with
Ostrý Roháč
and Placlivé.
Maps & Guidebooks
The excellent online map of Western Tatras on the

Mapytatr
website: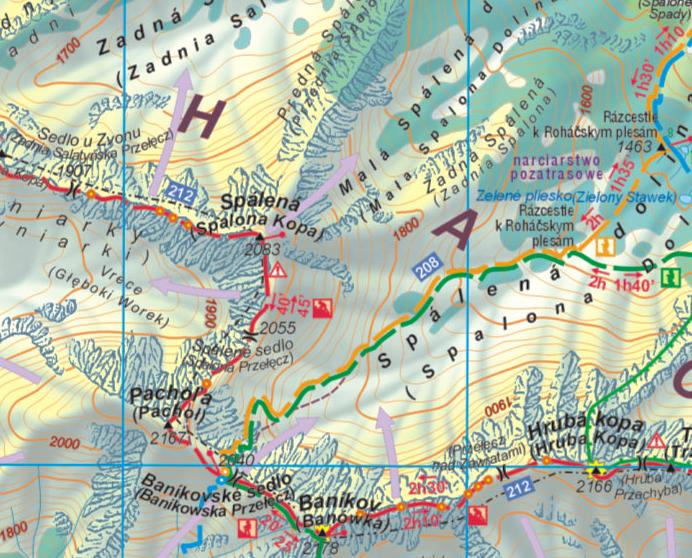 The Slovak
maps by VK Harmanec
are very good. For these peaks, you need sheet
112
, Roháče (1:50,000)
online map on hiking.sk
.
Hiker's guidebooks
by Józef Nyka
are excellent. I'm afraid they are not available in English though.
Weather
The town of Zuberec, at approx.
750m
, 10km northwest of Baníkov:
External Links
English forum
on HIKING.SK :
http://hiking.sk/hk/li/forum-english_forum.html