Overview
Barger Peak can be considered the neglected behemoth of the coastal Santa Ynez Range; its hefty girth making up the western flank of San Roque Canyon and the eastern wall of Barger Canyon. It's a large, broad peak that is characterized by a rectangular sandstone block (the first of a few false summits) near it's true top. At 3399' it's higher than Cathedral Peak to the east, and though Cathedral gets characterized as the "hardest hike" in Santa Barbara's front country, any of the routes up Barger will require more effort---both in distance and overall gain. The primitive trail of the West Ridge route or the bushwhacking masochism of the South Face---along with the series of false summits that are encountered---make tagging Barger much more of an accomplishment than its neighbors.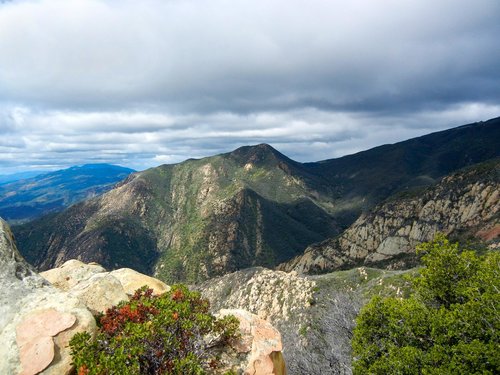 Getting There
The standard way to get to the summit of Barger Peak is from the Arroyo Burro Trail, starting at the Jesusita Trail (San Roque trailhead) and taking the West Ridge route. This is a 9-mile hike with 4900' of gain and moderate route-finding and some brushy trail sections.

Route
There are currently three routes to the true summit: the West Ridge; the North Slope; and the South Face. Getting to the top of Barger by the West Ridge or the South Face route is tougher than any of the other standard routes to the more popular peaks, like Arlington, Cathedral, Montecito and La Cumbre. The shortest way is up the North Slope from Camino Cielo which is very similar to the trail from La Cumbre to Cathedral, only noticeably steeper.
Red Tape
None.
When to Climb
Year-round, though the sun exposure of the West Ridge and South Face routes on warm days will turn back all but the most seasoned hikers.