Approach
Along Evergreen Avenue on the southern edge of the town campsite, is a marked trail to Bertha Lake. It takes you approximately an hour and a half to reach the lake on the maintained trial.
Route Description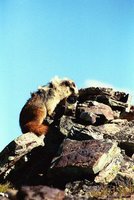 This is a 4000'+/- ascent.
Once you reach the lake and follow the trail right to the first campground, you need to leave the trail. We bushwhacked through tall brush behind the first campground you see on the right. There might be less obstacles further along the right side of the lake somewhere.
Break out above the vegetation and traverse closer to the waterfall to the west and then start zig zagging on up the eastern slopes and rock patches.
This portion can make this more of a moderate scramble than an easy one. The route finding can be a little challenging and the rock is loose.
Once you break onto the ridge, it is a walk to the summit. Enjoy great views of Blakiston and Alderson to the NW and some unique peaks to the south in Glacier National Park (US). There was a summit register in 2003. This is a fairly popular objective I believe.
What is the most unique feature on Bertha Peak? A large Hoary Marmot who persisted to try and break into the summit register after I signed it (photo). He no doubt enjoyed the salt from my hands, but also swore I stowed some food inside. I assume others no doubt feed him.
This is mostly a hike, but of course carry bear spray, helmet, map, compass and whatever else you deem necessary. Make plenty of noise or carry a bear bell as the vegetation is much thicker in Waterton than other Canadian National Parks, particularly on this scramble.