Overview
Big Moe is the name of a route on the North Face of Echo Cove in Joshua Tree National Park, California.
The area known as Echo Rocks consists of a convoluted grouping of rock formations such as Echo Rock, Touch And Go Face and South Face of Echo Cove. Each one of these formations contains at least one route that has gained it's own share of popularity. For example, we have
Heart And Sole
on
Echo Rock
,
Touch And Go
on the
Touch And Go Face
,
C.S.Special
on the
South Face of Echo Cove
, and then we have
Big Moe
on the
North Face of Echo Cove
.
The history of climbing Big Moe puts one of the greatest climbing icons, John Bachar, at it's center and pinnacle. The year was 1980 and the standards of climbing were increasing by leaps and bounds. John Bachar and his friends had discovered this test piece, and the test piece was slated to be ticked, and it was, on top rope.
As it is with any test piece, Big Moe needed to be done on lead. The biggest problem was protection. The wall lacks cracks for the first two thirds of the route. But John Bachar wasn't wasting his time; he was mastering the moves. Then in 1981 he came back with his daring free solo ascent of the route. Nowadays, there is a bolt anchor on top and you often see aspiring 5.11 climbers top roping, or at least trying the route.
The biggest problem with top roping Big Moe is that you cannot hang on any one move until you pass that section. The route is almost entirely overhanging. When you peel off, you go for a swing away from the wall. It's almost impossible to get back on the route, especially if you fall low on the route. You need to lower down and start from the bottom again. Nowadays, if you see a climber styling up Big Moe with ease and grace, such as Thad doing in these photos, you know they are on their way to greatness, if they are not already there.
Getting There
From the western entrance to Joshua Tree National Park drive on Park Boulevard, formerly known as Quail Springs Road, for about nine miles to a major rock formation called "Intersection Rock." Intersection Rock is a major landmark on the north side of Quail Springs Road with ample parking for visitors and climbers alike. This rock, true to its name, sit at the cross roads to "Hidden Valley Campground", Barker Dam Road and the road to "Day use and picnic" area.
Just past
Intersection Rock
, take the road to Barker Dam for a short distance. Shortly after getting on this road you'll see a sign for "Key's Ranch" Road. Take this dirt road to a large parking area on the right. Just beyond the parking area there is a sign for "Key's Ranch Guided Tours." You can drive further on this road to access several other climbing formations, but you will run into a locked gate for "Key's Ranch." Walk along the dirt road and within less than a minute the South Face Of Echo Cove will be on your right, and right next to the road. Continue walking along the road to the end of the south face where you will see another small parking area. In front of the parking area there is a sign reading "Thin Crack" pointing you into the gully/cove. The North Face of Echo Cove, Right side, is immediately to your right.
Camping, Noise considerations, Environmental concerns, fees and food
Please tread lightly. The Access Fund has gone to great lengths posting trail marker for approaches to many of the more popular crags. Do your best to stay on these trails, and where you are forced to use a different path, choose the ones that rain can mend in time. Drainages make for good trails where there are no established trails.
Avoid stepping on native and fragile plants, and do not feed the coyotes. Coyotes are very much used to people and often hang around picnic areas and camp grounds in hopes of getting a hand out. It's better to let them live their natural life.
Camping
There are nine campgrounds in Joshua Tree National Park. At the entrance to the park you are always asked if you would care to have a map and a brochure. The brochure will have plenty of information on the campgrounds and the map will guide you to many of the pleasant hikes throughout the park. You may even get the latest information as to availability of campsites. During the peak season (mid winter through spring) finding a campsite may become a major task. It is highly recommended to use the following link to get more information in advance.
Joshua Tree Camping
Noise considerations
When you are camping with friends and sitting around the fire, it is easy to forget that there are other people trying to sleep in the nearby campsites. It is important to put yourself in their shoes. Keep the noise and music to a minimum and certainly not too much past 10 p.m. Your neighbors will smile at you in the morning instead of giving you dirty looks.
Fees and Food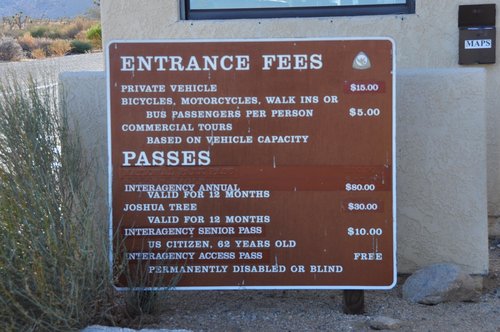 My wife and I have had Thai food in many different restaurants and cities. This Thai place beats them all. In November when the number of visitors to Joshua Tree reaches its peak, this restaurant puts on a Thai buffet, all you can eat for 10.95$/person. But, you must get there early, or be prepared to wait by the door for a table. The latest information indicates that the buffet style will be terminated by the end of February and will resume in November of 2010.
Essential Gear
For toproping bring one 60 meter rope, slings and locking carabiners.
P.S. Don't forget to include a good and watchful belayer. Check your knots.
External Links