Skiing the willamette Backcountry.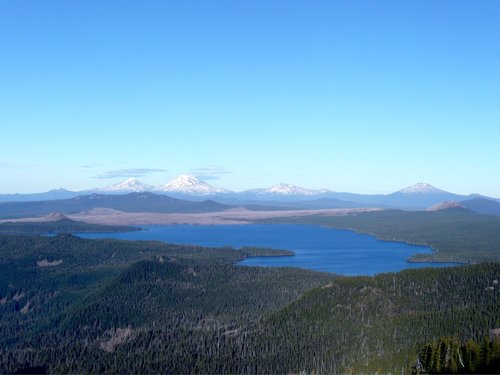 The route That I am adding to this mountain page is a crosscountry ski circuit.
The Trail is one loop in a network of ski routes that criss cross and loop around this plateau and ridge.
The area features a lake and tarn studded plateau with large Douglas Fir and Mountain Hemlock. Many small bluffs and outcropping also add to the personality of the plateau. There are two peaks that make up the north boundary of the plateau, one peak is Fuji Mt 7,144 ft and the other is Mt ray 7002 ft. Each peak features a precipitous north face which plunge into the Waldo Lake backcountry. There are three shelters in the area. The Fuji Mt shelter is situated near the west end of the plateau and is the featured shelter for this page. The Gold lake shelter is located just south of the Plateau near the Waldo lake road/Fuji Mt trail. The South Waldo shelter is located north of the plateau on the south shore of Waldo Lake and is quite remote.
Getting There
When coming from the Willamette valley if heading north or south on Interstate 5 take exit 188 State Highway 58 The Willamette hwy towards Klamath falls. Follow the highway southeast and in 36 miles you will come to the town of Oakridge. Great place to pick up some supplies and gas. preceed down the highway to Salt Creek snowpark 21 miles beyond at mile post 56. On the north side of the highway across from the entrance to the snowpark is the snowed in Fuji road. Another option is to continue on to Gold lake snopark at milepost 61 abernathy road there is a Backcountry ski patrol and warming cabin located here. There is access to the loop trail from gold lake
From the east Klamath falls or Bend. Going north our south on State highway 97 take the willamette highway 58 towards Eugene. Drive northwest towards Crescent Junction were you can pick up some supplies and gas. Continue to drive towards willamette pass where there is an alpine ski area. proceed about five more miles to Salt Creek snow park. Fuji Mt road is located across the highway. Another option is two visit the gold lake sno park at mile post 61 Abernathy road were there is a backcountry patrol and warming cabin. There is access to the loop trail from Gold lake.
Route Description
The loop begins at the Fuji shelter, after a ski in from either Salt Creek sno park or Gold Lake sno park. All trails outside of wilderness boundary are marked with blue diamonds (directional navigation standard)
Gold lake sno park: 5 mile ski in, with elevation gain of 600 ft. most gain encountered from between 2.5 to 4.0 mile mark in.
Salt Creek sno park: 4 mile ski in, with elevation gain of 1,500 ft. elevation gain is pretty consistant for entire distance.
From the Fuji shelter:
The Birthday lake trail heads north following the blue diamonds. At .3 tenths of mile intersection with the island lakes loop.
skiing left out the island lake loop is counter clockwise.
skiing right continuing on Birthday lake trail is clockwise.
The clockwise Birthday lake loop:
This trail heads roughly in a northeast direction. This route is tricky with lots of little up and downs, switchbacks and hard ninety degree lefts and rights. It is essential to navigate the little pothole lake basins and rock outcroppings that dominate through here. This section is scenic and well worth the route finding. it meets up with the Fuji Mt trail in 1.5 miles. From here you head northwest for .3 tenths of mile passing Birthday lake and Verde lake. At .3 after Verde lake you will come across an intersection signaling a right turn(east) towards Island lakes. Ignore this continue another twenty yards to next intersection. This is the intersection with the counerclockwise loop (island lake loop trail) and Fuji Mt trail. Heading generally south the island lakes loop will take you back towards the beggining of the loop and the Fuji shelter.
Skiing left the Island lakes loop goes counter clockwise:
The trail heads generally northwest for.5 tenths of mile. Meanwhile crossing the meadows and ponds of Fuji creek then traversing and going over a rocky bluff. Above the bluff the trail continues upward and over a couple of forested hillocks, then descends and crosses a snow bridge over a body of water. In another hundred yards the trail takes a hard right and heads north for another mile. Ascending northeast along a forested ridge till it meets with the Fuji Trail. Continue east on Fuji mt trail in twenty yards you will come across the intersection for Island lakes. Stay on Fuji trail for another .3 heading downhill southeasterly towards Bithday lake trail. Take right on to Birthday lake loop Heading back towards the Fuji shelter.
Essential Gear
Skis or snowshoes a must, bringing overnight gear to Fuji shelter is recommended. If going in for the day, make sure you have bivouc gear and extra food and clothing. this is remote difficult country, having backcountry skills is recommended. It is outside of the commonly patrolled backcountry ski loops in the area, so rescue could take awhile.
The Willamette Backcountry ski patrol at Gold lake sno park is open weekends through the first weekend in April. You can pick up a willamette pass crosscountry ski map here. During the week we have available outside of the patrol cabin black and white maps for free. there is also a sign in register which is reccomended to keep track of you if you should have problems.
External Links
Add External Links text here.