Overview
Sitting pretty on the west side of Nicasio Reservoir in the rolling terrain of west Marin County this shapely lone mountain easily catches the eye and dominates the scene. Also known as
Elephant Mountain
it is one of countless "Black Mountains" throughout the state and country.
Either some dude named Black and his descendants went on a nation wide rampage naming mountains in his namesake or people should develope a little imagination. If anything it looks more like an elephant than it is black.
Characterized by steep slopes divided into ribs by evenly spaced gullies this symetrically balanced hill draws the lense of photographers to capture it's serene beauty especially from the shores of the reservoir.
Unfortunately it sits on private property. On the other hand there is a free annual hike open to the public organized from Point Reyes Station.
There are many higher points in the county but Black Mountain's isolated position affords one of the finest views in Marin.
See the Red Tape section for the information needed to participate in the hike.
Getting There

From Lucas Valley Road
: From Highway 101 in north San Rafael take Lucas Valley Rd exit west 10 miles to the junction. Go right a short distance with a small turn at the town of Nicasio and continue along the east side of Nicasio Reservoir to Petaluma Point Reyes Road at 4 miles. Turn left on Petaluma Point Reyes Road and go 3 miles along the reservoir then the south side of Black Mtn. to the junction with Platform Bridge Road.. Go right at the junction another 3 miles around the west side of Black Mtn. to Point Reyes Station. The details of the location for the hike should be available by the hike organizers.
From Petaluma
: From downtown Petaluma take Petaluma Point Reyes Road southwest 16 miles past the reservoir to the junction with Platform Bridge Rd. and go right 3 miles to Point Reyes Station.
Red Tape
Click
this link
for info on the annual hike organized by the Marin Agricultural Land Trust.
Camping
There is no camping on Black Mountain.
Current weather and 5 day forecast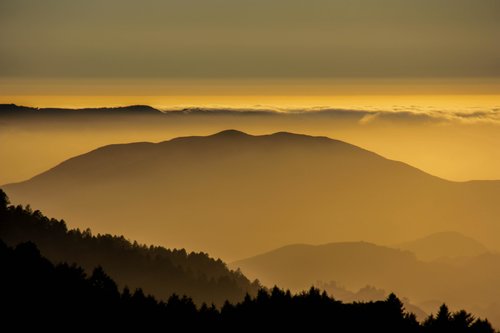 Click here
for the forecast.