Overview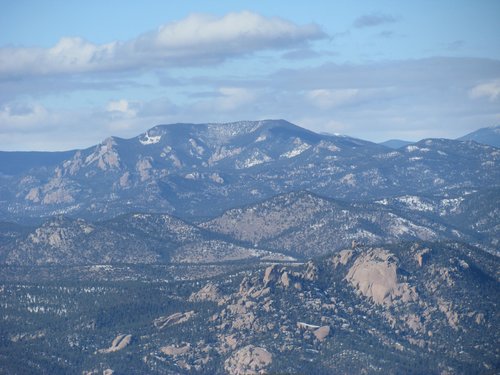 Black Mountain forms the terminus of the ridge extending southeast from Mount Evans, separating Bear Creek draynage from the Elk and Deer Creek draynages.
Seen from Denver, Black Mountain is a forested and pretty featureless bump, hardly distinguishable from other surrounding summits.
The red rock towers of its Southern side however form a dramatic background for the newly established
Staunton State Park
When driving west on USD 285 look to your right when passing Shaffer's Crossing and you see Black Mountain in all its glory
Getting There/Route
From Northern/Central Denver, take I-70 W to Evergreen Parkway exit, go 6 miles S on Hwy.74 to the junction with Hwy. 73 in Evergreen, just below the Evergreen Lake Dam.
From Southern Denver - take E 470 North, get off at the Morisson Exit and drive on Hwy.74 along Bear Creek to Evergreen.
In Evergreen turn south on Highway 73 and drive almost a mile to Brook Forest Road, then right on Brook Forest Road for approximately 5 miles to Brook Forest. From Brook Forest, continue south on Black Mountain Road almost another mile to the Cub Creek Trailhead on your right hand side.
Trailhead has a very large parking area.
Hike on Cub Creek Trail #40 until you reach the broad, forested ridge which is separating Elk Creek Draynage to the West from Cub Creek Draynage to the East (and is at the same time the boundary between Arapahoe and Pike National Forest).
Due to land ownership issues approximately 4½ miles in from Cub Creek trailhead, access to the Mount Evans Wilderness is no longer possible via this point - which keeps traffic pretty low on this trail, especially on its higher portion.
When reaching the saddle between both draynages turn southeast and follow the trailless ridge all the way to the summit ridge of Black Mountain. The majority of the ridge is heavily forested with pine, conifer and aspen. Only a rock outcropping at point 10,460 offers views in all directions - Black Mountain is straight ahead.
The long summit ridge of Black Mountain is mostly tree covered,with a couple smaller rock outcroppings along the ridge.
Depending on weather condition, trip takes about half a day.
Red Tape/Mountain Conditions
Mountain Condition
Black Mountain can be climed all year round. Expect it to be quite a workout after heavy snowfalls in winter and when the snow turns mushy in later spring.
Stands of aspen along the ridge will make it a nice destination for a fall trip.
Black Mountain is pretty close to the Denver area, but sees only very few visitors. Let someone know where you are going, cause it can take a long time until the next hiker comes by.
Red Tape
The middle section of Cub Creek Trail is on private property, please stay on the trail.
The rest of the route is within the boundaries of Arapahoe and Pike National Forests - please abide to all
Rules and Regulations
.
Camping
No established camp site close to Black Mountain - plenty of space for a tent after reaching National Forest Land.