Overview
Boundary Butte, located just south of Leavenworth is another interesting summit in this region. Nestled in the foothills of the Icicle Range and the Enchantments, Boundary Butte is home to excellent views despite its lower elevation. One can get some sort of views throughout much of the higher route on the mountain and on the very summit lies excellent views of the resort town of Leavonworth along with the dramatic face of Wedge Mountain, Icicle Ridge and Tumwater Mountain. The summit also has excellent views east towards Chumstick Mountain, Numbers Hill, Tibbetts Mountain, Sowers Mountain and many other mountains in the region. The reason for these excellent views is due to a large forest fire in the region that knocked out the dry pine forest that ruled this area before the forest fire. There is a lot of bang for the buck in terms of views from this summit.
The only issue I have with this summit is that it technical is a drive up provide that you have a high clearance four wheel drive vehicle. It can be already tough enough to drive up Mountain Home Road to the base of this road to the summit. Now add this road which just getting to the base of Boundary Butte can be a passenger cars nightmare. Dirt bikes though routinely visit along with high clearance vehicles and ATV's. My wife and I decided to avoid all this and make a nice hike of this mountain which if you walk up the road is a good 4 mile 600 foot elevation gain road walk. In springtime (late April and early May) this road is loaded with amazing yellow flowers. Though we did run into people on the way up and back we had the summit to ourselves the whole time that we were there.
Getting There
FROM THE TOWN OF LEAVENWORTH:
Take Route 2 to the East Side of Leavenworth. Turn on East Leavenworth Road and go down one block. Make a left on Mountain Home Road. Stay on Mountain Home Road for just under 6 miles until you reach a true four way intersection. Though road is doable in a passenger vehicle the road has a number of rough patches so time your time on the gravel road.  You can either park there or you can make a left onto Forest Road 600 and take it as far as you can or to the summit.

FROM BLEWETT PASS:
Mountain Home Road is 4.6 miles south of Route 2 and 17 miles north of Blewett Pass. Head west on Mountain Home Road for 3.5 miles until you get up to the four way intersection between Boundary Butte and Wedge Mountain. Though road is doable in a passenger vehicle the road has a number of rough patches so time your time on the gravel road.  Make a right onto Forest Road 600 and take it as far as you can or to the summit.
Route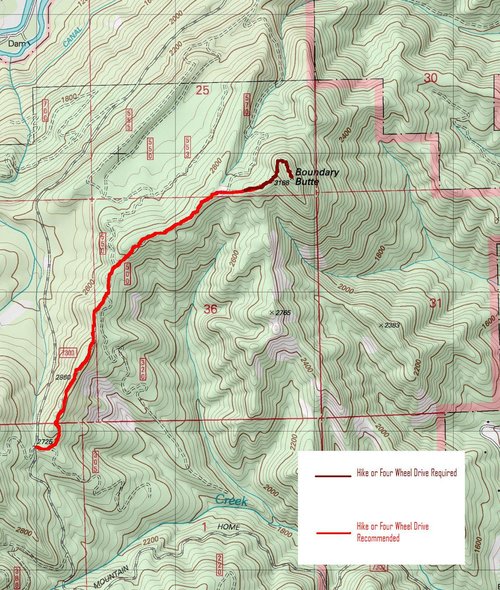 Red Tape
There appears to be no red tape on the dirt road leading to the summit.
When to Climb
You can climb this peak at anytime. In winter though Mountain Home Road is closed to vehicles so your trip to Boundary Butte is going to be much longer than in spring or summer. Spring is clearly the most popular time to visit because there are hundreds of pretty flowers along the way up. You can definitely go in summer but with the climbing season at its best you will likely want to pass up Boundary Butte. The summers can also be very hot on Boundary Butte and in Leavonworth, Washington. Beware of forest fire season if you do go during August or September. In both 2012 and 2013 forest fires have terrorized this region burning thousands of acres of brush and trees.
Camping
There are no signs preventing people from camping on the road up to Boundary Butte. In fact I ran into a number of other either campsites or fire rings on the way up. Since the road is technically a drive up it doesn't just see foot traffic but dirt bikes, ATV's and four wheel drive vehicles. In other words, camping is not recommended and if you do camp you are camping at your own risk.
External Links
Trip Report up Boundary Butte
Another trip report up Boundary Butte
Boundary Butte Peakbagger Page
style="display:block"
data-ad-format="autorelaxed"
data-ad-client="ca-pub-6523272176520096"
data-ad-slot="7132222476">