Overview
Bourgeau Right
is a classic climb accessed from the popular Sunshine ski hill parking lot. The route is subject to
high avalanche risk
so be sure to check the snow conditions. That said, it is a beautiful long climb with an alpine feel to it, and highly recommended. It presents two steep pitches, followed by steps of easier ice and snow climbing that gets you up high.
Getting There
From Banff, follow the Trans-Canada highway west, until the turnoff for "Sunshine", a big ski resort. Go to the regular ski parking lot, and the route will be visible on the right as you drive in. Try to find a trail up through the trees and basically aim straight up for the route. This often involves post-holing and in such conditions it can easily take 2 hours to slog up there. Be careful to bypass some cliffbands and/or scramble up rock to the base of the first pitch. Allow ample time to figure this out by starting early.
Route Description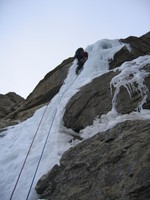 The route starts with a pitch of sustained WI 4 to a bolted belay on the right. The crux 2nd pitch (WI 4) follows, it is steep and with often bad ice. Find a bolt belay on the right. After these two pitches, the climb is mostly a WI 3 deal - lots of steps of climbing, with snow slopes in between. Finding and setting anchors here can be tricky, 70 meter ropes would allow more options. The climbing is more adventurous than challenging in nature.
Some of the snow slopes between the pitches are steep and suspect, so be sure the conditions are good, and remember the route is threatened by a huge snow bowl from above as well. The route can be thin in places warranting the "R" rating specifically on the first two pitches. Ice anchors can't always be built, and there are some fixed pitons on route, but test them carefully before you trust them. The slings on them can also be ancient, so bring a lot of cord to build abalakovs and replace rotten old webbing when rappelling.
Rappelling is probably the best way to descend, but if there are many parties below you and you decide to, there is a walk-off described in the guidebook, which is subject to additional avalanche risk.
Essential Gear
Two 60 or 70 meter ropes, ice rack, a lot of cord for building abalakovs and backing up old stations in case you intend to rappel the route.
External Links
Canadian Avalanche Association