Overview
The popular well-signed Boy Scout Trail is 8 miles one-way with an overall elevation gain of 290 feet and loss of 1,480 (if you hike south to north). It is best done as a shuttle hike, hiking south to north, which will result in a mostly downhill hike. You can do it in one, or perhaps two days. You can camp anywhere on the west side of the trail; the east side of the trail is day-use only. This trail starts in the higher desert with its characteristic Joshua Trees and transitions to the lower desert which is dominated by creosote shrubs. Overall it provides a nice introduction to the variety of landscapes in Joshua Tree National Park - Joshua Tree woodland, desert wash, cactus scrub, rugged canyon, and the park's famous boulder piles. Lucky hikers may spot the elusive bighorn sheep or other desert wildlife.
The Boy Scout Trail leads to the Willow Hole Trail which is a worthwhile side trip. This sandy trail gradually goes downhill through a rocky landscape. It's 2 miles to Willow Hole which holds seasonal pools of water. You cannot camp at Willow Hole as this may discourage park wildlife from visiting this very important watering hole.
This hike is best done in fall, winter, or spring. Summer months can be very hot. Winter nights can be quite cold. Rain is uncommon but wind is very common out here, and it does snow occasionally, so check the weather forecast before you go and dress appropriately.
Getting There
From CA Hwy 62 in Joshua Tree take Park Boulevard south 1 mile to where it becomes Quail Springs Road. Follow it for another 4 miles to the West Entrance of the Park. Pay your fee then continue 7 miles to the Keys View Backcountry Board on the left hand side of the road.
To leave a car at the endpoint - from CA 62 9.8 miles east of Park Boulevard, take Indian Cove Road south 1.6 miles to the Indian Cove Backcountry Board on the right side of the road.
Route Description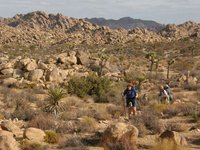 The trail starts at the Keys View Backcountry Board where you register for your hike. The first couple of miles are relatively flat and you traverse through a Joshua Tree forest on the outskirts of the Wonderland of Rocks. The trail starts to undulate at about mile 2.2 and at mile 3 you reach the high point of the trail. For the next half mile or so you pass through a sandy wash. Then the trail becomes more narrow and rocky as you follow a ridgeline and drop into a couple of gullies. At about mile 4.5 you arrive at a high ridgetop and there is a scenic view. From here the trail switchbacks steeply downhill to a large canyon below. Then you follow the wash through some narrows and then out to the open desert. The last 1.5 miles are relatively flat but you pass by some scenic boulder piles.
Essential Gear
Water - at least a gallon per person per day. Any water you may find in the park is reserved for wildlife.
Sunscreen, sunglasses, wide-brimmed hat
Weather-appropriate clothing and the 10 essentials
External Links
Joshua Tree National Park Website
My trip report November 2009