Overview
Buck Hill, located in the Blue Hills Reservation is a partially wooded summit with decent views in all direction. Like all the Blue Hills it is very small compared to other summits in New England but the views from this hill are well worth the visit. Buck Hill is actually located right off of the Skyline Trail and it receives a far amount of traffic compared to the other hills.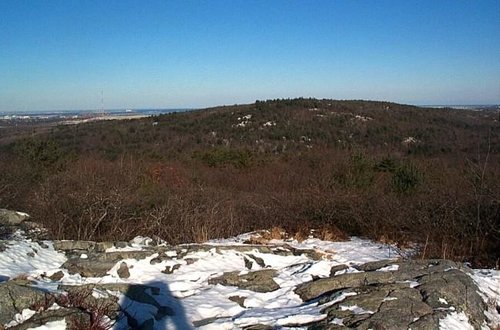 A trip up to the summit of Buck Hill requires a very short but steep hike up the Skyline Trail to the true summit. As for views from the summit, there are decent views of downtown Boston as well as of the other Blue Hills, especially east and west of Buck Hill.
Getting There
VIA THE FAST WAY TO THE SUMMIT: From I-93 get off on Exit 5 and Head north on Route 28 toward Boston. The trailhead will be the third parking area on the left. It is located right in the Notch.
VIA THE RESERVATION HEADQUARTERS: From I-93 take Blue Hills River Road North (Exit 3) roughly a half mile to Hillside Street. Make a right on Hillside Street and continue until you reach the Reservation Headquarters (on your left) right by the Massachusetts Police Station. Parking will be on both your left or your right.
Red Tape
There are no fees at the park. However the park is only open sunrise to sundown.
Camping
Camping is prohibited in the Blue Hills Reservation.
External Links
Here are a number of different numbers for more information.
Blue Hills Reservation
Blue Hills Trailside Museum (617) 333-0690
Park Number 617-722-1188
Blue Hills TrailWatch (617) 698-1802.
Weather Conditions
style="display:block"
data-ad-format="autorelaxed"
data-ad-client="ca-pub-6523272176520096"
data-ad-slot="7132222476">