Overview
For years Buffalo Mountain Natural Area Preserve has been on my radar. Once before I had tried to locate the trail head so that I could climb the mountain and look out from the summit. But that was a number of years ago when the way to the preserve was not signed and you had to know how to navigate the dirt tracks. I had directions but the gravel roads were unmarked and I was afraid that I was going to end up trespassing on private property. So that first attempt was a bust.

This time we found that the way to the Preserve was marked with Virginia State signage and finding our way there was a piece of cake. In no time we pulled into the wide parking lot in the middle of the forest and found the terminus to the trail leading to the summit.
Buffalo Mountain is unusual in that the peak is mainly exposed rock of a type unlike most of the nearby geology. This has resulted in a number of rare plant and animal communities that exist on and just below the summit of the the mountain. Also, here in the South, there is no true treeline, so mountain tops that are naturally treeless are pretty rare.
The trail to the top is relatively short--just about one mile. But it's also a bit steep, gaining about seven hundred vertical feet. That's not difficult by my standards, but some people think that makes it a tough trail to hike. The walk up is through a forest almost totally composed of hardwoods. I saw only a few evergreens along the way--they're all but absent on those slopes.
When I did get to the top I was rewarded with spectacular views of the local Blue Ridge high country. Buffalo Mountain is a monadnock and stands out alone on the plateau, rising well over one thousand feet above the surrounding territory. The summit is broad and rocky with two peaks, one slightly higher than the other. There are also cliffs along one side of the mountain. Once you see it from a distance you can see why it was named for our American bison--it does resemble one as it stands dominantly on the horizon.
It was good to finally bag this peak. I wouldn't mind going back for another visit one of these days.
Getting There
From Roanoke, follow I-81 south towards Christiansburg. Exit onto VA 8 and head south towards Floyd. At Floyd, turn right onto US 221, and follow it about 6 miles. Turn left (south) on 727 (Union School Road) and go about 4.5 miles to Conner Grove Road (VA 799). Turn right onto 799, go about 100 feet and turn left onto Moles Road (VA 727). Go about 1 mile, and turn right to stay on VA 727. Go 1 mile to a 3-way fork. Bear to the right and follow the gravel access road to the summit parking area.
From Wytheville, follow I-77 south towards Galax. Merge onto US 221 north towards Hillsville/ Floyd. Follow US 221 about 15 miles to the town of Willis. Turn right onto VA 799 (Conner Grove Road). Follow VA 799 about 5 miles to VA 727. Turn right onto Moles Road (VA 727). Go about 1 mile, and turn right to stay on VA 727. Go 1 mile to a 3-way fork. Bear to the right and follow the gravel access road to the summit parking area.


Route
The route to the summit is pretty much a straightforward one-mile route with a few switchbacks. The grade is pretty even with a few steep sections and some rocky areas. I have read that there is a much longer route that includes some Class III scrambling from another trailhead, but I was unable to verify the details.
Red Tape
No fees. No access restrictions.
When to Climb
The Preserve is open all year. Snow can sometimes make the gravel roads impassable.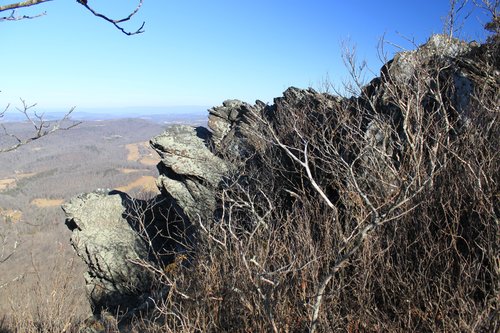 Camping
No camping.
External Links
Buffalo Mountain Natural Area Preserve.
Buffalo Mountain Geology and Flora.