Overview
Spanning 16 acres and unique to
Lassen Volcanic National Park
is a natural wonder unlike anything else present in the rest of the
Cascade Mountain Range
.
Lying just beyond the trailhead for
Lassen Peak
is a large concentration of hydrothermic features.
Named after Kendall Vanhook Bumpass (1809-1885), and as he described it was "hell on earth." Not suprisingly so, it was probably due to the animosity he probably felt towards it after having his leg amputated. The story goes that in 1865 while he was showing a newpaper editor around this fantastic area, at their cajoling, his foot broke through the crust that was covering the scalding liquid below, severely burning his leg, requiring it to be amputated. This occurence was apparently the second time that it had happened to him, not being as lucky on the second go around.
Bumpass Hell is a relatively short trail with very mild elevation gain. Only 3 miles round-trip (you will have to backtrack, this is not a loop trail) and about 300 feet elevation gain. Although, you will lose all of that elevation on the very last part of the hike having to regain on your way back since Bumpass Hell sits in the bottom of a basin.
Besides the drastic array of colors you will see when you reach the Bumpass Basin you will see 3 out of 4 of the main types of geothermal features; mudpots, fumaroles and hot springs. The temperatures in some of the fumaroles are considered to be some of the hottest known fumaroles on earth reaching a scorching 322 degrees farenheit!!!
Parents PLEASE make sure your kids stay on the boardwalk and DO NOT let them touch the water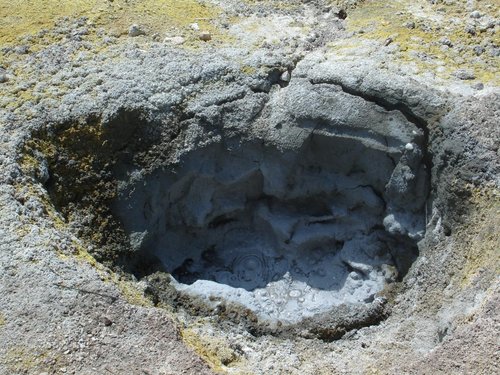 Getting There
FROM THE NORTH:
Leave I-5 at Redding and head East on CA SR-44. Continue South (right turn) onto California SR-89 at the junction and drive another 24 miles past the Manzanita Lake park entrance to the trailhead. It will be just a couple of miles past the Lassen Peak trailhead.
FROM THE SOUTH:
Leave I-5 at Red Bluff heading East on CA SR-36 towards Mineral. Turn north at the SR-89 junction and continue 14 miles into the park to reach the trailhead. It will be just a couple of miles past the Lassen Peak trailhead.
External Links
Here is an interesting link that I found while researching information regarding Bumpass Hell. It is a site that has a photo of what looks like an apparition with a wooden leg (Bumpass) taken in Lassen Volcanic National Park.
GHOST LINK