Overview
First off, let's clarify which Cerro Bonete we're talking about, as there are at least four Cerro Bonetes in Argentina. 
Cerro Bonete (Mendoza)
, a 5004m peak in the Aconcagua Group, is a popular acclimatization hike before climbing Aconcagua. 
Cerro Bonete Chico (La Rioja)
is located in the Puna de Atacama near Mount Pissis.  At 6759m, it is the 4th highest peak in the Andes.  Finally,
Cerro Bonete Grande (La Rioja)
, also located in the Puna de Atacama, is an obscure 5935m peak near the Caldera del Inca.
This page is about Cerro Bonete (Rio Negro) which is the 3rd highest peak in
Parque Nacional Nahuel Huapi
(after
Cerro Tronador
and the
Cerro Catedral
Massif).  Located in the heart of the park, towering above Lago Azul and Lago Creton, Cerro Bonete is remote, rugged, and stunning.  It features a complex summit and is one of the only glaciated peaks in the park.  The climb is not terribly difficult, but it does involve a significant approach, challenging route-finding, and some difficult scrambling.  Plus, it is located in a portion of the park that receives fairly few visitors, so you may well have the place all to yourself.
The current normal route seems to be from Laguna Azul, climbing mostly through scree and talus on the western slopes of the mountain.  I have not yet climbed up from this side, but I have reason to believe that this is both the most popular and the least technical route to the summit.  I climbed Bonete via the north ridge from the pass between Laguna Creton and Mallín Mate Dulce.  This involved a challenging 2.5km traverse that scrambled over or bypassed numerous false summits.  Finally, John Biggar refers to a route up the south face in his book
The Andes:
A Guide for Climbers
.  I have been unable to confirm anything about this route.  Via any of these routes, climbing Cerro Bonete is a long challenging hike with some potentially difficult scrambling.
In theory, Bonete could be climbed in a day from the Los Cesares trailhead, but it would be a big day and would be quite complicated without having private transportation and/or spending a night near the trailhead.  Most people will choose to camp at Laguna Azul and climb from there.  It's well worth it, as this lake is one of the hidden gems of the park.  Note that while the lake is commonly referred to as Laguna Azul, it is listed as Laguna Callvu on most maps.  Callvu is the local native Mapuche's word for Azul, which of course is Spanish for Blue.  If you have spare time at Laguna Azul, you can explore Laguna Jujuy and/or Laguna Creton or attempt to climb Cerro Punta Negra.  There are also options of continuing your trek on to Laguna Ilon and Pampa Linda near Cerro Tronador or, alternatively, towards Laguna CAB and Laguna Negra and/or Cerro Lopez near Colonia Suiza.
When you get up on the summit ridge, you may also be treated to excellent views of the lakes and other peaks in the area including Cerro Tronador.  Unfortunately, when I was there, there were mostly clouds, and even seeing the peak I was on was challenging.  Incredibly, just when I reached the summit, the clouds parted momentarily to offer me a glimpse of Tronador.  Note that the presumed summit of Cerro Bonete is marked by a cross and a small summit register.  However, there are two nearby spires that seem to be at roughly the same elevation as the summit cross.  Climbing either of these would appear to present a considerable challenge.  In the foggy conditions I encountered up there, it was difficult to verify if one of these spires might actually have been the true summit.
Approach

The quickest, most direct access to Cerro Bonete is from the Los Cesares Trailhead via Laguna Azul.  From Bariloche, there is one bus daily for Pampa Linda, at the base of Cerro Tronador.  The bus leaves at 8:30 from in front of the Club Andino.  Ask to be let off at Los Cesares, roughly a half hour before Pampa Linda. From Bariloche to Los Cesares usually takes about 2 hours.  The return bus passes by Los Cesares around 17:30.  As of February 2013, the roundtrip fare to Pampa Linda is $AR 160 and one-way is $AR 100.  To Los Cesares, I paid $AR 70 one-way.  Note that this touristic bus is only available during the summer season.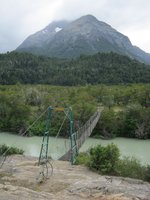 From Los Cesares, follow the trail for twenty minutes until you arrive at a large undeveloped campground by the Rio Manso.  Cross the river on a hanging bridge (Puente Manolo) from which there are great views of Cerro Bonete looming above.  Turn right after the crossing and continue for 10 minutes to arrive at the Rio Azul.  Turn left towards Los Pozones and a few minutes later start climbing up the hill towards Laguna Azul and Cerro Bonete.  The trail climbs up through pleasant forests with occasional glimpses of Laguna Mascardi behind you.  After perhaps an hour and a half, the trail descends back to the Rio Azul and crosses over to the other side.  Begin climbing again on the other side and eventually the forest starts to open up and small waterfalls start popping up both in the ravine to your left and on the granite wall to your right.  In another half hour, you arrive at a beautiful granite playground with pools and slides and cliffs and waterfalls.  Continue up through this wonderland for another hour to reach Laguna Azul.  This entire zone is truly remarkable and certainly ranks as one of my favorite places in Parque Nacional Nahuel Huapi.
Route
I have limited information about three distinct routes on this peak.  I climbed via the North Ridge which made for a challenging traverse, but does not appear to be either the easiest or the most direct route.  The visibility was quite poor due to difficult weather conditions when I was there, so my directions will unfortunately be somewhat vague.  What I believe to be the normal route climbs directly from Laguna Azul.  I will try my best to surmise the particulars of this route based on observations during glimpses through the clouds.  Additionally, I will offer some comments regarding the route Biggar identifies as the normal route in his well-respected book on the Andes.
Normal Route (from Laguna Azul)
The map shows trails circumnavigating both sides of Laguna Azul.  I turned left at the lake and found few remnants of a trail.  The initial part through the lenga forest was extremely brushy.  Improving upon reaching the scree, sporadic cairns marked a route up talus and slabs, past waterfalls, to high above Laguna Azul.  Turning right near Laguna Jujuy, cairns led me to a ridge between Laguna Azul and Laguna Creton after two hours.  Supposedly, the trail to the right is better, although the terrain looks nasty.  Forking right just before reaching Laguna Azul, the route climbs above light-colored cliffs and reaches the Azul-Creton ridge in an hour.  From here, a prominent ridge leads up the west side of Cerro Bonete and a hanging valley above Laguna Creton leads to scree fields that also head that way.  The normal route follows some combination of these features, reaching the top two hours from the Azul-Creton ridge.  This route does not appear to present any technical difficulties.  
North Ridge (from Laguna Creton)
At this time, this is the only route I am actually familiar with on the mountain.  From Laguna Azul, circumnavigate the lake, climbing to a high ridge between Laguna Azul and Laguna Creton.  As described above, a nearly non-existent path on the left side of the lake leads there in two hours.  Reportedly, a better path around the right side takes only one hour.  From the Azul-Creton ridge, follow cairns and descend a scree slope down to the outlet of Laguna Creton.  Continue to follow a faint path up a scree slope on the other side to reach a pass that divides the Laguna Creton and Mallín Agua Dulce basins.  This is also the col between Cerro Bonete and Cerro Cristal.  From here, the route traverses the ridge for nearly 2.5 km taking about two hours to reach the summit.  There are at least four or five significant peaks to cross before reaching the summit.  The first two are trivial, but require some vertical.  Then come two pointy peaks that are tricky, but surmountable.  If you choose to bypass them, the traverse to the right is easier than the left side.  Finally, descend a little bit and then climb quite a while more to reach the actual summit.  The ridge itself is trivial at this point, but it may be easier to traverse right to eliminate some ups and downs.  Ultimately, you will reach a col with a huge cairn.  The true summit is up to your left, crowned by a small cross.


South Face (from Arroyo Azul)
In his excellent book
The Andes: A Guide for Climbers
, John Biggar describes a route up the south face which he refers to as the normal route.  From the hanging bridge, he says to
follow poor paths up through the forest on the W bank of the Arroyo Azul (or Callvuco) to a stream junction
and then
cross the Azul here and follow the stream up NW through thick vegetation and boulders to a camp under the S face at c.1500m
.  From here, he says to
climb towards the glacier but before reaching it go R to reach the corner formed by the S face and a ridge
and finally to climb
by a system of chimneys and ledges on the S face and the ridge at up to grade II
.  At this time, I have no more information about this route.  I have no reason to doubt John Biggar's accuracy concerning this route, but I do have reason to believe that this is no longer the normal route on this peak.  The route from Laguna Azul is almost certainly more popular and less technically demanding than this route.
Red Tape
Parque Nacional Nahuel Huapi officially charges an entrance fee for access to the park.  As of February 2013, the fee is AR$50 for foreigners and AR$20 for Argentine citizens or residents.  As pertains to climbing Cerro Bonete, this fee is only charged on the road to Pampa Linda just before arriving at the Los Rapidos camping area near Lago Mascardi.  If you enter the park, for example, via Laguna Negra, you will not be asked to pay a fee, even if you leave via the Pampa Linda road.
When to Climb
The summer season in northern Patagonia ranges from mid-December through mid-March.  Conditions are likely to be best on Cerro Bonete during this time.  From December through April, the peak should be fairly accessible.  November or May may also be reasonable in some years. Approaching the peak outside of this time frame will provide a considerable challenge.
Camping
Camping is permitted and campfires are prohibited just about anywhere in the park.  There are no refugios or formal campgrounds particularly close to Cerro Bonete.  In order of proximity, potential campsites from which one might attempt to climb the peak include: Laguna Azul, Laguna Creton, Laguna Jujuy, Los Pozones, Puente Manolo, Mallín Mate Dulce, or potentially Laguna Ilon or Laguna CAB.