Overview
First, let's clarify which Cerro Negro we're talking about, because there are undoubtedly dozens. This page is about the 2001m peak in Nahuel Huapi National Park in the province of Río Negro in Argentina. According to my research there are at least four other peaks with this name in Argentina alone: in San Juan, a 5600m peak near Mercedario; in Córdoba, a 2075m peak in the Sierras Chicas; in Neuquén, a 1999m peak near Villa Traful; and in La Pampa, a 1188m peak that is a Provincial Highpoint. There are also peaks with this name in Colombia, Ecuador, Nicaragua, Panama, and California.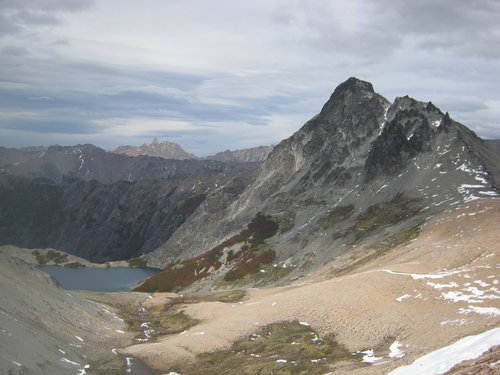 This Cerro Negro is a Bariloche icon. Towering ominously over Laguna Negra, the peak is stark, intimidating, and impressive. Laguna Negra itself is a popular trekking destination in Bariloche. A pleasant three hour walk from Colonia Suiza to the lake makes it accessible for a day hike, but a mountain hut (Refugio Manfredo Segre, a.k.a. Refugio Italia) makes for comfortable lodging/camping. Laguna Negra doesn't seem to be as popular with foreign backpackers as Frey and Lopez, but it is well known and highly regarded amongst Argentines. From Laguna Negra, most people will take another hour or two to reach the summit of Cerro Negro. Despite appearing inaccessible from most angles, the summit can actually be reached by a moderate scramble route from the saddle between Cerro Negro and Cerro Bailey Willis.
The summit views are spectacular, with the park's three highest peaks (
Tronador
, Catedral, and
Bonete
) all visible, as well many other peaks (
Lopez
,
Navidad
, and Bailey Willis) and lakes (Negra, CAB, and Nahuel Huapi). Cerro Bailey Willis can also be climbed from the saddle to extend the day and bag another peak. From the saddle, there are also options to continue trekking towards Refugio Lopez or even Tronador. The Lopez-Negra hike generally starts in Colonia Suiza, goes to Refugio Lopez, continues to Laguna Negra, then returns to Colonia Suiza. It is typically done in three days in the direction described with stays at both huts, but it can also be done in reverse and can be completed in one long day. The challenging hike to Pampa Linda, at the base of Tronador, generally takes 4-6 days, passing several lakes along the way.
Note that I have listed Cerro Negro's elevation at 2001m because all published maps I have seen quote it as such. I believe the peak to be at least 100m higher than listed. This is based on my own GPS recordings and visual comparison with other peaks. This is quite possible, as elevation surveys are notoriously inaccurate in this area, especially for peaks with steep summit blocks that are not as easily measured remotely.
Getting There
Cerro Negro is best accessed from Colonia Suiza. From Bariloche, Colectivo 10 (and 11, during the summer) depart several times daily for Colonia Suiza. From Colonia Suiza to Laguna Negra is a 14km hike that takes roughly 3 hours. From the bus stop in Colonia Suiza in front of the Berlina microbrewery, follow the road back towards Bariloche for 100m to reach the Laguna Negra trailhead on your left. Follow the trail through Douglas-fir and then cypress and then coihue forests for roughly one half hour until reaching the Arroyo Goye near a potential campsite and some popular swimming holes. Continue to follow the trail up the creek for another hour and a half to reach Rancho Manolo, a popular campsite near a waterfall. From here on, the steep part begins. An hour of climbing with spectacular views of Cerro Negro, Cerro Navidad, and a series of impressive waterfalls will lead you to Refugio Manfredo Segre (a.k.a. Refugio Italia) on the shores of Laguna Negra.
Route
When the trail arrives at Laguna Negra, you will see the lake in front of you and the hut off to your left at the base of Cerro Negro. To go to the hut, turn left and follow the trail to the bridge across the creek. To continue directly to Cerro Negro, turn right and traverse around the lake. The traverse is well marked, but tricky at times, especially when snow is present. At one point, you need to scramble up and over a small cliff, with fixed ropes attached on both sides. It's not particularly hard, but some people will feel uncomfortable when carrying heavy packs.
Upon arrival at the other side, follow cairns across a small creek and up gentle scree slopes to the saddle between Cerro Negro and Cerro Bailey Willis. The saddle provides excellent views of Tronador and Laguna CAB. A trail down the other side continues to Arroyo La Chata and Laguna CAB and all the way to Pampa Linda. A trail up to the right continues to Cerro Bailey Willis and ultimately Refugio Lopez. Note that many people call this pass Bailey Willis and there is often confusion between the pass and the peak that go by that name.
The route to Cerro Negro heads up to the left, following the ridge towards the peak. You can see most of the route from the pass, but the summit block looks more challenging than it is. The ridge is fairly easy scrambling. There are a few small gendarmes that you have to get around, generally be traversing to your right. The last part of the ridge gets trickier, but just skirt around to the right and climb up a gulley that leads to the top. The scrambling isn't too hard or too exposed if you stay on-route, but there are more challenging alternatives nearby.
When to Climb
The summer season in northern Patagonia ranges from mid-December through mid-March. Conditions are likely to be best on Cerro Negro during this time. From December through April, the peak should be fairly accessible. November and May should also be reasonable in most years. Climbing the peak outside of this time frame will be more challenging, with considerable snow on the approach and probably lots of ice on route.
Camping
There are several developed fee campgrounds in Colonia Suiza, including Camping Goye, Camping SER, and Camping Huenei Ruca. En route, there is free camping in the woods at Rancho Manolo, two hours from Colonia Suiza. This is a good option if it is getting late or the weather looks bad, but make sure to treat the water. Most people will choose to continue to Laguna Negra, where you can also camp for free. Refugio Manfredo Segre (a.k.a. Italia) has an indoor toilet and provides clean water free of charge. They also offer simple restaurant service and overnight lodging at fairly reasonable prices.