Overview
Peak 11608, known unofficially as "Chamberlain Peak", is the highpoint of an insignificant spur that extends south and then west from
Mount Hooper
. This spur, combined with the southwest ridge of Mount Hooper, defines a classically shaped cirque that encloses the basin of beautiful Chamberlain Lake- the obvious inspiration for the name of this peak.
As one can see, a very prominent and striking feature of this peak is the sheer 600 foot northeast face that rises above Chamberlain Lake. Probably few have ever seen this face due to the proximity of a high ridge of peaks immediately to the east, including Mt. Hooper, that effectively blocks nearly all views of it from the mountains further to the east. Those who've been lucky enough to see this face were likely either at or near remote Chamberlain Lake or on top of Mount Hooper. Interestingly, a glimpse of the peak can be had by observant climbers on the summit of
Seven Gables
, though few have probably noticed.
A second notable feature of this peak is the view which is surprisingly extensive for such an insignificant peak. Consider that "Chamberlain Peak" lies at the western edge of the greater High Sierra and from the northwest to the south- a counterclockwise sweep of about 135 degrees- there is nothing in the state of California that is higher. Far below to the west one can see the western shore of Florence Lake. Looking north, the ranges of southern Yosemite National Park and the Ritter Range are visible across a vast region of forest, meadows, domes and deep canyons. Closer in, one can see the western ends of the Silver Divide and Bear Ridge with Lake Edison and its dam nestled between them. Looking southeast, one will note that "Chamberlain Peak" is perfectly situated for inspiring views of the Evolution region and the Goddard Divide. All of which are enhanced by the great canyon of the South Fork of the San Joaquin River far below.
"Chamberlain Peak" has a prominence of about 400 feet.
Getting There
The closest trailheads are at Florence Lake and most climbers will likely start from there. To reach Florence Lake, travel east on SR 168 from the Fresno/ Clovis area. Drive past Shaver Lake and its resort communities and continue towards Huntington Lake. Eventually, the road narrows to one lane as it approaches Kaiser Pass. Several miles beyond the pass, the High Sierra Ranger Station is reached. This is a good place to pick up your Wilderness Permit if your plans include an overnight backpack trip. The turnoff for Florence Lake is about a mile beyond the ranger station. Follow the narrow windy, but paved road to the lake.
It seems very unlikely that ordinary peakbaggers, such as yours truly, will do all that driving and all that hiking- much of it off trail- just to tag an obscure summit such as "Chamberlain Peak". (An exception to this may be occasional technical climbers who might want to play on the northeast face.) Most who are willing to do all that work are likely to attempt the more desirable summit of Mount Hooper. Luckily, "Chamberlain Peak" is quite easily accessible from Mount Hooper (and vice versa).
There are excellent route descriptions for reaching Mount Hooper via Jackass Meadow/ Hooper Diversion Dam or Florence Lake/ John Muir Trail
here
.
Bob Burd has an excellent trip report describing a climb of Mount Hooper from Jackass Meadow
here
.
My own approach route was somewhat different from those described above:
From Florence Lake via Alder Creek
Total Round Trip: 16.5 miles with an elevation gain of about 4,600 feet. (NOTE: Add another 800 feet of elevation gain and an extra couple of miles if Mount Hooper is included)
Note that only those who are completely comfortable with cross country travel should attempt this approach...
About 4 miles each way can be eliminated from the hike by utilizing the
Florence Lake ferry
. (I arrived too early for the ferry and came out too late.) The trail around the west side of Florence Lake is quite scenic, fun and easy to hike. The San Joaquin River can be crossed on a bridge at the inlet end of the lake.
Once you've reach Double Meadow, it's time to scope out the canyon wall to the north for the cross country portion of the trip. I chose a route just to the west of Alder Creek and east of the unnamed intermittent stream to the west. There was surprisingly little bushwhacking and I found this portion of the route to be quit a bit easier than I thought it would be.
Eventually a bench is reached at about 9800 feet signaling the end of most difficulties regarding brush. Veer to the left and climb steeply up past the interesting rock formation known as the Tombstone*. The slope starts to level off at about 11000 feet. Simply follow the ridge crest to the top of "Chamberlain Peak".
Routes
From Mount Hooper, simply follow the rocky south ridge as it curves toward the west over the diminutive summit of Peak 11481 and on to the summit of "Chamberlain Peak". Most of this route is class 2 with some enjoyable views along the way.
It appears that the summit is class 2 from nearly all directions except the northeast.
The northeastern side appears to be quite serious indeed. There are likely class 2 or 3 routes from Chamberlain Lake that bypass the technical difficulties of the northeast face. I suspect that the north buttress that rises directly from Chamberlain Lake is at least class 3- the upper part looks a bit sketchy from Mt. Hooper and Chamberlain Lake.
Hopefully, if anyone has experienced the technical routes on the northeast face, they will contribute their experiences to this page as a route or a trip report.
Red Tape
"Chamberlain Peak" lies within the John Muir Wilderness portion of Sierra National Forest. Wilderness Permits are required for all overnight backpacking trips. Permits are not needed for day hikes.
Current restrictions, quotas and online applications for Wilderness Permits can be found here:
Sierra National Forest
Camping
Camping is allowed throughout this region. I would be very surprised if there weren't some nice picturesque sites in the Chamberlain Lake area.
The slopes south of Mt. Hooper and "Chamberlain Peak" will challenge those who intend to camp here due to the continuously steep nature of the terrain and a possible lack of water. There are several intermittent streams that will likely be dry by mid-summer. Alder Creek seems to be the only reliable water source, but even it "disappears" here and there along its upper course- especially near the boulder choked moraines just south of Mt. Hooper.
The usual camping regulations apply:


No camping within 100 feet of rivers, streams, lakes or trails.



Pack out all your trash. It doesn't hurt to pick up the crap left along the trails or in campsites by other less caring visitors. In fact it feels downright good to know that you're doing something useful for the wilderness that we all love so much.



Avoid camping in meadows. They are as fragile as they are beautiful.



Bear-proof food containers are not required, but proper food storage is mandatory.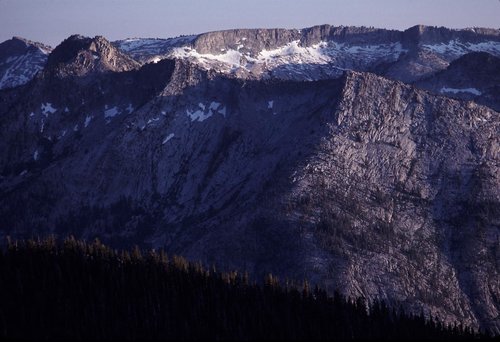 When To Climb
Like most of the High Sierra, summer is the best time to visit this peak. It is certainly climbable in the winter, but the approach will be formidable due to the closure of SR 168 at Huntington Lake.
Approaching from the south near Alder Creek would be best during late spring or early summer due to the water issues mentioned above in the "Camping" section.
Etymology
In August, 1982, I found a film can register with the name, "Chamberlain Peak" coined by those who'd placed it. I didn't write their names in my notes (drat!), but I do remember that one of them was female. I'm now thinking that maybe it was Barbara Lilly and company (Gordon McLeod?). The name, "Chamberlain" obviously comes from the lake just northeast of the peak.
*The Tombstone
This interesting formation occurs on the slopes south of "Chamberlain Peak" at about 10,700 feet. For whatever reasons (probably fatigue and/or lateness in the day), I didn't make any attempts to climb it.
The only info that I could find about this rock is that its first ascent was by Walter L. Huber in 1925. (
A Climber's Guide to the High Sierra
(1954), edited by Hervey H. Voge)
I've included these pictures in case anyone is interested.
Aknowledgements
Many thanks to colinr for kindly contributing a few of his own photos to this page- including the primary image.