Overview
The Chogolisa (SW) 7668 m/25157 f is located at Kaberi Glacier and Vigne Glacier. The Chogolisa (NE) 7654 m/25110 also known as Bridal Peak is located at Kaberi Glacier & Baltoro Glacier, Karakoram, Pakistan. Chogolisa Group has many peaks. The Chogolisa is lofty snow peak with a unique long and flat summit ridge. The SW face is the slightly higher from NE face.
In 1909 the Great Duke of Abruzzi from Italy brought his large expedition to climb and survey the upper Baltoro Region. Duke of Abruzzi achieved 7498 m from a base camp located on the north side and a high camp of the Chogolisa ridge 6335 m, but due to bad weather conditions stopped the expedition team from climbing further.
The first climb on Chogolisa (SW) 7668 m/25157 f were made by an Austrian expedition team led by Eduard Koblmuller. Gustav Ammerer and Fred Pressl were the first who reached the summiton August 2, 1975. The team leader Eduard Koblmuller fell through a cornice during climbing, but fortunately he was roped and team members pull him safely.
The first climb on Chogolisa (NE) 7654 m/25110 were made by an Japanese expedition team led by T. Kawabara in the year 1958. The Japanese expedition members M. Fujihira and K. Hirai were the first who reached the summit.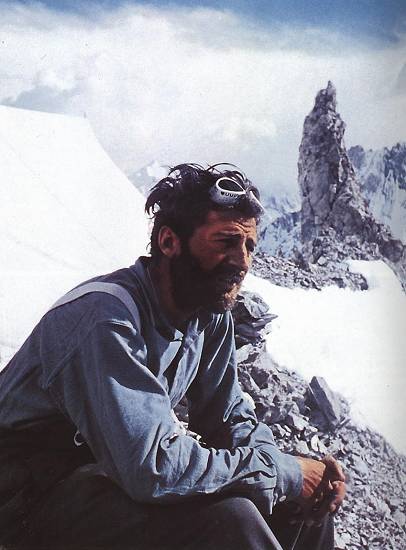 Mr. Hermann Buhl, a legend and a source of encouragement for many of todays best mountaineers. Hermann Buhl was extremely strong with almost extraordinary survival and will power, this is combination with taking great risks than the most others, and Herrmann Buhl succeeded where other failed. In 1957 Mr. Hermann Buhl and Mr. Kurt Diemberger has climed the Broad peak and after few days they have attempted Chogolisa, but it was the last mountain, near the summit he fell through a cornice to his death and we have lost a legendry climber. I also become very sad whenever I see the Chogolisa. Here I would like the quote Mr. Hermann Buhl
"Mountaineering is a relentless pursuit. One climbs further and further yet never reaches the destination. Perhaps that is what gives it its own particular charm. One is constantly searching for something never to be found."

Getting There
The Islamabad can be reached by air or by road. For journey from Islamabad to Skardu, on can use PIA schedule flight which is operated subject to clear weather condition. The second option for journey from Islamabad to Skardu by road via Karakoram Highway. One can use private bus, van or jeeps which are available from Islamabad in Islamabad in a reasonable prices. Otherwise, one can use the Public service Transport like, Bus or Wagon.
From Skardu, hire a jeep for further journey to Askole village, the last human settlement and starting point of the hike. The camping sites are available at Askole village. Further from Askole 6-7 days trekking on Baltoro Glacier led up to base camp of Chogolisa.
Red Tape
ROYALTY FEE:
The Chogolisa is located in specified restricted zone. The climbing permit is required from Government of Pakistan. The normal royalty fee for Chogolisa Peak is 4000 US$ for team of 7 to seven members. For each additional member exceeding 7 members team an additional fee of 500 US$ will be charged. The Government of Pakistan has reduced the climbing permit fee by 50% for the year 2011. The climbing permit fee for the year 2011 for Chogolisa is 2400 US$ for team of one to seven members and for each additional member exceeding 7 members team an additional fee of 300 US$ will be charged.
ENVIRONMENTAL PROCRION FEE/FUND:
Beside the Royalty fee (Permit fee)every mountaineering expedition team irrespectively of its size shall contribute 200 US$ or equivalent in Pakistani currency to Environmental protection fund.
Mountaineering expedition team shall also deposit refundable amount of 1000 US$ or equivalent in Pakistani currency in the authorized bank in Pakistan. The amount would be subject to forfeiture in full or in part thereof in case the expedition or any of its members causes damage to environment.
LIAISON OFFICER:
Government of Pakistan shall depute a Army Liaison Officer as member of the Expedition team. The expedition team shall pay for food, accommodation and transport for mountains and back from the reporting date of the expedition in Islamabad till the expedition team debriefed. During the stay of a expedition team in Pakistan will be given daily allowance and accommodation. The Liaison Officer shall carry his personal equipment like any other member of the team. Liaison Officer shall be consulted on routes and local customs and if desired on matters such as transport, accommodation and rations. If however , a leader disagrees with L.O. he shall giving him writing the reasons for such disagreement.
A Liaison Officer shall accompany a party to a maximum height with the consent of the leader or at least stay at the base camp till the party descends and return with the party for debriefing at Islamabad. for this purpose a party shall provide him, free of cost necessary kit and equipment as detailed in Mountaineering Rules and Regulations in Pakistan in order enable him to perform his duties without any risk to his person. Ki/equipment for L.O. should be brought to his measurement sent to a party in advance. If a party does not receive measurements before its departure for Pakistan it may bring standard size kit and equipment.
PROCEDURE FOR APPLYING:
A mountaineering expedition team desirous of climbing Chogolisa Peak shall apply on the prescribed application form with one extra copy in the nearest Embassy/Consulate of Pakistan in their country. A copy with a photocopy of royalty receipt should be sent to Tourism Division, Islamabad. Such application would then be sent to by the said Embassy/Consulate immediately to Tourism Division where tey would be processed on "First-come-First served basis"
An expedition team shall indicate in order of preference, at least 3-4 peaks so that available peaks could be could be allotted. Tourism Division shall endeavor to send the climbing permit to a party within 60 days of receipt of application form in Tourism Division. Government of Pakistan reserves the right to allot a particular peak through any route to more than one expedition in the same season. Government of Pakistan has the right to cancel the allotment of a peak at any time without assigning any reason. Amount of royalty deposited shall be refundable. In case, however, a team postpones/cancels its mountaineering plan for its own reasons, it shall so inform the Tourism Division by quickest possible means. In such a case royalty royalty deposited shall neither be refunded nor it could be carried forward for future mountaineering in Pakistan. Changes in booking period during the same mountaineering season is possible subject to availability of the peaks/routes for the revised dates.
BRIEFING & DE-BRIEFING:
The expedition team upon their arrival in Rawalpindi/Islamabad should see the Officer concerned in Tourism Division for arranging meeting with the Liaison Officer an assistance on matter like insurance, purchases of rations and allied matters. After completing these formalities leader of the expedition shall ask fora date of formal briefing. For this purpose he shall give a minimum notice of 24 hours excluding Saturday & Sunday and Holidays.
On return from the mountains the leader of the party shall inform the concerned officer in the Tourism Division and obtain a date for debriefing by giving him a minimum notice of 24 hours excluding Saturday, Sunday and Holidays. No expedition team leave for mountain without formal briefing or leave the country without formal debriefing.
Camping
Camping sites are available. A reasonable camping fees are payable.
External Links