More elevated peak and centrally prepared in the triptych also called "trittico" of Points Taou Blanc/The Aouillè/Cima of Entrelor that rises on the dividing crest among the Val of Rhêmes (to West) and the Valsavarenche (to East). Surely the most important as topographical knot and for height, but also the less frequented, causes his impervious Western and Oriental precipices, as well as the game Crest South (to see under the photograph) toward the Taou Blanc
(3.438m)
. The same however, attractive to the appearance, it is formed not from good rock to crumble easily herself for this reason it doesn't adapt to a sure climb; it results crossed an only time and in descent. Instead the Standard Route is rather simple and consists in a brief crossing for crest from the Summit of Entrelor
(3.397m)
, with which shares to a large extent the usual itinerary of ascent of it, even if this last is more rather frequented so much that develops us to you an annual competition of ski-mountaineering (Trophy Robert Rollandoz, founded in 1974 and joint in 2010 to her XXXVI° Sporting Event). It shears therefore a little frequented as final destination by itself, on the contrary and rather of complement to the Top of Entrelor and man to be allowed to enrich the proper personal carnet of slopes through a brief extension of the itinerary. It deserves, in every case, a visit thanks to the wild environment, more isolated and surely uncontaminated.
Seen on the great Tableland of the Nivolé (Valsavarenche) to if and on the tall heading of the Valley of Rhêmes to SW; beautiful glimpses on the Grande Rousse
(3.607m)
, great East Face, to NW and on the Grande Traversière
(3.496m)
to or, while on the slope Western North polls the Chain of the Great Paradise
(4.061m)
, what it frontally hacks here him in longitudinal sense South/North in all of her ampleness and majesty.
Vetta più elevata e disposta centralmente nel trittico di punte Taou Blanc/l'Aouillè/Cima di Entrelor che sorgono sulla cresta divisoria fra la Val di Rhêmes (ad ovest) e la Valsavarenche (ad Est). Sicuramente la più importante in qualità di nodo topografico e per altezza, ma altresì la meno frequentata, causa i suoi impervi dirupi Occidentali ed Orientali, nonché l'ardita Cresta S (vedi fotografia soprastante) verso il Taou Blanc
(3.438 m)
. La stessa però, per quanto attraente all'apparenza, é formata da roccia non buona e facile a sgretolarsi per la qual cosa non adatta ad un'arrampicata sicura; risulta percorsa una sola volta ed in discesa.
La Via Normale invece è piuttosto semplice e consiste in una breve traversata per cresta dalla Cima di Entrelor
(3.397 m)
, con la quale ne condivide in gran parte l'usuale itinerario di ascesa, anche se quest'ultima è alquanto più frequentata tanto che vi ci svolge una gara annuale di sci-alpinismo (Trofeo Robert Rollandoz, istituito nel 1974 e giunto nel 2010 alla sua XXXVI° Edizione). Cima quindi poco frequentata come meta finale di per sé, bensì e piuttosto di complemento alla Cima di Entrelor e tale da permettere di arricchire il proprio carnet personale di salite tramite un breve allungamento dell'itinerario. Merita, in ogni caso, una visita grazie all'ambiente selvaggio, più isolato e sicuramente incontaminato.
Viste sul Pian del Nivolé (Valsavarenche) a SE e sull'alta testata della Valle di Rhêmes a SW; bei colpi d'occhio sulla grande Parete E della Grande Rousse
(3.607 m)
, a NW e sulla Grande Traversière
(3.496 m)
ad O, mentre sul versante Nord Occidentale svetta la Catena del Gran Paradiso
(4.061 m)
, che qui si staglia frontalmente in senso longitudinale S/N in tutta la sua ampiezza e maestosità.
First Ascents
First on the summit: Engineer Pio Paganini, (Summer, 1880)?.

In winter: Unknown.

NE Ridge (from Entrelor's Summit): W. A. B. Coolidge with Swiss mountain guide Christian Almer Junior, (Aug 23th, 1885), in ascent.

E Wall: Engineer Pio Paganini (Summer, 1880)?, in ascent.

E Wall (Left Variant): R. Godefroy, V. Puiseux and R. Puiseux, (Jul 28th, 1911), in ascent.

S Arête: Vittorio Franzinetti and Massimo Mila, (Aug 1928), in descent.

W Slope: Giovanni Bobba and Casimire Thérisod, (Jul 18th, 1888), in descent.

W Crest (from Vaudaletta Valley): F. Quaini with Rhêmes mountain guide Casimire Thérisod, (Sep 20th, 1915), in ascent.

N-W Arête: Giovanni Bobba and Casimire Thérisod, (Jul 18th, 1888), in ascent.
Getting There
BY CAR:
From France, through the Mont Blanc Tunnel or the Col du Petit Saint Bernard: you can drive on SS.26, following directions for Aosta and, before arriving in Villeneuve, turn right toward Introd. Alternatively, you can take motorway A5 (at Courmayeur or Morgex) and exit at Aosta Ovest.

From all the other directions: Get to the Aosta Ovest exit of motorway A5. Then drive on SS.26 Aosta, in the direction of Courmayeur; just after Villeneuve turn left toward Introd. Shortly after Introd, you arrive at a junction: turn left, entering Valsavarenche, and passing through many villages (Degioz, Eaux Rousses, etc.) you can arrive at Pont (1.978m) where the road ends.
BY PLANE:
Aeroporto Internazionale "Corrado Gex" Saint Christophe (Aosta).
Approach from Pont-Valsavarenche
From Pont di Valsavarenche
(1.960m)
a comfortable mule track
n° 3
starts just behind the Hotel. Toward West into the narrow valley of the Doire Stream of Nivolè and, along a ramp, get the Croce de la Roley
(2.313m)
, (good panoramic point). Follow zigzagging, through a brief stretch, into the big banks of rock, polished by ancient glaciers, into the great Nivolé(t) Tableland utilized for grazing. Leaving in left (Southeast) the path
n° 3
towards the entire Nivolé Tableland and to whit same name pass (
2.597m
; Savoia and Chivasso Town Huts), before the crossing on a little area panoramic and equipping for mini picnic point, after briefly descend at a small bridge
2.322m
in wood and through the same wade the Doire (= Stream) of the Nivolé. To follow, Northwest direction, by the path
3A/3D
as far as the left deviation to Turin or Teureun Alp
2.396m
), just immediately in West. Go up, by a semicircular route, on Nivolé dirt road and through the same, leaving left the path
n° 3A
to Plan Borgnoz, before long to abandon this direction changing in Northeast, by the path
n° 3D
(E; F; 2h'00/2h'30).
Da Pont di Valsavarenche
(1.960 m)
prendere la comoda mulattiera
n° 3
che parte subito dietro l'Albergo; salire verso W lo stretto valloncello della Doire (torrente) del Nivolè e con una rampa finale raggiungere la Croce de la Roley
(2.313 m)
, ottimo punto panoramico e fotografico. Si continua per breve tratto a serpentina tra grandi banconate di splendida roccia levigata dall'antica erosione glaciale "entrando" nel Pian del Nivolè, grande altipiano di oltre 6 km utile al pascolo. Abbandonando sulla sinistra (SW) il sentiero
n° 3
che, attraverso l'intero pianoro, si indirizza verso l'omonimo colle (
2.597 m
; Rifugi Savoia e Città di Chivasso) dapprima si attraversa un punto panoramico attrezzato a mini area pic nic per poi scendere brevemente verso un piccolo ponte in legno
2.322 m
ed attraverso lo stesso si guada la Dora del Nivolé. Seguire, con direzione NW, il sentiero
n° 3A/3D
sino alla deviazione a sinistra per l'Alpe Turin o Teureun
2.396 m
), situata subito a sinistra. Risalire, tramite percorso semicircolare, sulla strada sterrata del Nivolé e con la stessa, abbandonando a sinistra il sentiero
n° 3
verso Plan Borgnoz, tosto abbandonare questa direzione cambiandola in NE, tramite il sentiero
n° 3D
(E; F; 2h'00/2h'30).
Approach from Great's Clapey Bridge
Hardly before the Bridge of the Great Clapier
(1.726m)
to take the steep enough path/muletrack
n° 6/6A
that it accompanies from the tall one, on the shore left hydrographical, the run of the Stream Savara; you go beyond two log cabins, the same goes up again with two hairpin bends to the Provet Alp
(1.945m)
and, changing direction in SW, it is addressed toward the entry of the Meyes's little Valley. Reached the Meyes Desot (=Lower) Pasture
(2.278m)
it passes for the following one Meyes du Meitin (= Middle) Alps it crosses a small stream, and it reaches the Meyes Damon (= Upper)
(2.512m)
, where it is rejoined with the precedent Approach A (F; 1h'30/2h'00).
Appena prima del Ponte del Grand Clapier
(1.726 m)
prendere l'abbastanza ripido sentiero/mulattiera
n° 6/6A
che accompagna dall'alto, sulla riva idrografica sinistra, il percorso del Torrente Savara; oltrepassate due baite, lo stesso risale con due tornanti all'Alpe Provet
(1.945 m)
e, cambiando direzione in SW, si indirizza verso l'ingresso del Vallone delle Meyes. Raggiunto l'Alpeggio delle Meyes Desot
(2.278 m)
passa per il successivo delle Meyes du Meitin (= di Mezzo), attraversa un piccolo torrente, ed arriva alle Meyes Damon
(2.512 m)
, ove si ricongiunge con il precedente Avvicinamento A (E; F; 1h'30/2h'00).
Approach from Nivolé Pass or Savoia and Chivasso Town Huts
From the Nivolé Pass
(2.597m)
or from the near Shelters Città di Chivasso
(2.600m)
and Savoia
(2.533m)
, to follow the whole excavated road superior Nivolé Tableland (ranging rod of prohibition immediately after the two Lakes of the Nivolé and to
quota 2.522m
, where the path arrives
n° 3
coming from Pont Valsavarenche and with direction Of it, passing under the Coast Lombarda, to reach the Shelter P.N.G.P. and immediately after the Plan Borgnoz Pasture
(2.672m)
; to continue, same direction, with the paths
n° 6A/9
reaching the approach A to the alternative
2.619m
(E; F; 1h'00/1h'30).
* * WILD LIFE and WILD NATURE
: possibility of sighting of numerous
marmots
in the underlying tableland and, always among the rodents him
squirrel
; besides they race and they jump flocks of
chamois
and isolated groups of
ibex
. It also foresees her
Red Fox
(she could actually follow you to Pont of Valsavarenche!) and not infrequent the flights of couples of
eagles
or the to circle solitary of the
Gypaetus
also called
Vulture
, again recently introduced in the National Park of the Gran Paradiso (the last sample had been just killed in Val of end eight hundred Rhemes). Present, among the volatile ones, the
grouse
, the
rooster forcello
or
cock of the wood
, the
owl
and, in abundance, the
cuckoo
and "squad" of the
white partridge
. More to earth her
salamander
, but above all her
viper
, queen of the sunny stony earths.
Dal Colle del Nivolé
(2.597 m)
o dai vicini Rifugi Città di Chivasso
(2.600 m)
e Savoia
(2.533 m)
, seguire tutta la strada sterrata soprastante il Pian del Nivolé (palina di divieto subito dopo i due Laghi del Nivolé ed a
quota 2.522 m
, ove arriva anche il sentiero
n° 3
proveniente da Pont Valsavarenche; continuare con direzione NE, passando sotto la Costa Lombarda, e raggiungere il Casotto P.N.G.P. e subito dopo gli Alpeggi Plan Borgnoz
(2.672 m)
; continuare, stessa direzione, con i sentieri
n° 6A/9
raggiungendo l'Avvicinamento A al bivio
2.619 m
(E; F; 1h'00/1h'30).
** NATURA SELVAGGIA:
: possibilità di avvistamento di numerosissime
marmotte
nel sottostante pianoro e, sempre tra i roditori lo
scoiattolo
; inoltre scorazzano branchi di
camosci
e gruppi isolati di
stambecchi
. Presente anche la
Volpe Rossa
(vi potrebbe seguire sino a Pont di Valsavarenche!) e non infrequenti i voli di coppie d'
aquila
od il volteggiare solitario del
Gypaetus
, recentemente nuovamente introdotto nel Parco Nazionale del Gran Paradiso (l'ultimo esemplare era stato prorio ucciso in Val di Rhemes a fine dell'Ottocento). Presenti, tra i volatili, il
gallo forcello
, il
gallo cedrone
, il
gufo
ed, in abbondanza, il
cuculo
e "squadriglie" di
pernice bianca
. Più a terra la
salamandra
, ma soprattutto la
vipera
, regina delle pietraie assolate.
A)- Route from Meyes Little Valley and Meyes or Pertcha Glacier
After passing some hairpin bends and a tunnel go on along, by a linear diagonal, the road till the confluence of the Valley of Meyes. Now along this steep valley through the path
n° 6/6A
, keeping the right side (ascending) up to the mountain Upper Meyes Alp or Damon
(2.512m)
. Here the slopes become sweeter (by unnumbered trail) and, keeping first the right part along and over the Meyes Torrent up to the
quota 2.750 meters around
; then the left one, ascend, through the moraines, to the bottleneck bringing to the Glacier of Percià or Pertcha
(* in language/patois fit of the Aosta Valley to mean punctured place or perforated by French "perchè" and correspondent to the "fourà" of the dialect of Piedmont)
also called, better and better, of the Meyes. On, along the central part of the glacier (warning crevasses) then, turn to the right to gain the main ridge between Val di Rhêmes and Valsavarenche. Cross the Point
3.391m
and follow along the slopes bringing to the summit of the Entrelor Point
(3.426m)
; from this to easily go down and quickly through the Crest SW to the underlying collar
3.390m
around. To generally go up again along the Crest forms of it from a snowy slant and enough steep from which go out rocks of yellowish schists to manner of flaked leaves employing about twenty minutes for the crossing (EE/A; F; 4h'30/5h'30).
* Descent along the same route or, along the ski-mountaineering route, toward the Val di Rhêmes, through the
Route B
with descent from Pertcha Pass by W Slope.
Dopo aver superato alcuni tornanti e un tunnel continuare lungo la strada sino alla confluenza del Vallone delle Meyes, imboccare il ripido vallone tramite il sentiero
n° 6/6A
tenendosi sulla destra fino a sbucare all'Alpeggio Meyes di Sopra o Damon
(2.512 m)
. Qui il percorso diventa più pianeggiante; continuare con sentiero non numerato tenendosi prima sulla destra seguendo il Torrente delle Meyes dall'alto sino a
quota 2.750 m circa
e poi sulla sinistra su morene. Si risale una strettoia che porta sul Ghiacciaio di Percià o Pertcha
(* in linguaggio/patois valdostano atto a significare luogo bucato o forato dal francese "perché" e corrispondente al fourà del dialetto piemontese)
od ancor meglio delle Meyes. Risalirlo al centro facendo attenzione ai crepacci per poi spostarsi sulla destra sino a raggiungere lo spartiacque con la Valle di Rhêmes. Oltrepassare la Quota
3.391 m
e risalire il pendio che conduce alla Vetta della Cima di Entrelor
(3.426 m)
; da questa scendere facilmente e velocemente tramite la Cresta SW al sottostante colletto
3.390 m
circa. Risalire lungo la Cresta NE formata da un pendio generalmente innevato ed abbastanza ripido dal quale escono fuori rocce di scisti giallastri a guisa di foglie sfaldate, impiegando una ventina di minuti per la traversata (EE/A; F; 4h'30/5h'30).
* Discesa lungo la via di salita o altrimenti in Valle di Rhêmes con l'itinerario sci-alpinistico, per mezzo della
Via B
con discesa dal Colle Pertcha lungo il suo Versante O.
B)- Route from Meyes Little Valley and Pertcha Pass
Through the same one and precedent street actually to
quota 2.950m around
, where her he abandons; leaving on the left (South) the Glacier of Pertcha or Percià (and perhaps more properly says some Meyes, from the name of the underlying small valley as well as from the homonyms three alps) to decidedly go themselves toward or in direction West to Pertcha Pass
(3.148m)
, sets among the Antesummit NE
(3.391m)
of the Top of Entrelor to S and the Pointe Fourà or Percià S
(3.209m)
, as well as to horse among the Glaciers of the Meyes (Valsavarenche) and of Entrelor (Valley of Rhêmes). Through a trace on the moraine to progressively go up again with inclination in increase; overcoming the last drawn steep, but brief, to reach the wide depression of the pass (E; 1h'45/2h'15 from the Pasture of the Meyes Damon (= of Above; 3h'00/3h'30 from Pont of Valsavarenche).
Variant
: in beginning of season, therefore with still a lot of snow, it worthwhile to hold him tall on the right (North) and to proceed through the underlying morainic strata to the Coast Mentò, bringing itself on the street with a brief underlying descent the Point Percià Sud. In this case not to exceed in to rise too much themselves, exposing itself so to the fall of stones from the superior walls.
From the pass to turn to S and to actually climb through easily along the Crest N of the first mentioned antesummit deposits, gravels and rubbles to reach to
quota 3.272m
the conjunction of the two aforesaid glaciers; to continue and, always easily, to reach its Antesummit. From this, changing direction of trail in West-southwest, to overcome first a subsidence bringing then itself to the terminal snowy wall, not too much steep, reaching the final small tower of the Cima of Entrelor; from this to end the slope as in the preceding itinerary (EE/A; F; 5h'00/5h'30, also 6h'00/7h'00 in case of strong snowy or bad conditions of the snow).
* Descent along the same route or, through the ski-mountaineering route, toward the Val di Rhêmes by W Slope of the Pertcha Pass.
Con la stessa e precedente via sino a
quota 2.950 m circa
, dove la si abbandona; lasciando sulla sinistra (SW) il Ghiacciaio di Pertcha o Percià (e forse più propriamente detto delle Meyes, dal nome del sottostante vallone nonché dagli omonimi tre alpeggi) dirigersi decisamente verso O in direzione del Col Pertcha
(3.148 m)
, posto tra l'Antecima N
(3.391 m)
della Cima di Entrelor a S e la Pointe Fourà o Percià S
(3.209 m)
, nonché a cavallo tra i Ghiacciai delle Meyes (Valsavarenche) e di Entrelor (Valle di Rhêmes. Tramite una traccia sulla morena risalire con pendenza progressivamente in aumento; superando l'ultimo tratto più erto, ma breve, raggiungere la larga depressione del colle (E; 1h'45/2h'15 dall'Alpe delle Meyes Damon (= di Sopra; 3h'00/3h'30 da Pont di Valsavarenche).
Variante
: in inizio di stagione, quindi con ancora molta neve, conviene tenersi alti sulla destra (N) e procedere tramite le falde moreniche sottostanti alla Costa Mentò, riportandosi sulla via con una breve discesa sottostante la Punta Percià Sud. In questo caso non eccedere nell'elevarsi troppo, esponendosi così alla caduta di pietre dalle soprastanti pareti.
Dal colle volgere a S e salire facilmente lungo la Cresta N della prima menzionata antecima per mezzo di detriti, ghiaie e sfasciumi sino a raggiungere a
quota 3.272 m
la congiunzione dei due predetti ghiacciai; proseguire e, sempre con facilità, raggiungere l'Antecima NE. Da questa, cambiando direzione di marcia in W-SW, superare prima un avvallamento portandosi poi al muro nevoso terminale, non troppo ripido, adducente alla torre finale della Cima di Entrelor; da questa finire la salita come nel precedente itinerario (EE/A; F; 5h'00/5h'30, anche 6h'00/7h'00 in caso di forte innevamento o cattive condizioni della neve).
* Discesa lungo la via di salita o altrimenti in Valle di Rhêmes con l'itinerario sci-alpinistico e relativa discesa dal Colle Pertcha lungo il suo Versante O.
Difficulty
These routes can be considered E for the Approachs and EE/A; F to Entrelor/Aouillè Summits.
Gli itinerari sono da classificarsi in E per i tre Avvicinamenti ed in EE/A; F per la salita concatenata alle Cime di Entrelor e dell'Aouillé.
Essential Gear
Hiking gear.
Da escursionismo.
Red Tape
The Eastern side of the valley belongs to Gran Paradiso National park, the Western one is out of the boundaries of the Park... but nature must be respected.
Huts
Rifugio CITTA' DI CHIVASSO
Email:
cittadichivasso@caichivasso.it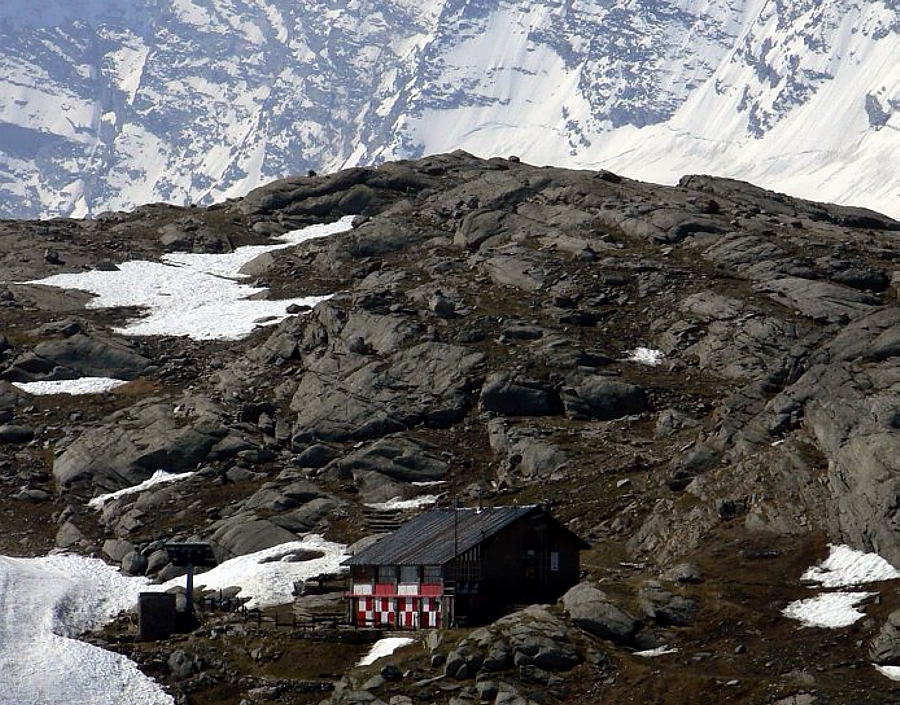 Campings
Remember that free camping is forbidden (except for emergency reasons, over
2.500m
, from darkness until dawn).
Mountain Conditions
You can get meteo information at the official site of the Regione Valle d'Aosta:
Valle d'Aosta Meteo
Webcam
WEBCAM on Aosta Valley:
Webcam
Books and Maps
BOOKS:
"Guida dei Monti d'Italia-Gran Paradiso Parco Nazionale" E. Andreis, R. Chabod, M. C. Santis, Club Alpino Italiano/Touring Club Italiano, prima Ed. 1939; seconda Ed. 1963; terza Ed. 1980.
"I Rifugi della Valle d'Aosta" di Stefano Ardito, Ed. Guide iter, Febbraio 2003.
"Rifugi e bivacchi in Valle d'Aosta" di Cosimo Zappelli aggiornata da Pietro Giglio. Musumeci Editore, Luglio 2002 (in Italian).
MAPS:
Kompass "Gran Paradiso Valle d'Aosta Sentieri e Rifugi" Carta Turistica 1:50.000.
Enrico Editore Ivrea-Aosta "Gruppo del Gran Paradiso" 1:50.000.
I.G.C. Istituto Geografico Centrale Torino "Valsavarenche Val di Rhemes Valgrisenche Parco Nazionale del Gran Paradiso", (carta n°102), 1:25.000.
I.G.C. Istituto Geografico Centrale Carta dei sentieri e dei rifugi "Il Parco Nazionale del Gran Paradiso" 1:5.0000.
Important Information
Useful Numbers
Protezione Civile Valdostana località Aeroporto 7/A Saint Christophe (Ao) Tel. 0165-238222.
Bollettino Meteo (weather info) Tel. 0165-44113.
Unità Operativa di Soccorso Sanitario Tel. 118.
Acknowledgements
I am greatly indebted to my friend
Osvaldo Cardellina
for the detailed description of the route.