Add External Links text here.
Overview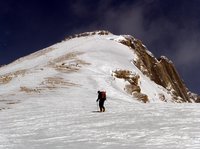 Cirque Peak is located on the northeast side of the Columbia Icefield Parkway in
Banff National Park
, one of four connecting national parks located in the heart of the Canadian Rockies, between
Dolomite Peaks
and
Observation Peak
. Cirque Peak was officially named in 1909 because of a large cirque that lies below its northern cliffs including a small glacier and bergshrund.
Cirque Peak was first ascended in 1899 by Nichols, Noyes, Thompson and Weeks. There are two published routes. One is a
scramble
and the other is a ski ascent, both using similar approaches.
The true summit is divided by a notch from the ridge and is the crux of this climb, particularly in the winter.
Like all of its brethren on the east side of the Icefield Parkway, Cirque Peak offers grand views of ice to the west including the
Wapta Icefield
peaks, Crowfoot Mountain and its hanging glacier.
Route Description
This is a 3700'+/- ascent day.
Park just beyond the Helen Creek bridge on the right. There is no signage for this trail. It starts gaining elevation on the left side of the creek straight away so you will need your skins on from the car. Once you ascend a few hundred feet, the trail flattens out and curves to the left (north) offering you a good view of the
Dolomite Peaks
on your right. Continue along and shortly descend to Helen Creek and cross to the other side. Follow the creek closely across three avalanche slopes until you run into it again as you head north and it curves east. Cross it again and start a steep glade ascent that takes you above tree line and below limestone cliffs on your right that make up Dolomite Pass. At this point Cirque Peak comes into view to the north with reasonable visibility.
Stay to your right through a large open snow field and pay attention for any avalanche hazards above your right side.
As you top out onto an open snow plateau, descend ever so slightly hugging the right slope.
You do not want to descend to Helen Lake.
Stay above the lake and to the right. You are looking to hook around a rock buttress on your right to gain a snow ramp that takes you to the top of Dolomite Pass, but away from Cirque Peak.
You can continue on this ramp and do a U turn at the top, but we chose to ascend a steep snow section on our left that broke through the steep cliffs above without having to follow the snow ramp in the opposite direction of Cirque Peak.
Once on top of the pass, continue north until you reach a rock step that will make it necessary to remove your skis. At this point there is another 1000'+/- to the summit of Cirque Peak and you will have to make a decision based on conditions whether you even want to carry your skis above the rock step.
Despite being listed in Chic Scott's alpine ski book, Summits and Icefields-Canadian Rockies, I have never seen Cirque Peak when it was not completely wind blasted.
We chose to put our crampons on at the rock step and ascended on foot up the wind packed thin layer of snow to the summit.
Make sure to stay off of the cornices to the right.
Some of these cornices extend out for quite a distance. As you near the summit ridge, the grade gets considerably steeper. Eventually you gain the rocky summit ridge and ascend a short distance through thin ice and rocks to the first summit.
The true summit requires that you descend to a notch on rock and snow above a precarious hanging cornice. I have been to the summit of Cirque Peak twice, September of one year and February another. On both occasions this cornice was approximately the same size.
A slip here could be fatal and some, including Chic Scott, advise taking a rope for this crux.
On both occasions I felt comfortable enough to descend down to the cornice and hug the rock feature as you turn left and cross over to the true summit feature. The ascent up the true summit offers some exposure as well. Left is less steep, but perhaps more
exposed. In February, the right side offered more stable ice and snow. An alpine axe or ice tool is helpful in this section. Once up a couple of meters, the ground becomes less technical and the summit is just a minute away.
There is a dying glacier with a bergschrund that can be seen in the summer on the east side cirque of the mountain which is in fact what Cirque Peak was named after. On ski descent we found decent powder in the before mentioned snow ramp and again right above tree line. There are a variety of routes to ski out depending on conditions and visibility.
Essential Gear
Compass, Map, Skis, Skins, Poles, Crampons, Alpine Axe or Tool, Gaiters, Short Rope, Avalanche Safety Gear, Goggles, etc
External Links