Overview/Approach
Comic Book is home to one of the
better 5.10a crack climbs in Joshua Tree
, its namesake, Comic Book. Comic Book is a
full 200' pitch
that can be divided into two pitches via a mid (fixed) rap station. In 2013 you could rap the route from a
slung flake just below the summit.
This beautiful south facing wall is located in a great setting, remote by Jtree standards, in less than a mile hike off of Bighorn Pass Road, just pass the Echo Cove area. It is in a short canyon that will
shade the belay most all day in the winter
, but most of the climbing will be in the sun for most of the day. Comic Book was established by
John Long
and company way back in
1972
and is a stellar route. Charlie Brown, another moderate (5.9), runs up a corner to the right and joins Comic Book higher up. This route is not recommended due to lack of rock quality. Rather, if looking for trad climbs, I advise to continue on to
Cerro Torre
for several more good moderate routes in the sun.
Park at the first pull out on the right past Keys Ranch Road as you head north bound on Bighorn Pass road from Intersection Rock. Look for the marked climbing trail. Follow it for approximately a mile past a feature named the
Sphinx (looks likes its namesake)
on the left. Turn left into the next canyon after the Sphinx. Comic Book is a broad south facing wall. Scramble up the boulder field to the base of the wall. Comic Book the route splits the wall down the center with a crack running bottom to top pausing only through an obvious scoop. Charlie Brown runs up the corner formed by the far right side of the wall.
Route Description(s)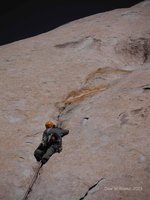 Routes Listed Left to Right as you Face the Wall
Cruising for Burgers- 5.10d/*


Full Frontal Nudity- 5.10a/*


Comic Book- 5.10a/***
I led it as one 200' pitch to avoid the potential factor fall involved with the crux move off of the mid fixed station. Despite what is stated in Miramontes guide, you only need one rope (70m) to rap, there is a horn slung at 200', then mid station in the scoop. The crux out of that scoop has no feet, thus a swinging insecure small hand jam followed by a wide fist. It is awkward. The start to the route consists of flaring off-width, thus extend your cams to avoid walking. Very cool area for Jtree. Charlie Brown to the right is a piece of junk, move on to Cerro Torre Tower for several more good sunny routes. Dow


The Invisible Man- 5.11a/*


Charlie Brown- 5.9/*
Miramontes gives it one star in his guide, but the corner below the roof offers some of the worst rock in all of Jtree with vegetation growing out of it. This short corner/flake is your only form of protection to pull the roof as the crack below it is closed. I recommend skipping this one. I hated it. Dow


Pacific Coast Highway- 5.8/
A bolted slab climb.
External Links
Joshua Tree National Park Including Map.