Overview
In a name lies a story. We were headed to climb Pacific's fabulous North Couloir route. Unfortunately, visibility was poor with a cloud deck at about 13,500' and periodic rain the night before had made the snow pack wet and sloppy. We couldn't see the critical cornice on the route and didn't fancy 900' of slogging through steep slush. Fortunately, a pretty line to the left of the North Couloir presented itself; shorter, simpler, and visible (occasionally) all the way to the top. Thus, "Consolation Couloir" was named. We are undoubtedly not the first to climb this route, but I have never seen it mentioned anywhere.
Getting There
Approach as for the North Couloir route up the Spruce Creek drainage past Continental Falls and the numerous Lower, Upper, and Higher Still Mohawk Lakes (3.5-4 miles depending how much thrashing through the willows you do). Route starts in the dramatic upper cirque at about 13,000'.
Route Description
The route is an obvious, straight line up the steep north face of Pacific starting from the talus-strewn upper cirque and ending at about 13,600' on the East Ridge (opposite side of the summit from the North Couloir which ends on the North Ridge). The climbing is about 500' of moderate snow at around 40 degrees steepening a bit toward the very top. An attractive alternate finish heads off to the right about 100' from the top which was dubbed the Miss Congeniality Finish (though we didn't climb it). It looks like there is a small cornice on the main finish in the early season, though by late June it was blunted and entirely a non-issue.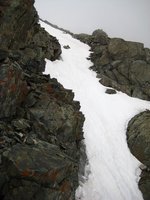 From the meadows above Pacific Tarn, hike right up the talus to Pacific's compact summit.
Descend via the East Ridge. The large snowfield at about 13,400' before the ridge becomes jagged is your best bet though this is a fairly steep and committing snowfield. Downclimbing Consolation might be about as easy/safe.
Essential Gear
Basic snow climbing gear: mountain axe and helmet. Crampons may be useful depending on snow conditions.
External Links