Overview & Route
Note: Directions and distances are approximate. Also keep in mind that the location and difficulty of the route can change at any time due to rockslide, avalanche or water hazards.
The trail starts at Convict Lake (photo above). At 0.9 miles take the right fork, away from the loop trail around the lake. The trail passes by the slopes of Laurel Mountain (site of the first true roped climb in the Sierras):
At 3.5 miles there is a washed-out bridge -- I would not attempt to cross this during high water. The crossing apparently serves as a barrier to pack animals -- hence the Convict Canyon trail has not been ground into rock flour and coated with poop:
Approaching the divide between Bright Dot and Mildred Drainages. The "peak" in the photo is the end of the ridge that divides the two drainages. A possible variation is to head directly up the Bright Dot drainage, leaving the main trail at 3.8 miles. This can be a tricky scramble but saves almost 2 miles off the round-trip distance. Late in the season the creek tends to dry up, and the bed can be used for part of the ascent.
Red Slate Mountain, a Mountaineers Summit, as seen from the Mildred Lake Basin. Visible is the North Couloir, a famous back-country ski route for those willing to work all day for one epic run:
Approximately 1 mile after entering the Mildred Lake Basin, the slopes of Baldwin appear to the left. At this point look for the use trail ascending the drainage toward the peak.
A ruined cabin, seen shortly after leaving Mildred Lakes Basin:
After climbing out the Mildred basin the trail turns left and climbs steeply over some crystal outcrops and up to the saddle with Bright Dot Lake, at 6.3 miles.
Bright Dot Lake, from the ridge toward Baldwin:
A short class 3 section just below the upper calcite "mine". Others have described the route as never more than class 2, so maybe I was off-route:
Summit view down the ridge toward White Fang and Morrison:
Summit view toward Bloody and Laurel:
When descending from the summit, keep a careful eye out for the use trail. Deviating much to either side can leave you stranded above steep cliffs (it's happened to me!)
Another variation on this route is to start from Laurel Lakes -- a way to avoid the Convict Creek crossing at high water. The trailhead starts much higher than Convict Lake, but adds more than 1,000' to the round trip elevation gain because it crosses several ridges. See:
Laurel Lakes route
Google Earth view of the various routes to the west face of Baldwin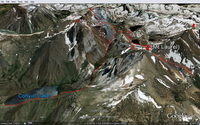 Getting There
See the directions to Convict Lake on the Mount Baldwin page.