Overview
Corno Stella 3050 m
Corno Stella is without any doubt the best known, celebrated and fascinating mountain in the Maritime Alps; it's an impressive and massive gneiss peak rising from Punta Gelas di Lourousa West buttress, which heading to separates Argentera Valley from Lourousa Valley.

Corno Stella "Normal Route" is one of the most difficult amongst the Normal Routes of the Alps, involving at least rock climbing grading IV UIAA. The majestic South West wall is the most interesting face to climb: a 300 meters high face which nowaday offers a plenty of classic and modern routes on perfect gneiss.
Corno Stella reputation is also due to its fine milieu and its closeness to Rifugio Bozano.



The opposite North side is formed by a 500 meters high wall, rising up from the impressive ice-gully known as "Canalone di Lorousa". The routes running on this side are rarely climbed and reserve a challenging experience in a shady and wild contest.
History
The first ascent to the top (1903, august, 22nd), realized by Victor de Cessole and his guides J. Plent and A. Ghigo, was an important conquest in rock climbing's history, due to the impressive feature of the mountain, which it was thought to be impossible. In fact, Corno Stella was also named "Unclimbable peak".
Getting There
Road access
From Turin (85 km.) or Genova (145 km.) follow the autoroute Torino-Savona as far as Cuneo exit. From Cuneo follow the road to Borgo San Dalmazzo, driving up to Valle Gesso and reaching Terme di Valdieri (35 km. from Cuneo). From here a narrow road, at least unpaved, rises up a lateral valley named Vallone della Casa; follow it for 5 km. reaching a pull-out (Gias delle Mosche mt. 1591, 5 km. from Terme di Valdieri).
SW Face - Campia and Lupetti routes reports
Two selected climbs on Corno Stella SW Face: a classic route and a moderne one
Corno Stella SW wall is cutted in the middle by a wide ledge dividing the face in two sections, a lower section and an upper one. On this unmistakable parallelepiped we can find a plenty of climbing routes both classic and modern; some routes climb up only the lower section of the face without getting to the top, while other routes are running in the upper part of the face. SW face gets the sun late in the morning.
SW Face Routes approach - From Bozano Hut scramble up to the base of the face on stony ground; an easy up-climbing (2b, 3b) is leading to a grassy ledge (some belays equipped with chains are useful for rappelling during the descent). Follow a track towards left along the ledge, then climb a rocky gully leading to the middle grassy ledge (1,30 hour from the hut).
Campia Route - SW Face
Summit altitude: mt. 3050
TD inf., 5c (French Scale)
Length: 450 mt.
Equipped with pegs and some bolts; friends useful.
First ascent: M. Campia – G. Ellena – R. Nervo july 1945
Hut: Lorenzo Bozano Hut mt. 2453 in upper Argentera Valley
A superb classic route on perfect rock – the classic one of the face - requiring a bit of experience in placing running protections.
Original start: from the hut scramble up along stony ground heading to SW face's lowest point where an obvious grey spur reach basal stones. Rise along the spur without an obligatory climb, reaching the middle ledge.
At present usually parties don't climb the route's lower section, but they are getting on the middle ledge scrambling up along the approach to upper routes.
L1 – A little spur, then a ridge to a little belay. 2b
L2 – Climb some steps leading a belay equipped with chains, then climb a grey slab and surround a little overhang along a small corner on the right-hand side. Belay on a narrow terrace below a 5 mt. grey wall lightly overhanging.4a, 4c.
L3 – Up along the grey wall on the right-hand side, then straight on along an expo slab; climb two following corners, then traverse left towards a steep grey slab with good holds. Climb the slab and another one reaching a belay below an orange corner. A great pitch. 5c, 4c, 5b, 5a.
L4 – Climb 4mt straight, then traverse right along a sloping slab, surround a block then climb a black wall, steep but with good hold. 5c, 4c, 4b.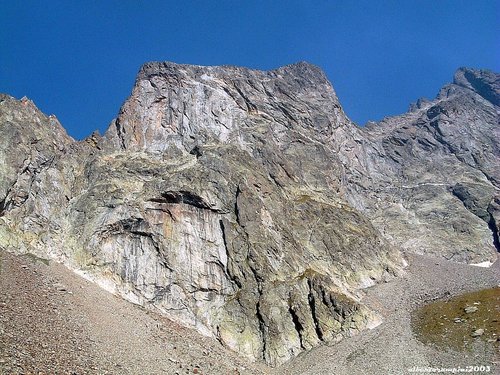 L5 – Another short black wall leads to a little overhang; surround it on the left, then climb a black and steep crack leading to the characteristic quartz stripe cutting the wall. A 3mt traverse towards right leads to the belay. Short 5c, then 4c.
L6 – Climb a 6 mt. crack, then a rib slants to left is leading to a belay equipped with chains. 4c, 4a.
L7 – A little ledge 10 mt. long then easy rocks lead to the wide summit "plateau".2c.
An easy scramble leads to the highest point. Summit cross and SummitBook.
Lupetti Route - SW Face
Summit altitude: mt. 2980
TD, 6a+ (French Scale)
Length: 320 mt.
Equipped with bolts
First ascent: S. Bassignano – M. Pukli september 1993
Hut: Lorenzo Bozano Hut mt. 2453 in upper Argentera Valley

A fine modern route on perfect gneiss starting from the middle ledge. The climb is homogeneous on 6a grade and completely equipped, but the fix are rather spaced. A classic route amongst the moderne ones.
L1 5c - L2 6a - L3 6a - L4 6a - L5 6a - L6 6a - L7 6a




Descent: from the top go back to Lupetti exit and carry on getting to a big cairn marking the start of the first abseil, situated more or less a bit towards North then Campia Route. Abseil to the grassy ledge (3x45 mt. or 6x25 mt.); from here scramble down – an optional abseil – reaching the base of the face. 2 hours from the summit to the hut.
Hut
Approch to the hut
From Gias delle Mosche (mt. 1591) – parking - a path (signed) leads to Lorenzo Bozano Hut mt. 2453 (2,15 from the parking). Bozano Hut may be the oldest one in Maritime Alps Range, established in 1921 and dedicated to Lorenzo Bozano, a great mountaneer from Genova, member founder of C.A.A.I., Club Alpino Accademico Italiano; it offers meals and beds in a dormitory. Open from june 1th to September 15th.
Red Tape
There are not special restrictions in climbing, hiking and mountaineering.
Anyhow Corno Stella is located inside Parco Alpi Marittime, established in 1980, so some basic rules concerning environmental respect are essential. Fires are forbidden and free camping is not allowed. To bivy is authorized only at more than 1 hour's walk from the park's boundaries or from the access roads. The whole fauna and flora is protected.
Nature and climate
The name of the range – Maritime Alps - inside which Corno Stella is situated must not deceive you: only summer – or at most late spring – is the good time to climb Corno Stella SW wall, a shady and cold milieu, being lighted from the sun late in the morning also in summertime.

Meteo
Guidebooks and maps
Guidebooks
"Le Alpi del mare - Les Alpes de la mer" – Scalate moderne nei massicci dell'Argentera e del Mongioie by Flaviano Bessone – Idee Verticali Edizioni
"Alpes du Sud, Provence" by Hervè Galley - Editions Olizane
"Alpi Marittime Vol. II" by Euro Montagna - Lorenzo Montaldo - Francesco Salesi – Guide dei Monti d'Italia CAI-TCI
Maps
"Alpi Marittime" map 1:30.000 -Meridiani Montagne