Overview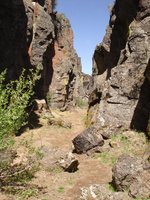 Crack in the Ground is a two mile long tension fracture created from a basaltic lava flow. It is a nontechnical slot canyon that is as high as 70 feet tall in places and about 10-15 feet wide at its widest places. It has something for just about everybody. When starting off the main trail from the parking area, the main slot canyon that is usually hiked is off to your right although to your left there is also part of the crack that could be hikeable, but may not be suitable for some children as it appeared there was some scrambling involved. After you pass through the first section of the Crack in the Ground you just continue straight ahead to the next portion of this wonderful geologic feature. If you choose to do a side trip, take an immediate left after you exit and there is another slot canyon that goes back the way you came although there is quite a bit of scrambling involved here. Also notice the VW bug sized chock stones wedged in the crack above your head. There is some rock here that I would probably classify as easy Class 3 or 3+. Spots which required me to pull myself up with my upper body but nothing that was too extremely difficult if your are used to scrambling. But please use your best judgement. There is even a cave on this particular portion that could probably be explored if you feel like squeezing into it as it opens up, but I do mean SQUEEZE. Again, please use good judgement. When you are done exploring this slot, return the way you came and continue on to the other sections of the Crack that lie straight ahead. There is many sections that are hikeable and there are spots where you may want to backtrack and hike along the rim of the Crack. After you have hiked through the second section you will come across another portion of the crack that at first looks like it could be the end. There will be two walls about 6-10 feet in height, but if you continue on it goes on to another amazing slot canyon, which was probably my favorite portion of the crack. So continue on and have fun exploring, there may be spots that are absolutely impassable without gear, which is prohibited. And there are spots where you will have to get down on your hands and knees to crawl under gigantic boulders that loom above. Be aware that if you are hiking the Crack in the Winter or early spring that there is likely to be snow present. There was still snow present in some of the shady areas that we explored the first part of May.
Getting There
If Driving from Klamath Falls:
Follow US-97 North for about 57 miles until you reach a pointer for Silver Lake Road. Take a right at the Silver Lake Road pointer, follow this road for about 35.5 miles and it will become Bear Flat Road/County Road 4-10. You will continue on this road for about 14.7 miles and will come to a stop sign. Take a right here onto OR-31/Freemont Highway. There will be signs visibly marking the highway. Follow OR-31 for about 8 miles and then turn left onto Arrow Gap Road/Count Road 5-14. Follow Arrow Gap Road for about 7.6 miles until you reach Christmas Valley Road/County Road 5-14. Take a right here and continue for about 13 more miles. When you reach the town of Christmas Valley there will be a Chevron Station on your left hand side. Continue past the gas station for a little less than half a mile to the Crack in the Ground pointer also on your left hand side. Follow this gravel road for just slightly over 7 mlies until your reach a small parking area with an outhouse. From here you will walk about 0.2 miles to the Crack in the Ground.
If Driving from Bend:
Follow US-97 South and take a left on Silver Lake Road and then follow the exact same directions as above.
Red Tape
No Rapelling
No Rock Climbing
There are no fees for parking here
Camping
As far as I know there are no restrictions to camping out here. There are plenty of flat spots above the crack that looked appealing and comfortable.
If you are camping out here, be sure to bring plenty of water as there is no water source that I am aware of out here.