Overview
Culp Valley is a small flat area on the slopes of the mountains that rise abruptly to the west of the plain of Anza Borrego Desert in southern California. The valley sits at an elevation of 3300-3500 ft. This is roughly 2800 ft higher than the Anza Borrego Plain a short distance to the east and 2800 ft lower than the higher peaks of the San Ysidro Mountain a short distance to the northwest. A trail takes you to a spot where you get great views of Anza Borrego Plain and Hellhole Canyon far below. You can then continue the trail to Pena Spring where bushes, grass and small deciduous trees provide a break from the cacti that cover the rest of Culp Valley and the surrounding slopes. From most places on the trail, San Ysidro Mountain will be in good view.
Getting There
From Christmas Circle in Borrego Springs, CA, drive 1.5 miles west on Route S-22. At a 4 way, the road takes a 90 degree turn left. You will soon see mile marker 17. The road begins to go up the mountains quickly. Drive more than 6.5 miles (beyond mile marker 9.5) to Culp Valley Primitive Campground Road on the right (north side of S-22).
Turn onto this dirt road (passable by most/any car) and go a short distance to reach a Y. You can start your hike here, go one way and return the other. I went right driving to the end of the road and started my hike there.
Route Description
Elevation Range:
3300-3500 ft
Length:
2.2 miles
This description starts at the X mark on the map above. From the end of the road, get on the trail and hike up the valley.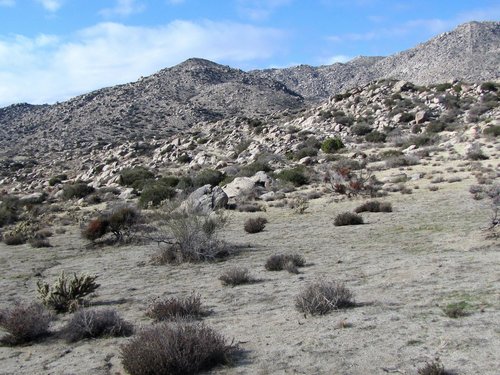 After 0.5 miles, you will reach the junction with California Riding and Hiking Trail. You will have great views of Anza-Borrego Plain and Hellhole Canyon below.
Turn left onto California Riding and Hiking Trail (right takes you down to Hellhole Canyon Trailhead) and follow it up to a high point and then down to where Pena Spring comes to view.
You will then reach a T. Pena Spring area can be seen on the right as a green grassy area in contrast to the rest of the desert. Turn right and follow the trail downhill to the spring area.
You can then return to the T. Continue straight to a parking area at the end of a road. Hike down the road to the Y and turn left to go back to the starting place.
When to Hike
Winter, late fall and early spring are the best times to hike. Summer can become dangerously hot.
External Links
Guidebook: The Anza-Borrego Desert Region by Lowell & Diana Lindsay.