Approach
Trailhead: 4th of July Trailhead
Directions (From Boulder) - Take Canyon Blvd (CO 119) west up Boulder Canyon to Nederland. Continue through the roundabout on CO 119 and south out of Nederland. About 1/2 mile outside of Nederland turn right at the Eldora Ski Area turn off. Continue on this road past the next (left) turnoff to Eldora Ski Area into the town of Eldora (about 3 1/4 miles from CO 119 turnoff to here). From Eldora, continue west. At the juction 1.5 miles past Eldora, take the right road. From this point continue about 4 1/2 miles to the 4th of July Trailhead.
Approach
Follow the Arapahoe Pass Trail from the 4th of July Trailhead to Arapahoe Pass (approx 3.0 miles). You'll see Neva's steep north face to the left, with Lake Dorothy below it. Leave the Arapahoe Pass Trail to the south and hike around Lake Dorothy on the east (left) side. There are several prominent couloirs (and one moderate snow climb on the NE slopes) on Neva's north face. They are from east (left) to west (right): Northeast Slopes, Juliet, Desdemona, and Phoebe. Desdemona is the 2nd promient couloir from the east, with a fork approx 1/2 to 2/3 the way up.
Route Description
Cross the lower snow fields (or scree later in the season) to the base of the
Desdemona Couloir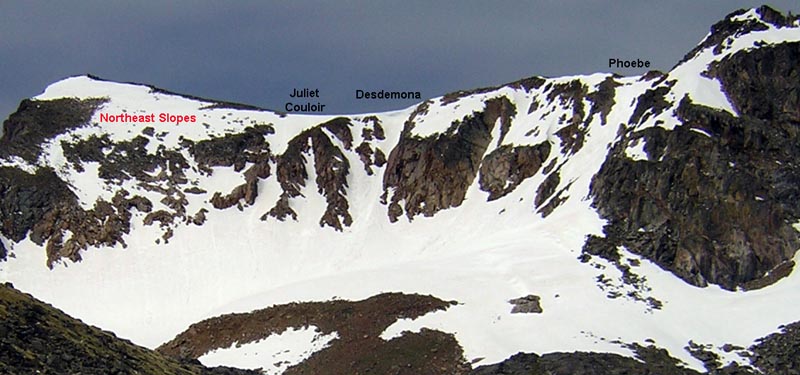 The north face of Mount Neva, showing the various routes.
The climb is straight forward, and ascends the couloir, using the left fork generally. This climb often has a large cornice at the top, so carefully scout the route in advance. If the cornice is too large, Juliet couloir, to the left, is a more moderate and safer route. (The year we climbed this, in mid-June of 2004, Juliet was partially melted out, so this was the more viable option). The left fork of the couloir generally has less of a cornice. We could skirt it easily on the left. From the top of Desdemona, continue up the slopes a few hundred yards to the summit.
Descend via the Northeast slopes, ski one of the couloirs, or combine it with an ascent of Mount Jasper.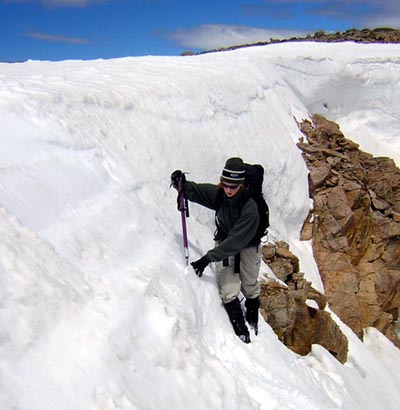 Susan skirting the cornice in the left fork of the couloir.
Climbing the couloir.
Essential Gear
Besides the standard gear one would take on a typical ascent of an Indian Peaks summit in late spring/early summer, bring an ice axe, stiff mountaineering boots, crampons (depending on snow conditions), and a helmet.