Overview
Devils Peak is the centerpiece mountain(not counting McLaughlin) of the Sky Lakes Wilderness area, the dominant monarch of the Seven Lakes Basin and the mountain most often climbed here. And while Devils Peak, is, by itself, a worthwhile climb, doing the marathon traverse from Venus to Lee Peak is a much more satisfying experience.
Getting There
To get there, take Highway 62 east from the city of Medford, Or., drive for about fourteen and a half miles, then turn right onto Butte Falls Highway for fifteen miles to the town Butte Falls, continue one mile past the town before turning left at a sign for Prospect. Drive nine miles to Prospect, where you will drive east on the Prospect-Butte Falls Highway, apparently also called Red Blanket Road. Drive east for close to four miles, then turn left onto Bessie Creek Road 37. Continue on FR 37 for approximately 13 miles, passing several bridges and the Imnaha CG along the way. Turn left onto FR 3780. Drive for a little over four more miles until you come to the TH on the right, which is clearly marked and has ample parking. There is also a trailhead on the east side, but it is generally a longer drive and hike, so I will not include it here. For more information, consult William Sullivan's book, 100 Hike In Southern Oregon, Navillus Press.
From the TH, follow the Seven Lakes Trail as it ascends in an eastern direction up a broad, forested ridge of mountain hemlock, fir and western white pine. Before a mile has gone, you will come to a fork in the trail. Bear right, and hike for another mile and a half or so until you come to Frog Lake, a pretty pool where the trail takes a short break from the ascent. Continue on, heading upwards again for close to another mile and a half where you reach another trail junction at a pass with the first views of Devils Peak. Bear right, and if you are doing the traverse, then you would shortly head up through the trees for Venus. If you are wanting to just climb Devils Peak, then continue on the DP trail for a little over a mile and a half to the junction with the PCT. Bear left and follow the PCT for a short distance before heading up to the left on the (obvious) Devils Peak trail to the summit, five minutes away. Return the way you came.
Red Tape
A Northwest Forest Park Pass is required.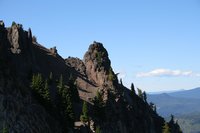 Camping
There are numerous campgrounds along the way(I will place a specific link soon), plus wonderful backcountry campsites at Alta Lake, and down in the lakes basin, though I imagine this would not be a fun place to camp before the mosquitoes are gone (Mid-August most years).
Weather
Sitting somewhat east of the Cascade Crest, the weather here is a bit drier and warmer, and so in summer it is often a great place to come, though it is certainly a large and high enough uplift that snow can occur anytime of the year. For weather information, check here:
Prospect, Or.