Overview
Dihedral Rock is a rock formation in Joshua Tree National Park, California.  
It's very easy to drive right past this beautiful formation without so much as a glimps on the way to the more famous and popular Hidden Valley Campground rocks. This may have something to do with the fact that even though Dihedral Rock is very close to the road, there is no place to park your car. But, if you take a few minutes to walk to this rock formation, you will be mesmerized by its beauty.
Dihedral Rock, however, is by no means unknown to the older climbers in Joshua Tree who might ask if you are talking about the "Coarse and Buggy" face. In the old times, you just asked your friends to meet you by "Coarse and Buggy" and it was understood where you were supposed to show up.
"Coarse and Buggy" is the name of a very famous climb on Dihedral Rock. Climbers who had mastered 5.10 cracks and had ambitions to get a taste of a classic 5.11 would come to this route. More often than not, they would walk away with bloodied knuckles, not to mention shattered egos. For me, it was a hope to run into much better climbers who were friendly enough to offer me a top rope. My ambitions for doing a climb like "Coarse and Buggy" never went beyond top roping it. By the time I could do 5.11s, I had moved on to other climbing areas outside of Joshua Tree. The crowds and loud music in the campgrounds and at the crags drove many climbers, like myself, running for more secluded and less noisy climbing areas.
Select routes of Dihedral Rock
Although the history of technical climbing in Joshua Tree dates back to the early sixties and earlier, Dihedral Rock was not noticed until the early seventies. During the early days, the main objective was to climb to the top of the formation by any possible means available. That meant pounding pitons into cracks and placing occasional bolts to get past seemingly blank sections. Unfortunately, Dihedral Rock had to endure that kind of abuse early in its history. No one is to blame, the old ways of climbing were accepted methods for that period.
It is important to remember that the age of climbing cracks by artificial means did come to an end, at least in Joshua Tree. Subsequently most, but not all, of the old gear was removed from crags. One place to still find an old piton on a route is on a crack some fifty feet to the right of "Coarse And Buggy. This crack and face route used to go as an "A3." There are five bolts on this route now and goes all free at 12a/b.  
The first completely free ascent of the most popular route on the Dihedral Rock, "Coarse and Buggy, 11a" was accomplished in the late seventies, nearly a decade after the first "By Any Means" ascent. "Coarse and Buggy" is a thin crack barely wide enough for your finger tips and first knuckle. The route follows a vertical to overhanging dihedral crack that gets wide enough
for a few hand jams near the end. Climbing this sustained route is an exercise in discipline of mind, body and technique. Have fun.
| | |
| --- | --- |
| | Select Climbs of Dihedral Rock |
| A | Happy Happy, Joy Joy, 5.9, Standard Rack, pro to 4.5 inches |
| B | Coarse and Buggy, 11a, Standard Rack, many small pieces |
| C | Rots O' Rock, 12c, lots of big piecs |
| D | Tons of Junk, A3, |
| E | The Sowsuckle, 12a/b, 5 bolts, standard rack |
Environmental Concerns
Please tread lightly. The Access Fund has gone to great lengths posting trail marker for approaches to many of the more popular crags. Do you best to stay on these trails, and where you are forced to use a different path, choose the ones that rain can mend in time. Drainages make for good trails where there are no established trails.
Avoid stepping on native and fragile plants, and do not feed the coyotes. Coyotes are very much used to people and often hang around picnic areas and camp grounds in hopes of getting a hand out. It's better to let them live their natural life.
Camping and noise Considerations
There are nine campgrounds in Joshua Tree National Park. At the entrance to the park you are always asked if you would care to have a map and a brochure. The brochure will have plenty of information on the campgrounds and the map will guide you to many of the pleasant hikes throughout the park. You may even get the latest information as to availability of campsites. During the peak season (mid winter through spring) finding a campsite may become a major task. It is highly recommended to use the following link to get more information in advance.
Joshua Tree Camping
Noise considerations
When you are camping with friends and sitting around the fire, it is easy to forget that there are other people trying to sleep in the nearby campsites. It is important to put yourself in their shoes. Keep the noise and music to a minimum and certainly not too much past 10 p.m. Your neighbors will smile at you in the morning instead of giving you dirty looks.
Fees and Food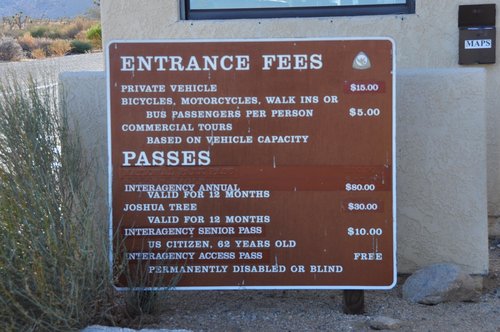 My wife and I have had Thai food in many different restaurants and cities. This Thai place beats them all. In November when the number of visitors to Joshua Tree reaches its peak, this restaurant puts on a Thai Buffet, all you can eat for 16.00$/person. But, you must get there early, or be prepared to wait by the door for a table.
How to get there
From the western entrance to Joshua Tree National Park drive on Park Boulevard, formerly known as Quail Springs Road, for about nine miles to a major rock formation called "Intersection Rock." Intersection Rock is a major landmark on the north side of Park Boulevard with ample parking for visitors and climbers alike. This rock, true to its name, sit at the cross roads to Hidden Valley Campground, Barker Dam Road and the road to Day Use and Picnic Area.
Dihedral Rock is about 1/2 mile to the west of Intersection Rock and about 1/4 mile southeast of Park Boulevard. The closest parking area is the large pullout for "Playhouse" formation. From this small parking area walk about 1/4 mile toward Intersection Rock. Looking to your right, the "Coarse And Buggy" dihedral is unmistakable.