Overview
The East Face of Chair Peak is offers about 400 feet of pleasant rock climbing directly to the summit. Most of the route is 4th to easy 5th class, with the portion through the obvious overhanging band rated at 5.5.
Don Blair and Art Winder made the first definite recorded ascent on 30 September 1933.
Approach
The face is approached via the Snow Lake Trail from the parking lot at the Alpental Ski Resort which is reached by taking Exit 52 from I 90 near Snoqualmie Pass. The trail is followed to a rockslide about one half mile below the divide. From here, one travels cross-country to and across the upper basin to the base of the face. The route is easy to find once you are there.
Route Description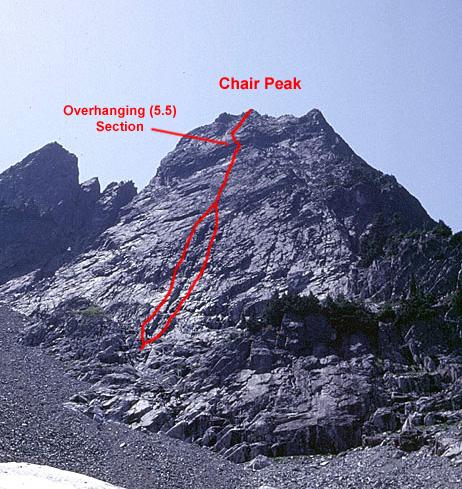 The starting point of the climb is at the base of an obvious shallow chimney near the middle of the face (photo left). From here, either side can be climbed more or less directly up to the overhanging band above - 4th and easy 5th class. Find the climber's left trending break through the overhanging band and climb through - 15 to 20 feet, about 5.5. From above the band, easy 3rd and 4th class slabs lead to the summit.
Essential Gear
A small rack and a single rope are sufficient.
jhalz
recommends two ropes for the descent, but he was not specific as to the route of descent. A single rope is certainly enough if descending one of the south side routes.