Overview
When you get to the list of
Washington Prominence Peaks
, you'll find Rattlesnake Mountain listed at the #81 spot (out of 144) with 2520 feet of prominence. So, if you are interested in Washington's prominence peaks, you'll want to go on beyond the ledges. Another 2.5 miles and close to 1600 feet of elevation gain will get you to the tower area where the highpoint is located.
Getting There
See the main Rattlesnake Ledge page for this information. Overall, the hike is 4.4 miles each way or 8.8 miles roundtrip with a bit over 2500 feet of elevation gain.
Here is some additional information about a western connection that ties everything together so you can traverse the mountain.
READ HERE
.
Route Description
It is a trail all the way. A good trail at that since it has been recently improved above the ledge area with volunteers coming together from several organizations to make it happen. Nothing difficult but in winter you will need snowshoes and a knowledge of where the trail is going. There is no map available at this time that shows the new trail Update:Green Trails does have a map now that shows the new trail. (thanks Eric for that bit of info) Good signs to help are strategically placed and the trail crosses an old road at two spots as you get near the top.
Essential Gear
Water, good hiking shoes in springtime (after the snow melts) and perhaps snowshoes in the wintry months when snow covers the trail. GPS waypoints might be helpful to aid you during this time of the year and it should be mentioned that much of the trail is under a canopy of forest and with very few views.
The tower area
A couple benches have been placed near the top with views of Mt. Si and North Bend from the eastern bench. If you walk up to the tower area, a nice view of Mt. Rainier is visible through the trees on clear days. Beyond those views, not much else is visible from up there. Be respectful of the private structures placed on this mountain top and to find the highest spot, search around the building and surrounding bushes to seek it out. There is a benchmark (painted red) but it isn't on the highest spot. A rock nearby could qualify as a candidate as could the ground beneath some bushes on the east and south side of the building. Do not climb on the tempting structure just to the north of the building, it is signed that it has surveilance and big brother is watching you.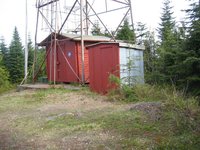 External trip reports
NWHikers:
Trip report (snow season) Click
HERE
.