Overview
University Peak is a nice, relatively easy dayhike out of Onion Valley. I always prefer to hike a loop whenever possible, and by hiking up the typical ascent route past Bench lake (North Face) we were able to descend an easy route via the east slope, join up with the trail at Robinson Lake and loop back to Onion Valley Campground.
I would recommend this route more of a descent route rather than an ascent route. There is a mixture of talus, scree and sand that must be navigated. Coming down it was fun, but going up would be a slog (i.e. not fun).
Getting There
Onion Valley is west of the Town of Indendence on the 395 highway. Just north of Whitney Portal. Turn left in Independance, following the signs to Onion Valley, and drive up the mountains to the end of the road.
Route Description
If using as an ascent route, the trailhead is at Onion Valley Campground. You have to walk up into the campsites and follow the trail near campsite #8 (near the creek). This trail leads to Robinson Lake. From there leave the trail and ascend the bench up to base of University peak. There are some faint trails that can be followed. Basically just head towards the summit, trying to pick the best route and not loose any unnecessary elevation.
If ascending one of the preferred routes on the north face and descending this route, you will simply climb back down the summit ridge (North East) and head down the east slope. There are a couple of rock faces that need to be avoided, but fairly easy to spot and avoid. I kept heading to the north in order to avoid unnecessary elevation loss by going down into the bowl. You can angle over to the bench above Robinson Lake. Then head down to Robinson lake, following the use trails if you can find them. Once at the lake, cross over the creek draining from the lake and head to the east to catch the trail. It is easy to miss.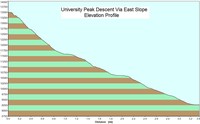 Essential Gear
In winter you would likely need crampons and ice axe.
External Links
Here is a GPS Track of our entire route that can be uploaded to you GPS.
http://www.gpsmountaineering.com/University.gpx
And here is a Google Earth KMZ file that can be opened in Google Earth and show the entire GPS route.
http://www.gpsmountaineering.com/UniversityPeak.kmz