Overview
Easy Day is the name of a route on
Turtle Rock
in Joshua Tree National Park, California.
The name Easy Day explains it all. If you are tired of cranking on tiny flakes and crystals and looking for an easy and well-protected climb, come to Turtle Rock and look for this route. In my humble opinion, even though there are two pitches to this route, the first pitch is all that is really worth doing. The second pitch that climbs through some convoluted and not necessarily enjoyable ground, will take you to the top, but you will have to deal with getting down.
Easy Day climbs a short face to a well-featured crack that will accept all kinds of protection to a ledge and a ramp. By the end of the ramp and a short face section you will come to a two bolt and chains anchor. Unless you are going for the second pitch and the top, it could not be more convenient to lower or rappel at the end of the first pitch. The bolt anchor at the end of this pitch is shared with another route called "Give a Mouse a Cookie, 10b" that climbs to the left of Easy Day.
Essential Equipment: Standard rack of nuts and cams up to 3.5 inches.
Easy Day, first pitch sequence
Because of a number of easy to moderate routes on the east face of Turtle Rock, this whole face is heavily used by guides and rock climbing classes. If you are at the base of the climb first and you don't see a fixed rope on it, naturally you have the right of way. But if you see students gathering near the base of Easy Day, the considerate thing to do is not to spend too much time on the route and let the class have the rock.
How to get there
From the western entrance to Joshua Tree National Park drive on Park Boulevard, formerly known as Quail Springs Road, for about nine miles to a major rock formation called "Intersection Rock." Intersection Rock is a major landmark on the north side of Park Boulevard with ample parking for visitors and climbers alike. This rock, true to its name, sit at the cross roads to Hidden Valley Campground, Barker Dam Road and the road to Day use and picnic area. Turn right onto the road leading to day use area with a large parking lot and bathrooms.
Turtle Rock lies in the southern end of the parking lot.
Easy Day is located on the northeast face of Turtle Rock. Look for a tree that is on the right side of the face and just to the left of a prominent chimney. The diagram should help you find the route.
Camping and Noise considerations
There are nine campgrounds in Joshua Tree National Park. At the entrance to the park you are always asked if you would care to have a map and a brochure. The brochure will have plenty of information on the campgrounds and the map will guide you to many of the pleasant hikes throughout the park. You may even get the latest information as to availability of campsites. During the peak season (mid winter through spring) finding a campsite may become a major task. It is highly recommended to use the following link to get more information in advance.
Joshua Tree Camping
Noise considerations,
When you are camping with friends and sitting around the fire, it is easy to forget that there are other people trying to sleep in the nearby campsites. It is important to put yourself in their shoes. Keep the noise and music to a minimum and certainly not too much past 10 p.m. Your neighbors will smile at you in the morning instead of giving you dirty looks.
Fees and Food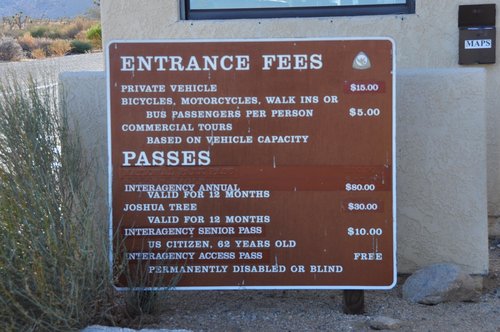 My wife and I have had Thai food in many different restaurants and cities. This Thai place beats them all. In November when the number of visitors to Joshua Tree reaches its peak, this restaurant puts on a Thai Buffet, all you can eat for 16.00$/person. But, you must get there early, or be prepared to wait by the door for a table.