Overview
"The Enclosure" is located directly across from
Island in the Sky
in
Snow Canyon State Park
(7100 acres) north of St. George, UT. The Enclosure features seven published sport/trad routes (Todd Goss's "Rock Climbs of Southwest Utah") ranging from 5.8 to 5.11-A3, along with a few newer sport routes. It truly is a box canyon of sorts directly behind some popular dunes right off the park road. Access is very easy via the West Canyon day use lot within the park. Snow Canyon is full of Red Navajo sandstone, capped by an overlay of black lava rock. This process creates significant, but sometimes delicate climbing holds called desert varnish.
I have taken a 25' whipper when one of these varnishes failed. I highly advise staying on the well climbed existing routes of Snow Canyon.
If they are dirty, I can assure you they are not worth it.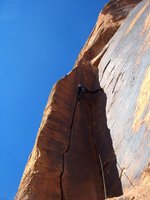 Snow Canyon is exceptional in that everyone is visiting nearby Zion and Bryce National Parks leaving it very quiet. I have been part of the only climbing party in the park on more than one occasion and there are over 200 routes. I could camp and climb here for a week and not get bored. There are some cool sand dunes for kids to play in and a significant state park campground.
The wildlife is a little different than what I am used to in Canada. The most likely suspects are Gila monsters, desert tortoises, scorpions and the Mojave sidewinders.
Please avoid walking on the microbiological soil. It is the dark crust that holds the surface layers together and prevents erosion.
It takes centuries to reoccur. This whole ecosystem is much more delicate than most.
Route Description(s)
The Routes are Listed as First Approached
Atomic Indian - 60'- 5.11/
Probably the best route in the park. Pure trad overhanging hand to finger crack that slants left to right to bolt/pin anchor. Medium to large pro, quite a few of the same pieces. Think Indian Creek for 60'!

Uncle Remus - 60'- 5.8/
Best 5.8 trad in the park. Steep edging past suspect slopers and two bolts into hand crack with good medium pro to sling anchor. Great practice trad lead, nothing overwhelming.

Malice in Gobi Land- 50'- 5.11, A2-3/


Listen to the Echo - 60'- 5.10a/


Don't Fear the Reamer- 80'- 5.10a/
Pretty bad route. Todd gives it two stars (out of three) and describes it as "nice hand crack". Not so. Accidentally did this twice, forgetting how bad it was the first time. A muddy and unnerving crack leads to a very bold mantle above a ledge. A true ankle buster that is not worth the risk. First time I remember thinking this was more risk than the route warranted (bad rock the whole way). 2nd time I just aided up the mantle to not take any chances. Someone bolted the crack by the way?

Raging Dude - 55'- 5.11a/
Nasty route in my opinion, fun scrambling terrain behind it though. Way back in right hand corner of the Enclosure. Easy climbing on sloper edges to a human size arch, then sparse sand features to anchor over top edge. Five bolts, two suspect. Update, now only one suspect (2009), but pretty bad. Can't believe I have done this route twice now! Why?

Grinder- 55'- 5.9/
Worst route in the park? I think so. Wide sand filled chimney/crack/overhanging start, then easy hand crack up dirty corner to a tree. Rope will want to get stuck, I do not advise rapping the route. Either traverse some exposed ground to Raging Dude's anchor or scramble straight up to catch a ledge system down and around Raging Dude's wall. If you do this, take the time to explore. Pretty cool up here.
Getting There
Take Bluff Street north out of St. George through Sunset Blvd and turn left on Snow Canyon Parkway. Proceed for approximately six miles and turn right on Utah Route 8. Drive several miles to the Ranger controlled entrance to the park. Once you pay your entrance fee, continue on the park road and Island in the Sky will be on your right hand side with sand dunes on your left. Park at the West Canyon day use lot. There are restrooms at this location.
Red Tape
Snow Canyon State Park hours are 6:00am to 10:00pm. A day visit pass is $5.00 and camping spots are $15.00 to $18.00 (2007). Wildlife seasonal enclosures as of 2007 include all Hackberry Wash routes from March 31 to June 1 and all West Canyon routes from February 1 to June 1.
The sandstone rock at Snow Canyon State Park is not as solid as the lava influenced
Black Rocks
.
As with most of the climbing in and around St. George, you should avoid climbing for at least 24 hours after any rain.
My favorite place for dinner is the sushi bar at Samurai, 245 Red Cliffs Drive. The best breakfast and coffee (Italian espresso) can be had on Main Street at the Bear Paw Coffee Company. The
Outdoor Outlet
is one of my favorite independent climbing stores anywhere. They know the climbing area well and have a great selection of gear at competitive prices.). Jazzy Java offers a decent cup, good sack lunches and free internet.
When to Climb
The climbing is good all year round with the exception of daytime during the summer months. If you are climbing anywhere in southwestern Utah during the summer months, you more than likely better get up early and finish your climb early. The walls get brutally hot. That being said, Snow Canyon is at a higher elevation than other immediate Saint George climbing areas (Utah Hills being the exception). In the dead of winter, the warmer climbing is limited to
Island in the Sky
. The Enclosure offers much better shade than other climbing areas in Snow Canyon and thus is one of the coldest spots in the winter as well.
Camping/Lodging
No climbing is allowed on the rocks behind the campground. Quiet hours are 10:00 p.m. - 8:00 a.m. Generator hours are 12 noon to 4:00 p.m. Shower hours are 4:30 p.m. to 11:OO a.m. Check out time is 2:00 p.m. You are to renew your site permit by 10:00 a.m. Maximum length of stay is 5 nights. Pets are permitted only on West Canyon and Whiptail Trails and must be on leash at all times. Do not dump gray water at sites, use the dump station by the restroom. Tents on tent pads only. Bikes on pavement only.
NO FIRES June 1- Sept. 15
. Fires in grills/fire rings only. Firewood gathering is prohibited. They have a volleyball court which is pretty cool. The restrooms are first rate.
Sites 1, 2, 9, 10, 20, 21, 24, 26, & 27 cannot be reserved. Sites 1 - 14 are hookups with water and electric. Prices are $15.00 - non-hookups and $18.00 -water & electric. For reservations call 800-322-3770.
External Links
Other useful sites beside the
Snow Canyon State Park
website include
Red Cliffs Desert Reserve
,
the weather forecast