Overview
Ammergau Alps
show an astonishing variety of peaks, summits and mountains; you have steep and spire-like rock features like
Geiselstein
or Gabelschrofen, broad and massive mountains like
Ammergauer Hochplatte
, long ridges like
Geierköpfe
or
Kreuzspitze
- Kuchenberg, steep pyramids like
Klammspitze
, dwarf pine overgrown heights like
Zunderkopf
or
Vorderer Felderkopf
and - unique within the area, a broad and for about 500 m nearly level summit plateau with inviting meadows: that is
Feigenkopf
.
The variety is mainly due to the complex geology, primarily of the northern main range of Ammergau Alps. A rather complicated pattern of synclines and anticlines, interrupted by numerous faults and a large variety of sediments both in their genesis and age cause that above mentioned sort of small scale scenery.
Feigenkopf e.g. has as base the triassic Hauptdolomit, a dolomite stone which builds broad and massive mountains with steep rock faces but bad rock to climb. On the top of Feigenkopf there are much younger marls and sandstones of upper cretaceous age and, southwest of it, soft rocks of jurassic age. These sediments gave birth to the wonderful meadows of Feigenkopf and its southwestern gentle slopes.
The naming is a bit confusing. Feigen means figs but unfortunately I must say that there are no fig trees on that mountain. I have no idea where this name comes from. Maybe sombody got some ideas???
A good thing of Feigenkopf is the possibility to combine this summit with a traverse from or to
Klammspitze
. And neighbouring
Grubenkopf
is also an easy target for the traverse monster lurking inside of us. All three summits can be combined to a nice day hike.
Another good thing is that Feigenkopf is rather unknown and when there are millions of people forcing Hochplatte or Klammspitze, Feigenkopf is a peaceful and enjoyable place to stay, eat, drink, look, sleep ..................
Getting There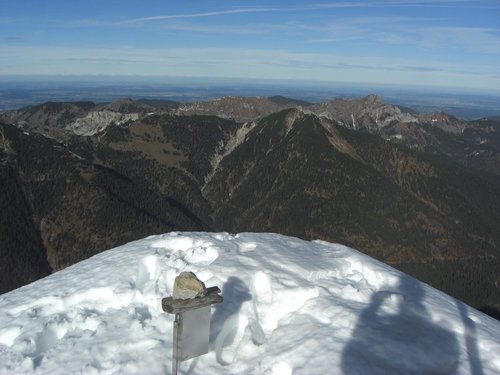 Main trailhead is the parking area of
Sägerbach valley
about 1,5 km further west of the Linderhof castle.
Other trailheads are
You reach these trailheads
from
Munich
to Linderhof or Sägerbach valley
from
Munich
to Halblech / Buching
from
Reutte / Lechtal / Füssen
to Sägerbach valley / Linderhof
from
Reutte / Lechtal / Füssen
to Halblech / Buching
Bus and railway connections are a bit complicated for all trailheads. You have to use the Oberau railway station and then a bus to Linderhof castle.
For Buching you have to use Füssen railway station and then a local bus to Buching.
Routes Overview
Main west route
This is for shure the shortest ascent to Feigenkopf. Trailhead is
Sägerbachtal parking area
to the south
or
Kenzen hut
to the north.
Southern approach:
From Sägertal parking area follow the forest road into Sägertal, ascend on a smaller forest road to its end and cross the creek on a narrow trail. Follow this trail up to
Bäckenalmsattel
.
Northern approach:
Kenzen hut
can be best reaches from Halblech / Buching by bike or foot, following the forest road to the hut. There is a shuttle bus, too. From Kenzen hut follow the trail in eastern direction which directly zigzags up to
Bäckenalmsattel
.
Summit trail:
At the Bäckenalmsattel take the eastern trail which leads up to the broad meadows of the
Hirschwang hunting hut
. Pass by the hut and follow the trail across wonderful meadows to the broad and long meadow ridge of Feigenkopf.
Eastern route
Trailhead is
Linderhof Castle parking area
(day fee)
From the northwestern part of the parking area follow the forest road up to Brunnenkopfhaus (signposts). Follow the trail leading in western direction; traverse Brunnenkopf south slopes, descend to the lower Klammspitze northeast cirque. Ascend the cirque to a notch in its southern limitation, gain the south ridge of Große Klammspitze and ascend this ridge (easy rock scramble) to the summit of Große Klammspitze.
Follow the marked trail steep down the west ridge of Klammspitze; there is some easy rock scramble involved. Traverse Klammspitzengrat on the south side of the ridge in some ups and downs - small notches offer deep views in the steep and rugged north sides of both mountains. Ascend steeply the east ridge of Feigenkopf.
Near Feigenkopf there is
Grubenkopf
, another summit which can be reached easily from Feigenkopf. If you are in the mood of peak bagging you can summit all three peaks in one day.
Red Tape & Accommodation
The German part of Ammergau Alps is a
nature protection area
. There is a wide variety of rules including e.g. no camping, no fire. Animals shall not be disturbed, plant shall not be collected. Please stay on the trails and respect nature in this area.
You find accommodation at
Mountain huts:
Gear & Mountain Condition
Feigenkopf is an easy spring, summer and autumn hike; when done as traverse from or to Klammspitze there are some steep and a bit exposed trails with some easy rock scramble involved.
You need normal hiking gear and good shoes. In spring gaiters and light crampons can be useful for the traverse to Klammspitze.
As
ski tour
, Feigenkopf is rather unknown, Ammergauer Hochplatte or Scheinbergspitze for instance are much more popular. In winter / early spring you reach Feigenkopf via Sägertal and Bäckenalmsattel with skies or even with snow shoes. You need full ski tour gear and avalanche gear.
Check the
weather forecast here
.
Check the
avalanche bulletin here
.
Current Weather:
Map & Guide Book
Maps
Guide Book
Alpenvereinsführer alpin
Allgäuer Alpen und Ammergauer Alpen
Bergverlag Rother, München, 2008