Overview/Approach
There is no question that Bataan offers the most challenging and best rock for sport climbing in the Bow Valley. What keeps it peaceful and quiet (five of us had it to ourselves on a warm Saturday) besides the stiffness of the routes,
is the 2500'+ gain necessary to get to the start of these sport walls.
Bataan was named after the infamous death march during WWII, although the one to one and a half hour hike up the mountain is not quite as an extreme experience. I can assure you, the hike is well worth it for this sport climbing crag.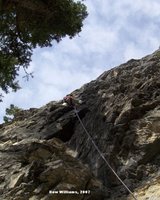 The 80+ established sport routes on Bataan (2007) face southeast and southwest and get the full range of the sun during the summer months. Most of these pitches feature a full 30m of climbing. Many projects and thus development of the crag continue.
Bataan is a prominent "L shaped" featured wall that can be discernable from the south looking up at
Grotto Mountain
just to the west of
Jughaul Wall
and Grotto Crack and west of the prominent quarry scar that runs along the foot of the mountain. All of these features can be easily viewed from the TransCanada (or my home for that matter).
First Cave is the first wall you come to on Bataan.
Its routes go left and right of the obvious "first" cave you see on approach. There are seven published routes in John Martin's "Sport Climbs in the Canadian Rockies", 5th edition. In 2007, there were several other routes that were in fact completed on First Cave. The routes start left of the lower (first) cave and end with a prominent towering feature (Flesh Gordon route) on the right. This wall faces east.
Route Description(s)
Routes are Listed Left to Right
unnamed- 5.10a/
The first route to the left of First Cave at Bataan is an unpublished route not shown in John Martin's, "Sport Climbs in the Canadian Rockies". Since the book was published, someone has ran a line of bolts up a long 30m route through a fun roof problem that develops into sharp and positive edge face climbing. The whole route is sustained at 5.10a and fairly clean as of 2007.
Shear Stress- 5.11a/
"Grip" Profile- 5.11b/
unnamed- /
unnamed- /
unnamed- /
Flesh Gordon- 5.10a/
Flesh Gordon is a fantastic route on the First Cave wall at Bataan. It is a very distinctive left leaning corner feature at the far right. It is such a long route, 40m, it takes two ropes to rappel or two rappels via a single rope. You definitely cannot clean or top rope this route. You need to bring the 2nd up and then rap. It eats up 14 quick draws! Follow the corner as it starts to feel like an overhang and then overcome a small overhang to reach a slabby section to your right and continue up easier textured ground to the station above. A mid rap station is positioned via the fall line 25m down.
Getting There
From Canmore, follow 1A east from the Alpine Club road for several kms looking for a pull out (old gravel pit) on the left below some power lines. Climb up the bank to the right on a faint trail that hooks into a main benchland horse trail running East-West. Turn left and follow this trail for approximately 250' to a marked sign, turn right and follow this trail north until you reach a prominent forked tree, turn right on a trail here and follow its switchbacks up a grassy slope to a flat reclaimed quarry area above. Cross this flat gravel area aiming for two large cairns (2007) to the north. Pick up a steep trail that starts to ascend aggressively up Grotto Mountain's south flank to Bataan. Once you reach a rotten cave on the left, you will have found the first routes on Bataan ("The First Cave"). Different sections of routes continue up the hill for quite a distance via separate limestone walls.