Overview
This beautiful cliff located deep into Burgundy (South of Dijon) provides great climbing on good limestone.
From difficulty 4 to 8, all climbers will find a route to challenge their strengh and nerves.
Getting There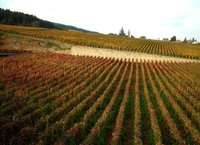 From
Paris
, follow Motorway A6 down to exit 24 (275 kms). There you will take Motorway A38 for 30 kms to reach exit 32.
You will then go on road D108 for 11kms. Turn right on road D122. 5 kms later you end up in
Fixin
.
In Fixin, follow signs mentioning the
"Clos Napoleon"
restaurant.
Right before the restaurant, turn right to follow the sign
"Escalade"
.
The road will shortly follow a vineyard (on the right) and then get into a wood.
Once in the wood it will become unpaved.
After a couple of kilometers of dodgy track, you will reach a wide plateau with a
car park
. A sign mention the presence of cliffs close by.
From the car park, you will walk on the track following the top of the cliff for a few minutes to reach some uneasy stairs.
Down the stairs a short part to climb is on the left, and the main cliffs are on the right.
Staying There
It is possible to camp on the plateau near the parking.
Quiet during the off-season (despite hunters) and very convenient as you are close to the climbing site. However no water source up there.
Or you can choose to camp in :
Camping Le Relais des Hautes Côtes
2 Impasse Château D'Eau
21220 Chamboeuf
Tel : 03 80 58 50 13
(8 kms from Fixin / closed from Nov 1st to April 1st)
Site Description
In Fixin you will find more than 200 1-pitch routes.
Usually the stone quality is nice and solid, but a few routes can have dodgy holds and weaker rock.
Wearing a helmet can therefore be recommended.
Here is a description of the climbing areas on the Cliffs :
- TOUR DU GUET :
23 routes from 2c to 7b / 5 to 8m
- GAUDILLOT :
25 routes from 2c to 7a / 6 to 12m
- GRANDE PAROI :
43 routes from 3c to 7b+ / 8 to 30m
- PIC POINTU :
34 routes from 3a to 7a / 8 to 15m
- COL DE LA BUCHE :
8 routes from 4c to 6c / 15m
- CHATEAU FORT :
18 routes from 4a to 7b / 28m
- NIKOLAIEVSKI :
12 routes from 3c to 7b+ / 15 to 25m
- NANTET :
8 routes from 4b to 6a+ / 15 to 25m
- OPHRIS :
14 routes from 5c to 6c+ / 15 to 25m
- CASCADE :
10 routes from 6a+ to 7a / 15 to 25m
- TONTON INOX :
13 routes from 5c to 7b / 15 to 25m
- PLAQUE BLEUE :
12 routes from 4b to 7b / 9 to 28m
- MUR DES LAMENTATIONS :
21 routes from 6a+ to 8c and A2 / 17m
Books, Maps & Weather
The best handbook :
Fixin by JY Gerbet
(12€ > you can by it at the Tourist Info in
Gevrey-Chambertin
, close to Fixin)
The best map :
IGN 3132O Dijon
And for weather forecast :
Meteo France > Fixin